2004 Blog
This part of my Web site is a Web Log, or what they're now referring to as "blogs." It's basically a Web diary. There are three other blogs on this site, What I'm listening to, What I'm watching, and What I'm reading. Enjoy.
12/22/04
Critters Buggin and The Lion King Musical
I've been out to two shows recently (more than I usually do in a month).
On Sunday, I saw one of my favorite bands, Critters Buggin, at The Tractor, with one of my favorite drummers, Matt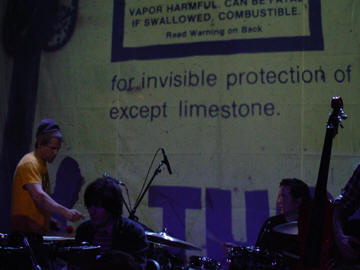 Chamberlain. His other band, Thruster, opened the show, so I got to see Matt with two bands instead of just one.
I hadn't seen Critters in probably six years, so it was fun to see them jam again. Matt has one of the best grooves I've ever heard from any drummer. He's always interesting to watch, except it was difficult to see him at this show from where I stood, and I couldn't really move due to the huge crowd.
After the show, I looked at Matt's Web site. He's known in the world music community as an "ace session drummer" and has played with the likes of Tori Amos, David Bowie, and Peter Gabriel. I still remember the day he showed up on the cover of Modern Drummer; part of me was surprised, part of me wasn't.
On Tuesday night, my family and I went to "The Lion King" musical at The Paramount theater. What a show! The costumes, the singing, the music were all awesome. I found myself thinking about the songs practically all day today. If this musical is playing in your home town, go see it (especially if you have kids)
12/18/04
AndyO Christmas gift recommendations
Well, Christmas and the Holidays are almost here, so I thought I'd put together a list of eclectic gifts for all you folks out there. Hope these ideas help. If you're like me, you still have some shopping to do.
I'll add more interesting gifts in the next week. Happy shopping!
12/7/04
As if "Toasted Cheese Mary" wasn't enough, now someone's found Jesus Christ's image in his dental X-ray. I don't know about you, but I don't think I'd like to see Jesus' image show up in my dental X-ray. But don't take my word for it; judge for yourself: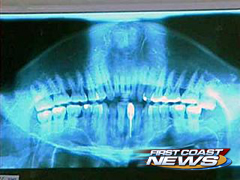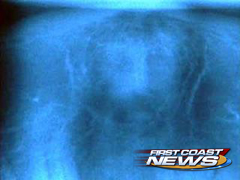 11/30/04
I suppose most people have heard about the decade-old toasted cheese sandwich that sold on eBay for $28,000. If not, check it out: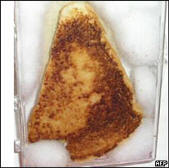 Yes, that's the Virgin Mary staring out at you―make no mistake. It couldn't possibly be some illusion created by the brain's ability to recognize patterns.
Diane Duyser, from Florida, bit into this toasted cheese in 1994 and saw something strange. "I went to take a bite out of it, and then I saw this lady looking back at me," she said, according to the Chicago Tribune newspaper. But that's not all.
She says the sandwich brought her luck, including $70,000 in winnings at a local casino. She also says she's done nothing to preserve the sandwich (can you say processed Kraft cheese?).
You might be wondering who actually paid $28,000 for a toasted cheese sandwich... none other than Goldenpalace.com, an Internet Gambling site. If you're wondering what Goldenpalace is going to do with the sandwich, says Richard Rowe, CEO of GoldenPalace.com: "We will definitely use the sandwich to raise money for charity, and we hope it will raise people's spirits as well. With the massive amount of hits on the eBay site and thousands of search engine queries, it is obvious that this is something people want to know more about…and Golden Palace will help spread the word. We believe that everyone should be able to see it and learn of its mystical power for themselves."
To the left is a picture of Mrs. Duyser and her divine toasted cheese. I'm not sure what kind of lipstick she's wearing in this picture, but I guess it doesn't matter if you're the one who grilled and took and bite of a sandwich worth 28 Grand.
While we all can't take a bite of this miraculous sandwich, you can pay money to show your support and buy a T-shirt. Of course, you can always read the official "follow the cheese" blog.

If you want to purchase more Virgin Mary items from eBay, there are plenty to choose from.
This isn't the first time the Virgin Mary has turned up in unlikely locations. There's an entire Web site devoted to cataloging these appearances. Note that there are approval codes by the church for each appearance. Here are a few other sites that have pictures and stories about the appearance of the Virgin Mary:
http://www.ourladyweb.com/news.html#laloche
http://www.realpix.com/vmsite.html
http://members.aol.com/bjw1106/marian7.htm
New look, same great content
I updated the look and feel of AndrewOlson.com tonight, because I got sick of the old look. The update was not without a lot of pain, which cost me two hours. That's what I get for creating new templates for practically every part of the site. In the end, I had to go in and hand code a bunch of pages. But you don't care about this stuff.
Anyway, hope you like the new look.
11/23/04
Yesterday was the 41st anniversary of the JFK assassination. To mark the occasion there's a new simulation game called JFK Reloaded that puts you on the 6th floor of the Texas School Book Depository on that fateful day in 1963. While I think the idea behind this game is rather tactless, I read a review on Slate that opened up the possible historic significance: The object is to reproduce Lee Harvey's alleged shots from the sixth floor; if you can do it, you may win up to $100,000. After looking at stills from the game, it reminds me more of a crime scene reconstruction than a game.
11/22/04
Last Thursday, I went to The Tractor Tavern to see the Ballard Jazz Festival. This was night two of "Brotherhood of the drum." I ended up going with Martin Rose, with whom I played in Wake, and his wife Nicole. In fact, Wake played The Tractor back in 1994.
On Thursday night, there were lots of people, standing and sitting. We ended up sitting in the flimsy, uncomfortable folding chairs about seven rows from the stage. Taking to the stage first was Greg Keplinger and his band. They played a style of music I can honestly say I've never heard. There was no pulse, no rhythm. Greg called this style "static time." Even though Greg played with chops that seemed at times reminiscent of Buddy Rich, I had a hard time getting into the music.
The second band was Matt Joregensen's band. After "static time" his band's eclectic, yet more traditional approach to jazz, was a breath of fresh air. I really enjoyed Joregensen's songs, as well as his playing. At times it reminded me of Dave Brubeck, with odd time signatures. But then they played a jazz version of a Zeppelin song. I ended up buying their CD, "Hope."
Last on the bill was Matt Cameron, the drummer for both Pearl Jam and Soundgarden. I guess he's about as big as a drummer gets these days in the rock scene, so it was interesting to see him playing Jazz. He definitely has a solid, polished style of playing that was absent in the first two drummers.
11/13/04
When I was driving Cam to school on Thursday, I saw a bicyclist talking on a cell phone! (And he was trying to pedal up a hill.) Now I've seen everything. At least he pulled over.
After sitting around for most of the day, I decided to go out on a solo trip to Target. I decided to buy one of those convection toaster ovens. As I carried it, an older lady who was walking the opposite way said, "You got yourself a good one!" (meaning the toaster oven). I have to say, the comment boosted my consumer confidence... for a moment. And then I had to wonder if Target was planting people in the store to make comments like this. Think about the potential:
"That looks like a good steak! I'd buy it."
"I saw that movie; I'd definitely buy that DVD."
"I know that TV costs a lot, but it's worth it. I just bought one last week."
11/7/04
They say smell is the most powerful senses. I figure I'd come up with my favorites:
Flowers at the beginning of spring
Play dough
A bakery
A brewery (especially the old Olympia Brewery in Tumwater)
The chlorine around a swimming pool during summer
11/6/04
The other day I went shopping at Safeway, and I noticed a lot of people walking around talking on cell phones. I've used a cell phone while shopping (usually to check in and see if my wife wants anything), but I don't carry on conversations while looking for food. For one I find it kind of hard to push the cart with one hand. Strange behavior...
I'm still getting over the election from last week. Everyone I've run into seems positively stunned by Bush's victory. I'm one of them. The usual reaction seems to be, "How could people vote for that idiot!" And then to hear Bush talking about his "political capital" that he's going to cash in now. After all, 51% of the country voted for him, so that must mean everyone is okay with his "mandate."
If you haven't seen it already, check out Michael Moore's reaction.
11/3/04
Post election blues
The election was yesterday. Bush won, Kerry lost. And if you think Bush had fun during his first term, just wait and see what he does now.
DNC Washington State Headquarters - Election Night at the Westin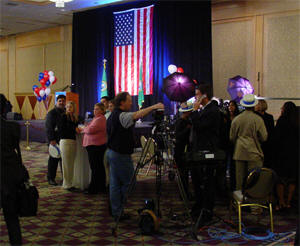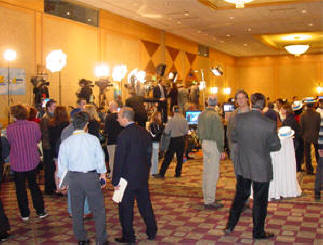 The podium The phalanx of TV cameras
Election 2004 - The day before
It's the most wonderful time of the year... Election Day! And it's coming to us tomorrow. I've already voted, as have 400,000 other people in Washington. I wonder if they're aloud to count before Election Day?
I've tried to lay out in the Election 2004 section and in this Blog why George W. does not deserve re-election. But there are a lot of people who still think he's doing a good job.
I have a friend who's from Lebanon, and earlier this year we drove down to the Manzanita to meet our families. As we drove, we talked politics. He's a staunch Republican, and I guess I'm a staunch Democrat. When I asked him why in God's name he could support George W., he presented a good argument (he's a lawyer, by the way). But he said something that's stuck with me ever since, and it goes like this: "George Bush is not good for the self-esteem of the American people." I think this is why so many people are angry. When someone doesn't make you feel good about yourself, you tend to avoid them. But when it's the President of the United States and his administration, you're reminded every day. What are you supposed to do, bury your head in the sand?
Which leads me to another point. What the fuck happened to the media during the past year? Weren't they supposed to be balanced? You know when a network (that shall remain nameless) uses the slogan "Fair and Balanced" and spouts right-wing propaganda, you've got a problem. I know NPR is kind of to the left, but at least they give you both sides of a story―and not as sound bites, either.
So often these days, the stories seem to be manufactured―a prime example being the Swiftboat Captains Against John Kerry, or whatever the hell it was called. The media would rather report on this propaganda than dig into the real problems in Iraq. Fortunately we had the debates, and John Kerry was able to go out there and tell people why he should be the President, and why Bush should not.
Unfortunately, the real problem is going to be after Election Day. I think the media will be extremely careful after what happened last time (calling Florida). But I think that the lawyers will get involved starting tomorrow. I just wish Kerry would beat Bush in a landslide so we wouldn't have to deal with that crap.
Listen: It's our country, and it's time to get out there and vote. I don't care who you vote for, but every citizen needs to participate.
Did you know that if you don't vote in Australia, you get fined (it's true).
10/28/04
Between sun and moon
I watched the lunar eclipse last night and was really awestruck by the beauty of it. I like to see a blood-red moon. Ever since I saw a solar eclipse in 1979, I've been fascinated by the relationship between the sun and moon.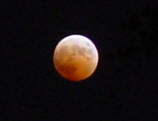 Van Halen
I went to see Valen Halen at Key Arena on Friday night. The crowd was electric as Eddie Van Halen and the band played through their catalog of hits. It was also the loudest concert I have ever attended (not a good thing). During the opening band, I headed out to the restroom to get a paper towel that I could fashion into home made earplugs (yes, I forgot my ear plugs).
I liked how the stage included two areas for fans to sit called "Golden Rings." Sammy Hagar spent a lot of time high-fiving and signing autographs for these fans, as well as those in the front row.
Two things surprised me at the concert. The first was how solid Alex Van Halen was on the drums. I've always considered him a little sloppy, but he definitely is the backbone of the band. The other thing was the genius of Eddie Van Halen's playing; he's even better than I expected. The sad footnote here is that he seemed to be completely wasted during the show. At one point, he literally fell down, landing on his ass. During his 15-minute solo, he kept apologizing to the crowd for "not knowing what he was doing." He also spent a good part of his solo in the fetal position next to his wall of speakers.
Later in the show, I noticed that Eddie seemed to be screwing up songs. The person I went with, Ken Harder, was sitting much closer, and he noticed Eddie screwing up all kinds of stuff.
So, I would say VH was a bittersweet show. I'm glad I went, but it was sad to see a musical genius self-destructing right on stage.
10/21/04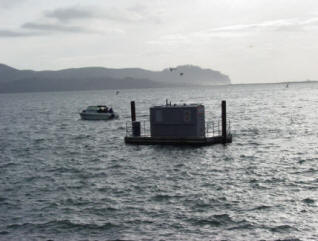 Oregon coast
I just got back from a visit to the Northern Oregon coast. We stayed in Manzanita in a house with a spectacular 180-degree view of the sea. I was looking out this window a lot, as there was a major storm moving through the area for two days.
On Sunday, Cameron and I drove down to Tillamook. We visited The Blue Heron Cheese and Wine Company (they're famous for their Brie cheese), the Tillamook Air Museum, the Tillamook Cheese factory, and Tillamook Country Smokehouse.
Perhaps my favorite image from this trip is the one above. It's an outhouse for fisherman. I don't know about you, but the thought of using a floating outhouse makes me a little nervous.
Sting and Annie Lennox at White River
Went to see Sting and Annie Lennox on Friday at White River. My sister and her husband gave tickets to Brenda and me as a thank-you gift for being in her wedding, which was really nice. Brenda ended up not being able to go due to being sick, and I certainly didn't feel up to it for various reasons... but I'm glad I went.
Dominic Miller, Sting's guitar player of 15 or so years, opened the concert with a short 20-minute set. He played solo, accompanied only by Sting on "Shape of My Heart." He played classical compositions, as well as "Star Spangled Banner."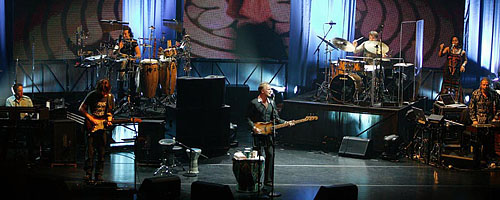 Annie Lennox played an hour or so, and really amazed the crowd. I can honestly say I've never heard a singer quite like her. Her voice was powerful and soulful, and she seemed to glow from the stage. She's a performer you can't take your eyes off.
Between Annie and Sting, we went out to meet Dominic Miller. He was signing his new CD, "Shapes." It's strange to meet artists like Dominic. When I first saw him standing under the tent, he radiated charisma and positive energy. When I actually "met him," I found him to be friendly and down-to-earth, and even shook my hand (when I've met other musicians, they don't always shake your hand). When time was getting short, but the line wasn't, the handler said to the crowd, "In order to move things along, be as brief as possible. Dominic is very friendly. Do not talk to him!" She had a nice sense of humor.
Sting came on the stage around 9:40 p.m. and put on a solid show. His stage was tastefully decorated, with HD-TV panels and lights that moved up and down. This was my third time seeing Sting, and he was as consistent as always. I would go as far as to say he's the most consistent musician I've ever seen, hitting every note, playing his parts perfectly. He played many of his Police hits, too. It's always great to hear "Synchronicity II, " "Every Little Thing She Does (Is Magic)," and "Roxanne." Annie Lennox joined him on stage to sing "We'll Be Together." I was amazed at how powerful her voice was compared to Sting's.
The big surprise of the night, however, was Sting's new drummer, Keith Carlock. Rarely do you hear a drummer express his individuality and style behind an artist like Sting. Usually, players backing up major acts just "do the job." Keith played with a kind of fire I haven't seen in a long time ― and he's a young guy (the last drummer to do this with Sting was Omar Hakim, although I have tons of respect for Vinnie Colaiuta, too). His style is a fusion of Steve Smith, Stewart Copeland, and some of the great funk drummers. He played "Every Little Thing She Does" with such gusto and attention to detail, copying many of Stewart Copeland's original parts while keeping his own style.
I really enjoyed the show.
Today, I went to breakfast at the Kona Kitchen in Seattle. It's been a while since I've eaten there, and I always feel right at home. Kona Kitchen is owned by Yuji Okumoto and his wife. The thing you might not know (although there are plenty of clues in the restaurant) is that Yuji has a pretty extensive acting career, too. He got his start in the movie "Better off Dead," one of my favorite 80s films, and moved on to bigger roles, like the villain in "The Karate Kid, Part II."
As a restaurant owner, he's done pretty well for himself, too. There's a great selection at Kona, for breakfast, lunch, and dinner, and while you're waiting for them to cook your food, you can wander around the restaurant and look at all the signed 8x10 photos of actors on the walls.
Check out Kona when you're in the Maple Leaf neighborhood.
Posted - 10:00 p.m.
The first presidential debate
OK, it's time to get serious here... at least for the moment. I watched the presidential debate tonight and thought Kerry did really well. Bush seemed angry and perplexed the entire time. I guess one of the rules in the 32-page contract for the debate was the networks weren't supposed to show the candidates side-by-side. Well, they did. Here's what I saw:
Bush seemed visibly angry with Kerry's remarks.
Kerry seemed at ease, almost enjoying himself.
Bush drank a lot of water.
Kerry didn't touch his water.
Bush seemed perplexed that anyone could disagree with him.
Kerry called Bush on the carpet for the horrible mess he's created in Iraq.
If you've ever wondered about the behind-the-scenes machinations of these debates, check out this story by Connie Rice.
Posted - 11:23 p.m.
Thoughts on Star Wars and George Lucas...
Over the past few days, I watched the Star Wars Trilogy DVDs and extra features. The collection has mostly surpassed my expectations. I love the clarity of picture and sound of DVD, and the Star Wars discs seem to take it to new levels. And George Lucas has added a few things that weren't there in the Special Edition (for example, Hayden Christensen is now the Anakin "ghost" at the end of "Return of the Jedi," standing with Obi-Wan and Yoda).
However, a lot of people don't agree with me. I've been reading about other fans being upset with Lucas for tinkering with the original saga. But Lucas lives his life by the dictum, "art is never done, it's only left unfinished"; and a man of Lucas's means has the ability to return to his original movies and adjust them as he sees fit. My opinion: He can do what he wants. It's his story. If you don't like it, don't buy it.
I think what really upsets the fans is they wanted a DVD collection with both the "special" editions and the original editions on them (and no more tinkering). Well, you can go watch those on VHS if you want. I have three different versions of the Star Wars trilogy on VHS:
The Star Wars Trilogy (original) - VHS
The Star Wars Trilogy (original - letterboxed) - VHS
The Star Wars Trilogy (special edition - letterboxed) - VHS
You can't fault Lucas for his business acumen. He knows he has a good thing, and he's going to milk it for all it's worth. After all, the profits from the Special Edition films were probably used to fund Episodes I and II.
What people forget (and this is made abundantly clear in documentary "Empire of Dreams" on the special features disc) is Lucas had to fight tooth and nail to get Star Wars made. He had a posse of shareholders at Fox studios ready to shut him down. Somehow he made it through with his film intact.
But then after he made a ton of money, instead of becoming what he hated (a successful filmmaker with a lot of money, who still has to play by the studio rules) he turned around and invested all of it in "The Empire Strikes Back." Very few people are willing to take these kinds of risks, in business and in life. The reward for Lucas was independence from the studio system.
Love him or hate him, Lucas is the Walt Disney of our time. And I think the world's a better place because of him.
PS - Don't worry, I predict Lucas will come out with three more versions of Star Wars over the next 10 years:
Version One: "The lost scenes of Star Wars." This one will feature the cut scenes from Episode IV. If you read the script, you'll see what I'm talking about. Lucas filmed them; in fact, you can see them on the CD-ROM "Star Wars: Behind the Magic."
Version Two: "The original Star Wars trilogy." This one will feature the original films as they appeared on their release dates. There will even be a feature that allows you to degrade the film to it's pre-restored state (purists will love this).
Version Three: "Make your own Star Wars trilogy." This one will give you the option of creating your own version of the Star Wars films, mixing and matching all versions of the film. Due out in 2010, this will only work with the Lucasfilm THX DVD Super GX player.
Posted - 11:05 p.m.
Hemi hearse?
Is it just me, or does the new Dodge Magnum look like a hearse? I've seen a few of these driving around, and I always do a double-take. Please understand, I have nothing against cars with Hemi engines. My brother recently bought a Dodge Durango, and the word "Hemi" is a constant source of amusement. My favorite way to use "Hemi" is when we want to pass someone, as in: "I'm gonna Hemi this guy!" I don't know if I'm up for putting Hemis in cars that look like hearses, though. You decide.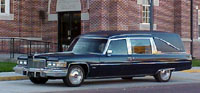 1975 Miller-Meteor Cadillac electric 3-way owned by Floyd Starr of Lexington, Nebraska
Star Wars on DVD
The other day, the original Star Wars Trilogy came out on DVD. I went down to Best Buy to pick up my copy at lunch, knowing full well they might run out by evening (it happened with the "Indiana Jones" trilogy). I must say, I'm very impressed with these DVDs. So far, I've watched "Star Wars: A New Hope," and it looks and sounds great. In fact, I'm hearing all kinds of stuff that seems new on the soundtrack. Ben Burtt, the sound designer for Star Wars, definitely deserved his Oscar for Episode IV. The soundscape is unlike anything I've ever heard on a film, especially coming through my Sony home theater sound system.
I also spent some time watching the "making of" features, and thought it was extensive (compared to most of the extra features you see these days). It's going to take me a while to watch all the material on these discs.
Thanks, George Lucas.
Posted 11:15 p.m.
The Pizza challenge: Pizza Hut vs. Papa John's
There's something about pizza delivery. You pick up the phone and order, and the pizza shows up at your door. In the past year, I've been using Pizza Hut and Papa John's. Now, it's time to rate them:
| | | |
| --- | --- | --- |
| | Papa John's | Pizza Hut |
| Delivery to my house | No delivery | Yes |
| Time for delivery | No delivery | 30-40 mins |
| Ingredients | Good | Good |
| Crust | Good | Excellent |
| Extras (dipping sauce) | Good | Excellent |
| Customer service | Bad | Excellent |
Pizza Hut wins!
Now, to explain the data.
Delivery to my house: Papa John's still does not deliver to my neighborhood. If I want Papa John's, I have to pick it up myself.
Time for delivery: Pizza Hut usually gets it to me within 30-40 minutes. However, there are those times that the operator says, "We should be there in about 90 minutes or less." I always want to say, "That's unacceptable," but by the time I've ordered the pizza, I'm craving it.
Ingredients: Papa John's boasts "Better ingredients. Better pizza." But I don't think there's any real difference.
Crust: I've fallen in love with Pizza Hut's crisp crust―and not because of some Atkins-fad reason. I just think it tastes really good.
Extras (dipping sauce): Papa John's used to have the edge. But tonight I got some Pizza Hut sauces, and they were bigger and better (or equal to) the ones at Papa John's. In the Fast Food market, bigger always wins.
Customer service: I've had some idiots answer the phone at Papa John's. It's like you're calling a frat house or something. And it's happened on more than one occasion. The guys at Pizza Hut are always courteous and professional, always verify what you ordered when they show up.
Finally, my brother used to work for Pizza Hut long ago. One time we were driving to the beach and his car broke down. We tried to get someone to stop and help, but no one would. Finally, my brother put on his Pizza Hut delivery jacket. The next car that drove by stopped.
Rolling Stone - The magazine I love to hate...
For some reason, I'm now receiving Rolling Stone. I haven't filled out any cards, haven't called anyone. So, another magazine or service must have sold me out. I guess that's beside the point... I'm getting the magazine for free. I know in the near future, I'll receive a letter from RS that says, "Now that you've enjoyed our magazine, why don't you consider subscribing?"
Here's why I'll never subscribe to Rolling Stone:
It's chock full of ads. It reminds me of TV, it's so bad. Or a women's magazine.
They've never given Rush their due (can you say Cover?). What they're not telling you is their subscribers have asked for a Rush cover story for years, but, alas, the band just isn't cool enough.
It's like People magazine for music.
The layout of the magazine is too big. Are they trying to be a magazine or a newspaper?
I've never liked the writing in the magazine. Too hip, too shallow. It's true the magazine has published some fine writers (Cameron Crowe), but I think that's the exception.
Posted 11:15 p.m.
Thoughts about politics
It's Primary day, here in Washington, where we whittle down the candidates for the November election. So, it's only natural that I'm thinking more about how much I despise our current president's policies and decisions. Since I'm so fond of lists, here's my list of why George W. Bush should not be re-elected:
The war in Iraq ― He lied to get us in there (WMD), and he has no plan to get us out (and it's costing us $1 billion a week, including the war in Afghanistan)
He's run up the debt in our country and shattered the record for the largest annual deficit in U.S. history
1.1 million jobs lost on his watch
Squandered international goodwill post 9-11 with his belligerent foreign policy decisions and poor diplomacy
The Patriot Act
Great tax cuts for the rich while not helping out the poorest Americans.
The Abu Gharib scandal
The treatment of prisoners at Guantanamo Bay (refusing to abide by the Geneva Convention)
Ignoring the terror warnings pre 9-11
His questionable past
Wake up, America!!!
Posted 10:30 p.m.
Tribute Band Blues
Last night I went with my friends Monica and Steve to see a couple of "tribute" bands at Doc Maynard's in Pioneer Square.
The first was called No Quarter, a Zeppelin tribute band. Even though they were the opener, they played for two hours! No Quarter wailed on and on until 11:45. They wore period-piece Zeppelin costumes and wigs! The band even looked a bit like Zep, with the lead singer prancing around in his bare feet, shirt open, hair obscuring his face. The only problem was I couldn't really hear anything. The guitar and drums drowned out all the other instruments and the singer. And the drummer... I guess he's really bored playing the Zep catalog, because he twirls and throws his sticks every fourth beat (I'm not kidding). This is a little odd since John Bonham, the drummer for Led Zeppelin, didn't do this, and when this drummer did it, it threw off his groove and he made mistakes. Every break was spent gathering missed sticks and placing them in the appropriate locations around his drum kit. Even the singer helped the drummer recover sticks that had flown too far. Much too distracting for me.
The second band was called Vital Signs, a Rush tribute band. They didn't wear costumes, but did wear wigs (and bad ones at that). The guys playing Geddy Lee and Alex Lifeson both wore white T-shirts. I think Steve said it best: "Only Rush can play Rush." However, he also said it seemed like Vital Signs were making fun of Rush with their wigs and the way the guy was singing. The band drove the 150 or so patrons right out of Doc Maynard's within four songs. Part of the problem was they started after 12:30 a.m., but I think the audience saw right through their half-assed act. I know I did.
Let's talk about the drummer. First, he seemed like a punk rock drummer. He played about 80% of the Rush beats, without any of the precise Peart feel (the rest of the time he made up his own stuff). He used the wrong cymbals (Zildjian Z's, which have no warmth and are very tinny), and his drums (DWs!) sounded like cardboard. This may have been the sound man's fault (I noticed the drums had about 4 mikes total, and this just wasn't enough for a Peart-size kit); but even when I went down close to the stage, I heard no tone from those drums.
The consensus from the very knowledgeable Rush jury I was with: The bass player did his job the best. If you think I'm being a little hard on the band, think of this: If you're trying to be a tribute band, you need to hit everything as close as possible; these guys seemed like they didn't really understand Rush, and that's the kiss of death. The guys from No Quarter clearly understood Zeppelin, they just sounded horrible.
Posted 10:30 p.m.
9/8/04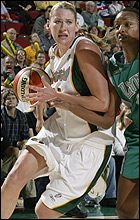 Cam and I went to the Seattle Storm game tonight (they played the Detroit Shock). Great crowd, lots of kids, lots of noise. I tried to tell Cam that Lauren Jackson is the best all-around woman basketball player in the world, but he didn't care. He said, "I wanna go home!" during the entire game. The only time he paid attention was when the dance team (consisting entirely of children) showed their moves on the court.
With five minutes left in the game, we made our exit. The Storm were crushing the Shock by over 20 points!
I don't know about you, but when I go to a sports event, I enjoy the great food they have at the concession stand. Hot dogs, candy, popcorn. It's all very nutritious.
Posted 10:30 p.m., 9/8/04
9/5/04
Summer snack recommendations...
It's been the summer of ice cream at our house. Brenda got one of those home ice cream makers last Christmas, I think, and she just pulled it out in the last month. Since then, we've been making all kinds of stuff, including: vanilla ice cream, cookies 'n cream ice cream, and orange, grape, and cola slushies. I remember when I was a kid that it took what seemed like hours to make homemade ice cream, and it involved rock salt and manually turning some crank. But the ice cream was always better than anything you could buy in the store. It still is.
Since we're on the subject of homemade accessories/snacks, I also have a thing for popcorn. A few years ago I bought a "Stir Crazy" popper at Fred Meyer, which stirs the popcorn in the oil, popping just about every kernel. One day I even got a hold of some commercial popping seasoning/oil and tried it out in the "Stir Crazy." It was almost like movie theater popcorn. And just as bad for you.
But getting out the "Stir Crazy" usually takes a lot of time; I typically pop up some Orville Redenbacher's "Tender White" microwave popcorn. This is definitely the best microwave popcorn I've ever tasted.
Posted 11:30, 9/5/04
9/1/04
Just got back from the Wedding/Family Reunion. It was great to see everyone, and cool to see my little sister (only sister) get married.
I drove back by myself, as Brenda's staying behind to do some "site visits." On the west side of Snoqualmie Pass, I ran into a wicked hailstorm. Most people pulled over, but I just kept plowing through it (at a much reduced speed).
It's good to be home.
Posted 9:30, 9/1/04
8/25/04
Getting ready to go on vacation for a week. My sister's getting married on Saturday in the Tri-Cities, and then there's a family reunion with the "East Coast Olson's," although they're not all on the east coast anymore. And not everyone is coming. But it will be good to catch up with the family.
I started watching the film "Thirteen" tonight as I picked up the basement. Man, it's a pretty brutal film. Makes me a little leery of those teenage years and possible bad influences on your kids. Haven't seen anything like this since that movie "Kids." Again, Holly Hunter is going for material that is challenging for her. She's definitely deviated from trying to be a typical movie star.
I missed Aimee Mann tonight, who was playing at the Woodland Park Zoo. I really wanted to see her, but had too much to do before vacation. Plus it was raining.
Posted 12:30 a.m., 8/26/04
8/24/04
Well, I was sick yesterday. Had to take the day off work. I watched a bunch of movies, including three episodes of "Band of Brothers," probably the best War Film ever made.
I also got a chance to see "The Cooler," which was one of those brilliant movies that doesn't come around too often. I was amazed by the relationship that William H. Macy and Maria Bello created. And I think Alec Baldwin deserved the accolades thrown his way.
On the other hand, I thought "Secret Window" was full of cliches. Johnny Depp tries to single-handedly save the film, but in the end it's a tired version of "The Sixth Sense" meets "The Shining."
Posted 11:00 p.m., 8/24/04
8/17/04
I heard a great idea on NPR on the way home tonight. It was on Marketplace, and the commentator was talking about creating a Baby Price Index, or BPI, that would show the true cost to parents. For example, child care costs have continued to rise as well as college costs. Wouldn't it be great to see all that data crunched into a single index called BPI?
Posted 12:30 a.m., 8/17/04
8/15/04
2004 Olympics Coverage Analysis
Well, the announcers are at the microphone. They're calling the balance beam as if gymnasts are soldiers, each mistake a wound that brings them closer to death.
That'll cost 'em.
There's Jim Lampley sitting comfortably in his studio. He's thinking back to when he used to call the Tyson fights for HBO.
That'll cost 'em.
There's Bob Costas trying to intellectualize the meaning of sports. Wait, now he's explaining why there are so many empty seats.
That'll cost 'em.
Five minutes of coverage and then 3 minutes of commercials.
That'll cost 'em.
NBC score: 8.2/10.00
Turn the channel to CBUT (Canadian). Wow, they actually show the athletes competing. They don't show a bunch of smug analysts trying to justify their existence between commercial breaks.
CBUT score: 9.5/10.00
Posted 11:40 p.m., 8/15/04
8/14/04
Top Gun Analysis
I've been thinking about "Top Gun" for the past few days, ever since I watched it again on Thursday night. I guess I think it's interesting how a movie that seems so nationalistic and blatantly commercial (both as a movie and as an advertisement for the the Navy) can also be so subversive. Ever since I heard Quentin Tarantino's monologue in the movie "Sleep with Me" about how "Top Gun" is really about a pilot (Tom Cruise, call-sign "Maverick") struggling with his homosexuality, I've never been able to watch the movie the same way. You be the judge:
*Sid is played by Quentin Tarantino

*SID: You want subversion on a massive level. You know what one of the greatest fucking scripts ever written in the history of Hollywood is? Top Gun.

DUANE: Oh, come on.

SID: Top Gun is fucking great. What is Top Gun? You think it's a story about a bunch of fighter pilots.

DUANE: It's about a bunch of guys waving their dicks around.

SID: It is a story about a man's struggle with his own homosexuality. It is! That is what Top Gun is about, man. You've got Maverick, all right? He's on the edge, man. He's right on the fucking line, all right? And you've got Iceman, and all his crew. They're gay, they represent the gay man, all right? And they're saying, go, go the gay way, go the gay way. He could go both ways.

DUANE: What about Kelly McGillis?

SID: Kelly McGillis, she's heterosexuality. She's saying: no, no, no, no, no, no, go the normal way, play by the rules, go the normal way. They're saying no, go the gay way, be the gay way, go for the gay way, all right? That is what's going on throughout that whole movie . . . He goes to her house, all right? It looks like they're going to have sex, you know, they're just kind of sitting back, he's takin' a shower and everything. They don't have sex. He gets on the motorcycle, drives away. She's like, "What the fuck, what the fuck is going on here?" Next scene, next scene you see her, she's in the elevator, she is dressed like a guy. She's got the cap on, she's got the aviator glasses, she's wearing the same jacket that the Iceman wears. She is, okay, this is how I gotta get this guy, this guy's going towards the gay way, I gotta bring him back, I gotta bring him back from the gay way, so I'll do that through subterfuge, I'm gonna dress like a man. All right? That is how she approaches it.

... but the real ending of the movie is when they fight the MIGs at the end, all right? Because he has passed over into the gay way. They are this gay fighting fucking force, all right? And they're beating the Russians, the gays are beating the Russians. And it's over, and they fucking land, and Iceman's been trying to get Maverick the entire time, and finally, he's got him, all right? And what is the last fucking line that they have together? They're all hugging and kissing and happy with each other, and Ice comes up to Maverick, and he says, "Man, you can ride my tail, anytime!" And what does Maverick say? "You can ride mine!" Swordfight! Swordfight! Fuckin' A, man!

Posted 11:40 p.m., 8/14/04
8/12/04
I tell you... the traffic in Seattle for the past two weeks has been atrocious. Doesn't matter what time it is, day or night... it always sucks. On the way back to Seattle from the Eastside on SR 520, I've taken to looking at the "glare shields" on the freeway (these are green rectangles on top of the median that block the lights from oncoming cars). People have affixed stickers all over these glare shields. There are beer stickers, Internet sites, band stickers, and just about anything else you can imagine. That's how slow I'm driving. I can read the stickers on the freeway.
Pretty sad.
8/10/04
Over the weekend, Cam and I saw the Blue Angels... twice. The first day, we drove down to the Seward Park area, in south Seattle, and watched the "low show" (this is the show they put on when there are clouds). I've seen the low show once before, I think, and they really make up for the limited acrobatics by performing high-speed passes over a crowd―maybe 300 feet above the ground. There's nothing like the sound of four jets roaring over your head at 500 mph. I must say it was louder than just about anything I've ever heard (and I'm a drummer).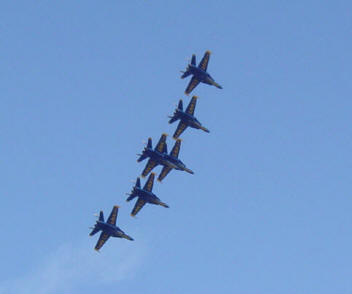 Then on Sunday, we went to Boeing Field to watch the "walkdown." This is when the Blue Angels walk down the runway, salute their crew, and jump in their jets. Then they turn on their engines. This was the loudest sound I've ever heard.
But then all six jets taxied onto the tarmac and blasted off with their afterburners. I have to say, this was most definitely the loudest sound I've ever heard in my life. It reminded me of what the Space Shuttle might sound like, even though I've never heard the Space Shuttle.
Posted 10:30 a.m., 8/10/04
8/6/04
TGIF... I heard that a lot today. For some reason it was a rough week for a lot of people. Was certainly rough for me, too.
Brenda's been out of town, so Cam and I've been hanging out. Last night and tonight, we watched "Star Trek VI: The Undiscovered Country." Cam kept asking me questions like, "Why does that guy have a patch on his eye?" and "Why is that guy a bad guy?" and (my favorite) "Why did that woman turn into Kirk?" I guess "Star Trek VI" isn't really meant for a 4-year-old. He did like when Kirk and Sulu blew the shit out of General Kang's Klingon warship at the end. As one review about the later Star Trek movies put it: "It ain't art, but it is entertaining."
Posted 1:00 a.m., 8/7/04
8/3/04
The neighborhood had a "block party" tonight. I was in an antisocial mood, so I didn't go. Because the street was blocked off, Cam drove his Razor scooter down the middle of the street and fell off. No broken bones, but we did have to patch him up a bit.
Posted 10:28 p.m. Pacific
8/1/04
Celebrated my 12th Wedding Anniversary today. Wow, 12 years! We were able to drop off Cam with my brother and go to a nice dinner up the street at Joe's.
On Saturday, Brenda and Cam went up to her mom's. I slept in until 11:30 and then worked. I also got to play some drums and catch up on movies. I have to say, it was nice to have a break. I've had some breaks recently (Phoenix), but not at home by myself with no schedules.
7/29/04
Finally got to play some drums tonight. I have a new beat I've been working on that's very cool: double-bass, jungle beats, cowbells, timbale. It's interesting how the ideas for beats don't come along that often anymore. One of the other things I did was swapped my x-hat with my main hi-hat. I'm using the Sabian Paragon 14" as my main hat now, and it feels very odd (heavy). I just needed a change. I couldn't play on it very long since Brenda wanted to watch the Democratic National Convention.
Ah, the life of a drummer.
Posted: 12:15 a.m. Pacific
7/25/04
Follow-up: A tale of six goldfish
The three goldfish made it through the night. I released them into the pond this evening.
Posted: 11:30 p.m. Pacific
7/25/04
Indigo Girls Concert at "The Pier"
Tonight, after going to a wedding reception, Brenda, Cam, and I went to an Indigo Girls concert at the Pier in Seattle. After a blistering 90-degree day, the cool breeze blowing along the Pier felt great. There are few venues that offer the kind of view as the Pier: In back of you is the Emerald City skyline; to the right is Puget Sound; and in front of you is the stage. And tonight, a half moon hung postcard perfect above the stage.
After Cameron made Brenda spill her coffee, I took him away from the bleachers "for a talking to." I noticed that you could walk right up to Stage Right, so I went back and got Brenda, and we watched half the show from that angle.
One thing that amazes me about The Indigo Girls is their songwriting. That's what captivates their audience. No distracting light shows, no back-up band―just two women with guitars, singing for the audience. And they've been doing this for two decades.
A tale of six goldfish...
I bought six goldfish for our pond today. Unfortunately, the pond wasn't ready for them. When we came home from the concert, three of the six goldfish had died! I guess the 90-degree house was too hot for them. I'm hoping the other three can make it through the night.
Posted at 1:21 a.m. Pacific
7/19/04
Just got back from Phoenix and Las Vegas tonight. Saw my friend Dan and his two daughters and a bunch of his friends. I also took in two Rush shows: One in Phoenix and one in Vegas. Lost a bunch of money in Vegas, but won money in Phoenix (isn't it supposed to be the other way around?). I think the average temperature was 100 degrees every day. I nearly melted.
7/12/04
Well, Brenda got back last night from her canoeing trip, tired and sore. She had one blister. The trip was exactly what she was looking for... even though she had to deal with some fellow campers who snored (and didn't want to admit it)... and Boy Scouts who wouldn't be quiet.
7/9/04
Due to the 4th of July weekend, it was a short week at work (4 days), but it felt long. By the time I drove home around 5:15 p.m., I was nearly falling asleep as I sat in traffic. I woke up a little once I picked up Cam.
I guess I'm tired because I stayed up till 1:30 a.m. reading "Traveling Music." It's a fascinating book and reads much better than any of Neil Peart's previous books. I get the feeling he's more comfortable writing books now or is more comfortable with the subject matter (or both).
On Wednesday I leave for Phoenix to visit my friend Dan and take in some Rush shows (Phoenix and Las Vegas). This must be the busiest summer I've had in a while.
7/8/04
I had dinner with my friends Steve and Monica tonight. Thai food out in Renton, by the Boeing plant. Good food, but not so good I wanted to take home the leftovers. My son became devil-child after he was done eating rice, but at least he fell asleep on the ride home from Renton to Seattle (about 25 miles).
My wife wasn't at dinner because she's on a 5-day canoeing trip in the North Cascades (Ross Lake). It's always strange to have her out of the house and take over all parenting duties for a few days. Before she left, I watched her pack for two days ("I've got to get my backpack down to 40 pounds!"). She would pack, step on the scale, and then repack. (I think it ended up being 50 pounds.) Being a Girl Scout, she always makes sure she is prepared for anything (and this time I think she is). To top things off, I bought her one of those digital music players and programmed in some of her favorite CDs. One AAA battery = 20 hours of music! Hope she's having a good time...
The Rush shows from last weekend continue to resonate. There were so many interesting moments. I keep thinking about how great the show at White River was and how bad the one in Clark County was. For the latter, I don't know why they allow alcohol in the venue. White River didn't allow this, and things didn't get out of hand. But it's how they make their money.
I picked up Neil's new book, "Traveling Music," at one of the shows. His best book yet (at around 100 pages).
7/5/04
4th of July Weekend with Rush (spoilers below)
White River Amphitheater - 7/2
On Friday I saw Rush at White River Amphitheater with my wife, brother, and four-year-old son, Cameron (a drummer and Neil Peart fan already). It had been about two years since I'd seen Rush, and they were celebrating their 30th Anniversary on this tour. I had the second best seats I've ever had at a Rush show (4th row in front of Geddy).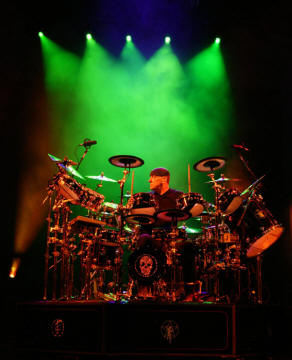 During the months leading up to the show, we thought a lot about bringing Cameron. Could he handle the over stimulation of a Rock concert? Would he sit still for a three-hour concert? To help our chances, I brought ear plugs and some special earphones that provide 60 dB of noise reduction (he chose the latter), and Brenda brought snacks. It didn't hurt that he took a 1-1/2 hour nap right before the show.
To see the look on Cameron's face as Geddy, Alex, and Neil stepped onto the stage was worth it (even when he had a meltdown about three-quarters of the way through the show).
But we weren't the only ones bringing kids. They were all over the place―their parents trying to share the magic and memories of this band with them. (Rush won't tour forever.) Everyone around us thought it was great that Cameron was there.
The magic for us happened during "Bravado," when my brother was holding Cameron; they both waved at Geddy, and Geddy waved back! I'd never seen him do this before. Then, in the second set, during "Tom Sawyer," Alex made a point of walking over and waving at Cameron. I never expected a wave from Neil, but I saw him look over at Cameron a few times.
As for the actual show, it was excellent. I'd never been to White River before, and thought it was a perfect place for a concert. The set list included songs I expected to hear, and some I didn't. "Between the Wheels" was the most surprising song. I also enjoyed hearing "Mystic Rhythms" and "Xanadu" again. It was also interesting to hear the "pirate" version of "Temples of Syrinx."
Every so often, a crowd and band come together in a perfect exchange of energy and emotion. Whenever I turned around and looked up at the 10,000-plus fans standing behind me, whenever I saw the smiles on the audience and the band, I knew it was one of those nights.
Clark County Amphitheater - 7/3
On Saturday, my brother Erik and I drove down to the Vancouver, WA/Portland, OR, area to see another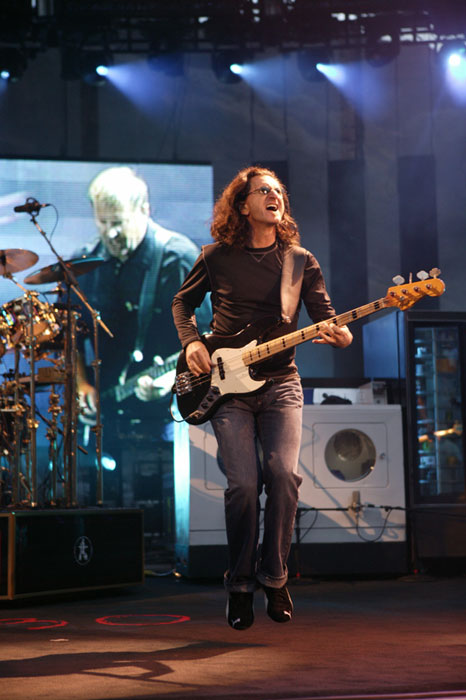 Rush show. We had "VIP" tickets from Erik's roommate Aaron, which gave us better parking; a special entrance; a VIP area where we could gamble, eat, and drink; and a nifty VIP patch that we wore on our shirts. (Unfortunately, the VIP bathroom had only 2 toilets, which left a line a mile long during intermission.)
The difference between Friday and Saturday night was extreme. Gone were some of the smiles on the crowd, replaced by drunken gazes, fights, beer throwing, name calling, and countless people trying to sneak up to better seats. Alex Lifeson, the guitar player for Rush, seemed especially pissed off. When he and Geddy threw out shirts to the audience, I guess a couple guys caught one of the shirts and wouldn't let go. Alex was yelling at them through most of the encore.
The good news: Our seats were dead center, 12th row. I could see Neil perfectly. And while Erik and I didn't have as much energy as we did for the Friday show, we did enjoy seeing the concert again.
My one-word review for this show to my friends Monica and Steve: "Good show, bad crowd."
Posted at 8:30 p.m. - Pacific
Photos by Andrew MacNaughton at Red Rocks, Denver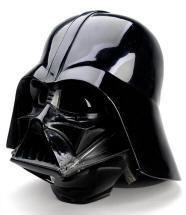 Today, I visited the Science Fiction Museum and Hall of Fame with my son. I thought it was really cool... definitely met my expectations, even exceeded them in a few places. My favorite part of it was seeing Captain Kirk's chair from the original Star Trek series. I had two thoughts when I saw the chair: 1) "Man, that chair looks old and beat up" and 2) "This is what billionaires like Paul Allen do with their money." As I strolled through the rest of the museum, I thought quite a bit about #2.
The museum is impeccably designed. There's a nice mix of props, displays, models, costumes, books, and manuscripts.
My favorite parts of the exhibit were:
The Captain Kirk chair.
The Alien Queen prop from "Aliens." (Much bigger than I thought it would be.)
The large model of the original Enterprise hanging above Kirk's chair. (Used in Deep Space 9, I believe.)
The model of the original Enterprise used in the title sequence.
The Darth Vader mask used in "The Empire Strikes Back."
The Terminator 2 exoskeleton skull.
The Armory, which includes weapons from about every Sci-Fi movie and TV show.
Cities of Tomorrow exhibit--especially "Blade Runner."
The "Spacedock," where you can watch famous Sci-Fi ships. I liked the "Close Encounters" mothership. This was my son's favorite exhibit.
The little flying saucer model used in "Close Encounters." Cool details.
Posted at 11:44 p.m. - Pacific