October 2005: A trip to Kaui
Monday, October 31, 2005
Seattle
It's Halloween in Seattle, but my mind is still in Hawaii.
The minute I got off the plane and stepped into the cold Seattle air, and torrential rain, I missed Hawaii. Before I visited Hawaii, people always told me things like, "It's better than you expect," or "It's the best place you'll ever visit."
And all of them were right. Hawaii is the kind of place that exceeds any expectations because there's no place like it.
Now I want to go back.
6:00 P.M. (Pacific, Daylight Savings time) Sunday, October 30, 2005
Somewhere over the Pacific
Drew slept for the first hour or so on the flight. There are tons of kids on this flight, and no one is really being quiet. I'm always surprised when I see people glaring at me when my kid is screaming.
So, I took him to the back and rocked him again. The flight attendants weren't nearly as interested in smiling at Drew this time.
The movie on this flight is "Bewitched," and it looks as bad as "The Fantastic Four." Of course, I can't hear the dialogue, as Drew won't let me put on the headphones I rented.
Even though we brought a portable DVD player, Brenda rented a digEplayer, too, which like an iPod for movies. She watched "Ice Princess," and after our DVD player's batteries ran out, Cameron watched a Batman cartoon. Not bad for a $10 rental. The digEplayer is a cool concept, and something I'll keep in mind for the next trip.
I've already set my watch to Seattle (Pacific) time, which is only two hours ahead, instead of three. This is because of that insane thing that some of us do called Daylight Saving Time. For once, I the insanity is going to help me adjust. But I'll still be two hours behind.
1:00 P.m. (Hawaiian Time) Sunday, October 30, 2005
Oahu Airport
I'm sitting in the Honolulu airport, looking out the window at Diamondhead. Cameron is staring out the window at our 767, being refueled and prepared for our trip. My family is out walking around the airport.
My dad took Drew and rocked him to sleep—a mixed blessing, as Drew probably won't sleep as much on the airplane.
Saturday, October 29, 2005
Hospital, Poipu beach, falls, dinner at Coconuts
We started off our day eating a huge breakfast, including the Ono that my Dad and Dale caught, eggs, bacon, and fruit.
Drew was running a high fever (for the third day in a row), so Brenda called the consulting nurse. They wanted us to bring him into the hospital, of course. It took two hours to find out he had a virus in his throat. I sat in the waiting room with Cameron, who played with matchbox cars the entire time.
We didn't waste any time after that heading off to Po'ipu. The scenery is different from the northeastern part of the island, with trees and mountains everywhere, instead of beaches. The turnoff to Po'ipu brings you into a dark tunnel of trees, the road winding down to the sea.
We stopped at Spouting Horn first, a lava tube that blows water into the air when the waves come in. It also makes a loud horn-like sound right before the water shoots up. The southern coastline and quality of light reminded me of some parts of California, like Monterey.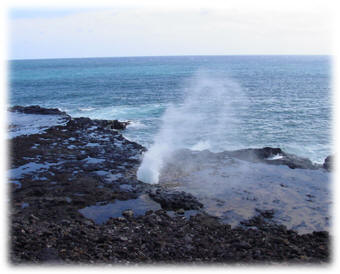 From there, we drove right to Po'ipu Beach Park. This was definitely the best beach for kids that we've been to on the trip, as it had a shallow, protected cove. At the edge of the sand was a carpet of rocks where thousands of colorful fish swam.
I beckoned Cam out to the rocks so he could see the fish for himself. He's been scared of the fish on other beaches, but because they were swimming around the rocks and not in the sand, I thought he'd like it. It took a while, but he finally came out and put his head underwater. The look on his face when he came up was magical. "I saw some fish!" (By the end of the day, he was saying, "I saw a thousand fish!")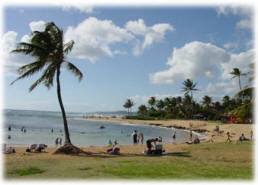 I sent Cam back to the shore, and I floated out over the rocks. I was finally getting the hang of snorkeling. I wasn't thinking about the mechanics of it anymore; I was just floating and breathing through the snorkel and felt at one with the ocean.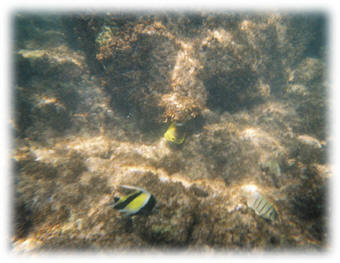 Schools of fish swam right by me. I saw angelfish, needle fish, and lots of other fish I didn't know the names of.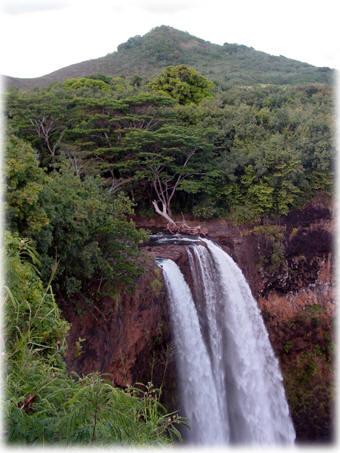 On the way back, we drove up to see Wailua Falls, one of those waterfalls that seems to cascade down for miles (although I couldn't really see the bottom). "The Ultimate Kauai Guidebook," which has been our guidebook of choice, said it was 183 feet from top to bottom (they measured it twice).
Friday, October 28, 2005
Snorkeling, Ferns, Falls, Dinner in Poipu
We took a quick dip at Lydgate State Park in the morning, where I finally did some successful snorkeling in the ocean. I started to get the hang of it after a few minutes. Cameron wouldn't come in the water for fear of fish biting his toes.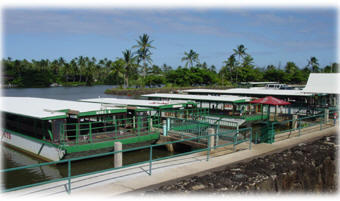 Later, we went up the Wailua River Valley to the Fern Grotto. On the way up, we had our own entertainment of three guitarists and two Hula Dancers. They even made us do the Hula. We rode on a flat-bottom boat, slowly winding up a river surrounded on both sides by trees.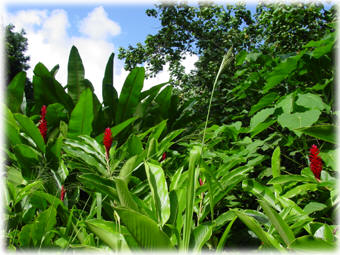 The fern grotto itself was spectacular―trees and plants with prehistoric leaves blocking the sunlight. At the top of the trail we found a shallow cave, with ferns and vines hanging down, and water falling from high above. It was the kind of place that you just can't capture on film (even though I tried). The grotto is starting to come back to its lush state after Hurricane 'Iniki, which devastated much of the island (there have only been two other hurricanes that have hit Hawaii in the last century, 'Iwa in 1982 and Dot in 1959).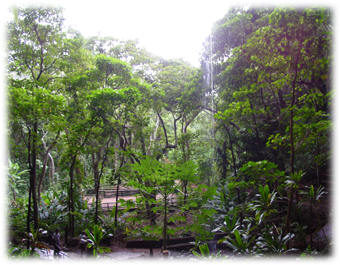 On the way back, the captain told us about the history of the area, including some movies that were filmed on the river: "Outbreak" and "Raiders of the Lost Ark." For the latter, Indiana ran across a field away from the half-naked natives (we couldn't see this field from the boat) and swung down onto the very same river where we were floating.
After that cruise, we drove up to Lacy 'Opaeka'a Falls, and also got a bird's eye view of the Indiana Jones field and Outbreak Village.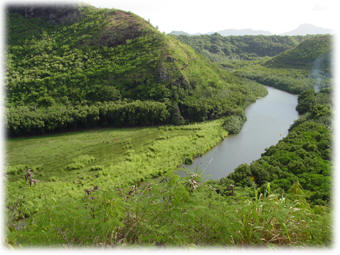 Later, the boys and I joined my parents in Po'ipu where we had dinner at The Beach House restaurant. I love how restaurants in Hawaii just open up right outside onto the beach or lawn. I went out to take some pictures and ended up talking to some surfer girls (just like the ones in Blue Crush). I asked them how late they surfed to which one replied, "We pretty much surf all day."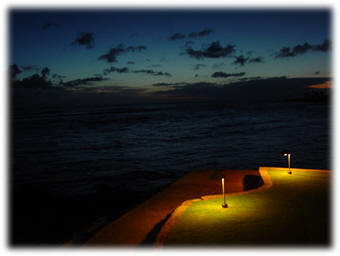 What a life.
7:00 p.m.Thursday, October 27, 2005
Wilcox Memorial Hospital
We just made a trip to the emergency room for Brenda. She got Mastitis, which is an infection that happens sometimes when women breastfeed. It can be very difficult to treat if you don't catch it right away.
Fortunately, Brenda's on antibiotics and on the road to recovery.
4:30 p.m.Thursday, October 27, 2005
Drinks and bubbles
My parents' realtor Sharon came over with her five-year-old daughter, Manna, for celebratory drinks and appetizers. (My parents upgraded their time share with her.)
Cameron got out the bubbles he got from the Patch Olson treasure hunt and gave one of the bottles to Manna. They sat out on the deck blowing the bubbles for an hour, I think.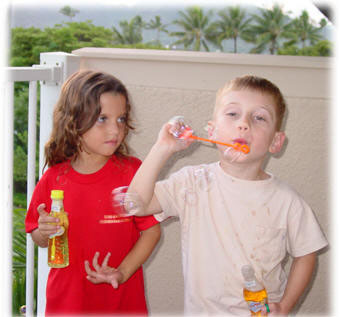 It was fun for Cameron to meet a "Hawaiian Girl"―or, as my family kept calling her, "Cameron's Hawaiian girlfriend."
3:30 p.m.Thursday, October 27, 2005
Patch Olson
Well, Uncle Dale got a note from the notorious pirate, Patch Olson. Evidently, Patch buried some treasure on Kauai and left a note and a map for Cameron to find it.
We all went out on the beach, looking for the clues, and, finally, digging for buried treasure. When Cameron finally found his booty, he got all kinds of cool stuff, including priceless jewels, toys, and bubbles. Oh, he also got some money.
Patch Olson seems like a cool guy. I had no idea I had some pirate blood in me. Arrrrrrrrrrrrrr!
2:00 p.m.Thursday, October 27, 2005
Kauai Movie Tour
This morning I went on a Kauai Movie Tour with my sister and her husband. It was a five hour tour, and I got to see many amazing sights.
The van picked us up at our hotel, and then we went on a search for a tour guide (the one who was supposed to give the tour didn't show). We drove all the way Nawiliwili, where cruise ships dock and found Tina, our last-minute replacement guide. Tina is a manager in the Movie Tour office now, but she also turned out to be one hell of a tour guide and a great island host.
Even though this tour was billed as a "Movie Tour," it went way beyond visiting set locations. We got to see hard-to-find places we would never see otherwise. We got to hear about where the locals eat. We got to hear stories (apocryphal and true) about movie star adventures on the island.
Many movies have been filmed on Kauai, including more recently:
Jurassic Park I, II, and III
Honeymoon in Vegas
Outbreak
Tears of the Sun
Mighty Joe Young
Six Days Seven Nights
Raiders of the Lost Ark (my second favorite movie of all time)
But Kauai has been a prime Hollywood location as far back as the 1950s, with the two famous examples:
Blue Hawaii
South Pacific (one of my wife's favorite movies)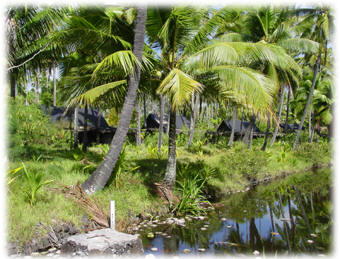 Of course, I need to mention that two TV shows also had footage shot on the island, including:
Fantasy Island
Gilligan's Island (the lost pilot)
Without a doubt, the two coolest things I saw on the tour were:
The mountain from the opening of Raiders of the Lost Ark.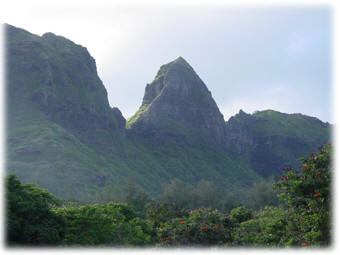 The beach where the S.S. Minnow was shipwrecked from Gilligan's Island.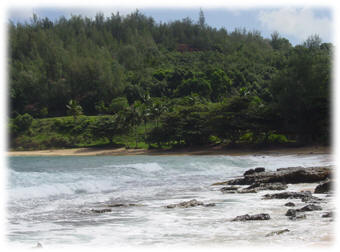 Tina was always gracious to take pictures and answer any questions we had. She made the five-hour tour very fun.
Thanks, Hawaiian Movie Tours for a great tour! If you're in Kauai (or any of the other places they give tours), make sure you do this early in your trip. You'll find a bunch of great places to go throughout your stay and learn about all the great restaurants where the locals eat.
Wednesday, October 26, 2005
Smith's Garden Luau
I went to my first Hawaiian Luau tonight at Smith's Garden Paradise. We were late of course, since I took a wrong turn. My dad was really stressing, which always makes me laugh for some reason. I've given up on being stressed about being late. But we made it to the Luau, safe and sound, with 30 minutes to spare.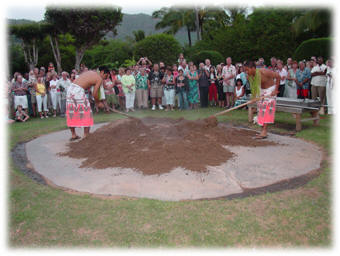 I got the feeling throughout the dinner and the following show that the Smith folks were going through the motions. I realize they do three shows, every week, and see the tourists as just tourists. Despite these observations, the food was excellent (the pork was the best I've ever tasted) and the show was entertaining, although both my sons fell asleep well before it was over.
While I don't really want to write this, I was really disappointed in the Luau band. I guess I was expecting some Broadway-quality music, but it came off like the musicians really care about the music they were playing. Maybe it's not supposed to be polished.
It was still a good time and worth checking out.
Wednesday, October 26, 2005
North Shore Adventures
Today, we got the kids out early and we drove up to the end of the road in Kauai. The last ten miles of that road are spectacular, with the jungle closing in around you.
We drove over three or four one-lane bridges (some of them made of wood). Of course, every time we drove over one of these, I had to sing the line from the Rush song Red Barchetta: "At the one-lane bridge, we leave the giant stranded at the riverside." Brenda was not amused, except she did later ask me if a Red Barchetta was a real car. ("Yes," I answered, it's some kind of Ferrari.")
In Ha'ena, Cameron and I found the Manini-holo Dry Cave cave―the kind of cave you'd expect to find in a movie or some adventure book. We did a little exploring with Cam's tiny LED flashlight, and looked at the modern petroglyphs and the places where people had had bonfires.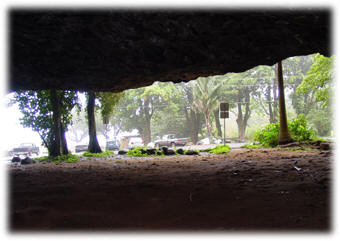 When we got outside, I realized I'd been eaten alive by cave mosquitoes! I also saw rain hammering the scenery in front of me that rivaled Hurricane Isadore. But we were standing close to the wettest spot on the planet (Mt. Waialeale); what did we expect?
We finally made our way to Ke'e beach, where we parked with many other people in the mud. Once we got down to the beach, we ran back and forth between the cover of the trees as each wave of torrential rain passed us. As the rain came in, I could see it swirling in silver sheets against the green backdrop—beautiful, until it hit us.
On the way back, we stopped in Hanalei and ate at Bubba's Burgers. I kept hearing about this place from my dad, more for the name, I think, but I walked away unimpressed. The staff was unprofessional (one of them leapt over the order window right in front of me, almost taking out Drew and me). When a kid took my order, he acted like I was bothering him.
The best part of the meal was looking at all the pictures of famous people who had visited Bubba's Burgers (it's a chain in Hawaii, I think), including President Bill Clinton, Steven Tyler (Aerosmith), Ozzy Osbourne, and Anthony Keidis (Red Hot Chili Peppers).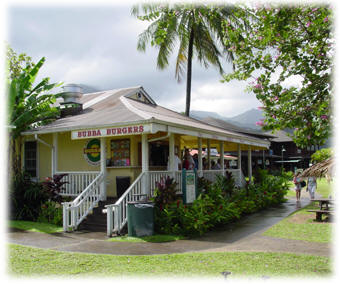 I decided against buying any Bubba's merch, even though it seemed like a hip thing to do.
The vibe of Hanalei was pure California—a mix of surfer and stoner attitude, although I got the feeling I wasn't seeing the real Hanalei. But I got some good pictures.
Further back toward Kappa'a, we stopped at the Kilauea Lighthouse and Wildlife Refuge. On the way out to the point, you walk over a narrow path, the ocean churning on both sides of the path. It was one of the most breathtaking views I've seen on the entire trip.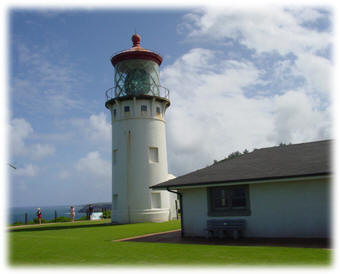 We heard the whales had made it to Kauai, where they migrate during the winter, but no one had spotted them from the lighthouse point yet.
tuesday, October 25 2005 9:00 pm
Time Share and Princeville
My dad signed us up for a time share presentation at the hotel today. We all thought it was going to take 30 minutes (and you get some free gifts), but it took the entire morning. I always wanted to know how time shares work, so it was interesting. And I really enjoyed talking to my parents' realtor, Sharon.
Afterward, we went to Princeville for lunch, which was tough with the boys. After that, I was totally burned out and told Brenda I wanted to drive back. My parents, sister, and brother-in-law continued the journey to land's end.
Monday, October 24, 2005 8:30 pm
Swim day
The kids woke up at 4:00 a.m. (Hawaiian time) today. Brenda got up and took them down to the beach until around 5:30 or 6:00 a.m. I kept sleeping for a while.
I got up around 7:00 a.m., and then Brenda, Drew, and I went shopping at Safeway. I'd read about the high food prices in Hawaii, and they weren't kidding. But since we're staying at a condo with a full kitchen, we thought we should just buy a bunch of food. Drew fell asleep in the Kelty backpack and slept throughout most of the shopping expedition.
Even though we had a bunch of food, when we got back we went out to breakfast with my parents at Eggbert's (located in the little village by our condo). I thought the guava juice was great, though it wasn't the pure stuff. I had a Portuguese omelet, and it was tasty.
A little later, we all went to Snorkel Bob's to rent some (you guessed it) snorkeling gear. Ever since I watched that show "Man from Atlantis" when I was a kid, I've been obsessed with swimming in the ocean, and, more specifically, swimming with the fish. Snorkel Bob's outfitted us with some great equipment, and we headed to Lydgate Beach Park—one of the few protected beaches on the island (it's protected by a breakwater).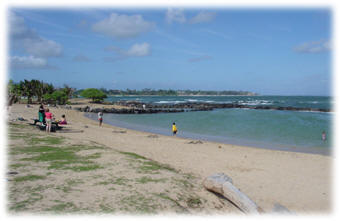 I got in the water with my fins and mask. It felt like walking on the moon as I tried to step around the sandy bottom with my fins. I looked down in the three feet of water and saw schools of brilliantly-colored fish swimming by me. They looked like they were going to bite my toes! (I found out later that people feed them all the time).
Honestly, I found snorkeling extremely difficult. I couldn't get the hang of breathing through the snorkel. But it was a good first try. We also got my five-year-old some snorkel gear, but he found it extremely difficult. He also didn't like those schools of fish swimming by.
Later, Brenda took Cameron swimming at the pool, and she let him use his snorkel gear there. Drew and I wandered off and took pictures of the pounding sea. I also lay in a hammock with him (really a first for both of us), and he liked swaying around.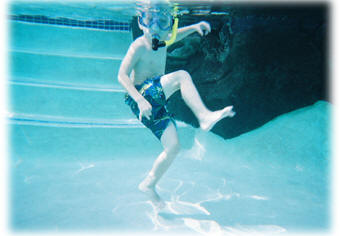 When we got back, Cameron not only had learned to swim, but he was going around the entire pool with his snorkel. This was the boy I was just trying to teach how to go underwater in Spokane. It was like he became a different child in 30 minutes.
It was the perfect end to a day spent mostly in the water.
Sunday, October 23, 2005 8:00 pm:30 pm
Hello, Hawaii!
Here we are in Kauai.
We flew down on Hawaiian Airlines with my parents, my sister and husband, and our two kids. The whole way down, I was thinking how great the service was on Hawaiian. I mean, I actually got a meal for the first time in years. The flight attendants made sure we were okay with our baby, and really helped me out when I had to rock him to sleep in the back galley.
But when we got to Oahu, we found that a piece was missing off our stroller (the piece that allows the car seat to clip on to the stroller). We told the person in the Jetway, and she radioed the baggage guys. And then she took off for 10 minutes. After I asked again, she radioed the baggage people a second time. They didn't have the piece. So, they told me to go fill out a bunch of paperwork.
Screw that! I wasn't wasting my time filling out papers in Oahu. I mean, obviously if it were more important I would have, but it just wasn't worth my time, when the answer would most likely be, "we don't know where it is."
So, what a missed opportunity by Hawaiian to be a truly great airline. All I really expected was for them to be proactive and help me do what I needed to do to recover the piece. Instead, it because a "that's you're problem; go talk to Baggage."
Anyway, we got on the island hopper 717 jet and flew from Oahu to Kauai in 25 minutes. My two kids were climbing the walls by this point.
Here are some first impressions:
It's really humid! Reminds me of the east coast of the U.S. or Dallas in the summer.
All of the buildings are open. For example, a hotel lobby will extend into a garden with no doors.
Tikki torches are everywhere. I used to think these were kind of lame, but these torches seem to bring out the jungle spirit in me.
The mountains are jagged and higher than I expected.
The famous volcanic red dirt is everywhere. They say if you get it on shoes or a shirt, it will never come out.
Tropical birds are flying around, although not what I expected. There are lots of doves here, too. But the most surprising birds are the wild chickens which have some of the most vivid colors I've ever seen on chickens.
You don't say "thank you," you say "maholo."
I had some pineapple at the poolside bar and couldn't believe how good it was. I thought, "Wow, this is what real Hawaiian-grown pineapple tastes like!" Then I found out they don't grow it in Hawaii. (It still tasted good.)
Guava juice is good.
Sunday, October 23, 2005
11:00 a.m. Hawaiian time - Oahu Airport
Just landed in Oahu. The plane bounced around a little bit on the way down, which is what I'd expect with landing in a humid place. Reminds me of a Phoenix or Las Vegas landing.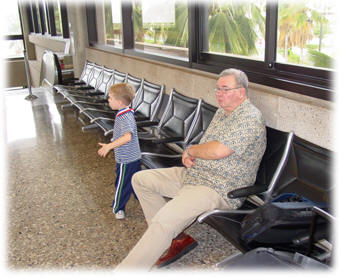 Oahu airport is a little run-down, but OK. My mom, sister, and brother-in-law headed off to a bar for some Mai-Tais. Brenda went off to change Drew. I waited outside the women's restroom listening to Drew screaming away.
We're getting on our plane, a Boeing 717, to our final destination, Kauai. I told Cameron we were flying on a private jet.
Sunday, October 23, 2005
12:05 p.m. Somewhere over the Pacific
I was just hanging out in the back of the plane with the flight attendants, rocking Drew to sleep. He's actually been pretty good on the plane, but once he gets a little cranky, you have to pick him up and walk around. My mom, who was sitting across from us, put Drew down in the aisle and let him go. He took off like a wind-up toy.
The in-flight movie is "Fantastic Four." Unfortunately, this is my third time seeing it. Flying at 35,000 feet doesn't help the movie at all.