September 2005
Thursday, September 29, 2005
I took Cameron out to Sammamish High School to see a Dave Weckl drum clinic. This clinic was sponsored on by Donn Bennett Drum Studio (the best drum shop in the Seattle area).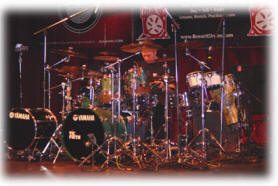 Cam and I were 30 mins late, but Mr. Weckl waved us in and we sat down to watch. If you've never heard of Dave Weckl, he's one of the best drummers in the world. He usually plays jazz and fusion, and started his career with Chick Corea, the famed jazz keyboardist and composer.
Dave's drums and cymbals sounded extraordinary. I don't know if it was the room, the way he had it miked, or just his playing, but the kit sounded alive. Especially the cymbals. Interestingly, like Neil Peart, Dave also recently switched over to Sabian. He helped develop the HHX Evolution line, and I'm definitely going to try these cymbals out at some point.
Of course Cameron started acting up (he's only 5) and we had to leave early. I was really bummed, since Dave was demonstrating things that were very helpful to me as a drummer. Oh well.
Wednesday, September 21, 2005
Back to work (again)
I flew back to Seattle today and drove to work right from the airport. I'd left during a busy time, but it was totally worth it to hang out with Brian, see the sights, and see Neil Peart's drum kit.
Tuesday, September 20, 2005
S.S. Professor Tour
Today, Brian and I got up late. Of course, I worked for a while, and then we went for a late breakfast out and about. We ended up at the Santa Fe Cafe, and they were more than willing to make us Huevos Rancheros. They also had cool wall of stars' pictures.
After breakfast, we headed over to Guitar Center on Sunset to see the S.S. Professor drum kit tour. Go here to read my report on this event.
Monday, September 19, 2005
I flew down to LA today to visit my friend Brian and see the Neil Peart S.S. Professor drum kit tour.
I flew into Burbank (Bob Hope Airport) instead of LAX (a tip from Brian). It's an old airport that still has some charm left. You de-plane onto the tarmac, which is always exciting.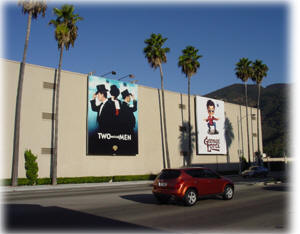 When I was waiting in the white zone for Brian, I saw a police officer riding around on a Segway! Billboards advertising Jodie Foster's new movie Flight Plan stared at me everywhere.
Brian picked me up and we went to his apartment, right across the street from Warner Bros. studios. I had to work for a while, but then we walked through his neighborhood. He showed me the houses of Ron Howard (at least where he lived during Happy Days), Andy Garcia, and the late Bob Hope. The latter was a compound that took up an entire block.
We got some chow at Paty's, a Hollywood establishment. In fact, Jonathan Winters was in the restaurant right before we were there. They served a great hot meatloaf sandwich. Pictures of all the stars lined the walls.
That night, we went to one of Brian's favorite Sushi restaurants. It was the first time I'd actually had Sushi, and I have to say it was really good.
After our late dinner, Brian took me to the best movie theater I've ever been to, The Arclight. Not only was their popcorn divine, but you actually pick the seats you want to sit in! We watched The Constant Gardner that certainly didn't live up to all the hype and good reviews.
Sunday, September 18, 2005
Cameron had another soccer game yesterday (I didn't make it to the first one, since it was raining and I stayed home with Drew). It was fun to see all the kids running around. I especially liked when they kicked the ball into the wrong goal. Cam had a large cheering section, including his Grandma and Grandpa Olson and great Grandma Y.
After that, my cousin Chuck and I fixed my bedroom closet. The closet pole had fallen, bringing down all our closet organizers and another pole. We fixed the upper pole, but couldn't find the bottom holder. So we went to Ace Hardware and bought a better pole holder (wood, not plastic) for the lower pole. Then Chuck attached a steel wire between the two poles to make it even stronger. Chuck should have his own home repair TV show.
I'm going to Los Angeles tomorrow to see my high-school friend and college roommate Brian Thomas and also go to the "S.S. Professor drum tour" (Neil Peart's drum kit with his drum tech and industry rep). Brian and I have always talked about hanging out in LA, so it will be fun.
Saturday, September 10, 2005
I saw the beginnings of it on Tuesday, when I stayed home with Drew, but he's starting to crawl around the house. He's not going full speed yet, but he's able to pull himself along and turn in circles. I think part of it has to do with him watching the other babies crawling around at his day care.
Cameron and I went to watch The Fantastic 4 today (my second time--but Cam wanted to see it). We were 20 minutes late, so we missed the entire first act. While the movie has a few interesting moments, it really fails as a comic book film. The story just isn't that interesting.
Friday, September 9, 2005
Well, we made it through the first week of Cam and Drew starting school and day care. Brenda and I didn't get to work as much as we usually do, but I can see a rhythm out there that will make life easier.
Drew seems to like his day care. I'm really happy we had different people watch him over the past six months. I think he's used to it. His cold is getting better, too, although his nose runs sometimes.
Thursday, September 8, 2005
We were 10 minutes late for Cam's Kindergarten class today. I felt pretty embarrassed, as did Cam. But we had one of those awful nights where Drew woke up every hour. The sad thing is I wouldn't have even woken up if Cam didn't come downstairs this morning.
There were no other parents in the room today, so I just dropped Cam off. Well, I guess he had a bit of a meltdown and went down to the counselor. He was OK after that.
This is going to be tough.
On the bright side, we found out Cam's 5th Grade Partner lives around the corner from us. This is the miracle I've been looking for, as he'll be able to take Cam on the bus in the morning (which will solve a lot of problems).
After we went to Rosita's for dinner, I went to Walgreen's for the third night in a row (don't ask). I never thought I'd see the day when a store like Walgreen's plays Rush's Tom Sawyer on the store radio. Bizarre.
Wednesday, September 7, 2005
Kindergarten begins for Cameron
Today, Cam started Kindergarten full-time. Yesterday, we met his teacher and walked around the school. But today is the real deal. This is a huge transition for Cam, as he's in a bigger school, with older kids.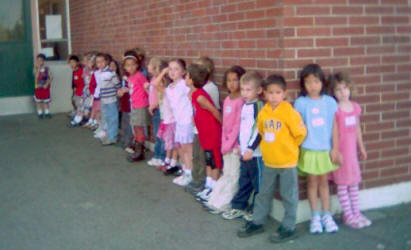 His teacher, Julie, seems really nice and very good with the kids. I was at the school until about 11:30, having gone on a tour, watched circle time, watched the 5th grade partners integrate with their Kindergarten friends, and other stuff.
Drew also started his daycare yesterday. He's doing great, since we had a lot of people take care of him over the past six months. He still has his cold though, so that's making it difficult.
I was also able to return to work today (I took off Tuesday to do the tour with Cam and pick up Drew after 1:00).
Tuesday, September 6, 2005
The eye of the storm
Like most of the country, I'm deeply saddened by the devastation of Hurricane Katrina. I'm even more saddened by the political B.S. flying around it now. I think the government let down those people in New Orleans. Part of the problem, which a lot of people don't know about, is that the Federal Emergency Management Agency (FEMA) is now under the Department of Homeland Security. You can imagine what's happened to FEMA now that we're looking to smoke those terrorists out of their holes. Perhaps people will finally wake up and see what the current administration is doing to this country.
I guess it's a dubious honor to have been in New Orleans during the last hurricane, Isadore (I was there on business). Of course, Isadore was downgraded to a tropical storm before it hit, but it still messed things up plenty. The night of the storm, my work group went over to a private event at a local bar. There were no cabs, so we had to walk through the flood of rain. I remember that I'd never felt warm rain before. It was like being in a shower. My North Face jacket kept my head and torso dry, but my jeans were soaked to the bone.
The day after the storm, we attended the New Orleans School of Cooking. I had fully expected the school to be closed. The chef who was teaching was not happy about having to come in to show us how to cook, since his house had been partially flooded. I actually felt sorry for him.
After the class, we wandered the deserted streets of the French Quarter, looking at taped up windows and such.