November 2005
Saturday, November 19, 2005
I had lunch with the enigmatic Tiny-Dog twice this week. She commented on my lack of blogging and general staleness of this site. So, I finally published my Hawaii blog (basically the entire Blog for October), which Tiny-Dog deemed "epic." Judge for yourself.
I thought it was about time for a little random content for a change. Enjoy.
Sunday, November 13, 2005
I went to the Sci-Fi Museum tonight to see "Silent Running." Douglas Trumbull, the director, gave a presentation before and after the screening.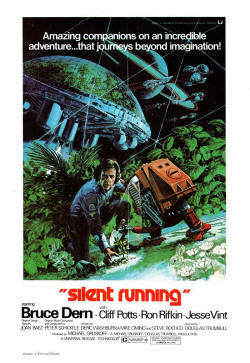 Many of you may not know Douglas Trumbull, so here's an introduction from IMDB. His special effects work includes:
Blade Runner (1982) (special photographic effects supervisor)
Star Trek: The Motion Picture (1979) (special photographic effects director)
Close Encounters of the Third Kind (1977) (special photographic effects supervisor)
Silent Running (1972) (special photographic effects)
The Andromeda Strain (1971) (special effects)
2001: A Space Odyssey (1968) (special photographic effects supervisor)
Most of these films are Sci-Fi classics, and the effects were groundbreaking at the time of release.
In addition, he directed Silent Running and Brainstorm, the latter being one of my favorite Sci-Fi movies.
Trumbull was a fascinating speaker, and spent most of his time talking about the making of Silent Running. The thing I never realized about him was that his career goal, or quest, is to create virtual reality. Now I understand why he did Brainstorm.
After he was done, I went up and had him sign a few DVDs, including Brainstorm. I told him about working in a movie theater when the movie came out, and that a lot of people didn't realize that it was filmed in two aspect ratios, flat screen and widescreen (for the Brainstorm device sequences). Trumbull said that those sequences were supposed to be in Showscan, a new film format he invented.
Showscan is 70 mm film that shows at 60 frames per second, instead of the usual 24 frames per second. When Trumbull and his folks did tests with subjects, most thought the Showscan format was as close as film could come to reality.
I told Trumbull, "I really want to see Showscan," to which he replied, "You never will."
I think he meant that I'd never be able to see Brainstorm with the Showscan sequences intact, because there are tons of Showscan movies around the world. The Las Vegas Luxor Ride "In Search of the Obelisk" is one such film.
After listening to him for an hour or so, I realize just about everything he's tried to do by himself has been screwed up or crushed by the industry.
Brainstorm―Natalie Wood died during the making of the movie, and afterward the studio locked up the production. Trumbull had to fight to finish his film, which has left many scars and burned bridges. Trumbull has never made another Hollywood film.
Silent Running―This movie was made as part of a grand experiment after "Easy Rider" became a hit. Universal's experiment was to make five movies for $1 million each, including "American Graffiti" and "Silent Running." When Silent Running was done, it got rave reviews. But then the studio tried another experiment―no advertising campaign.
The movie died a quick death.