Picture of Mike Portnoy and Neil Peart
Mike Portnoy recently interviewed Neil Peart for Rhythm magazine. He also interviewed Nick Mason (Pink Floyd), Bill Bruford (Yes, King Crimson, solo), and Lars Ulrich (Metallica). Mike posted a picture from the interview along with some information about this project. Go to Mike's website post.
Excerpt:
"Neil was the first to get together with me as we were able to spent some time together while he was in NYC in September doing some promo for his latest book.

(which he so kindly had a personalized copy waiting for me!)

Finally meeting him was really a cool experience as he's really one of the only drum heroes of mine that I hadn't met yet through the years. He was totally accomodating and friendly and he opened up to me on everything from his early influences to the writing and recording process in Rush.

(and I must admit the "fanboy" in me couldn't resist having him sign one of my custom drums from my "Cygnus and the Sea Monsters" kit!)"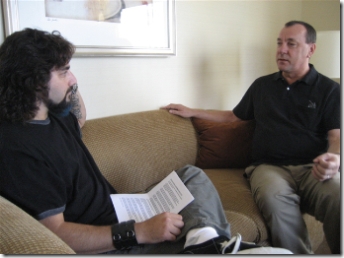 posted by AndyO @ 10:33 PM
0 comments