Toronto - 9/19/07
This was day three of my east coast Rush tour.
I woke up late again, but was excited to go out for a "sit-down" breakfast at Golden Griddle, just across the street from our hotel. Monica and I both got the buffet, because we wanted a little of everything.
Toronto subway and street vendors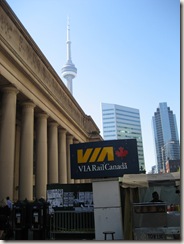 After breakfast, we went on the Toronto subway for the first time. We got off at the Union stop, and then walked toward the CN tower. This part of Toronto is home to skyscrapers, hotels, banks, and the Canadian Broadcasting Corporation headquarters. It was also home to traveling restaurants (vans serving food), from ice cream to hotdogs to "chunky fries."
An artist was just setting up his display on the sidewalk, when I stopped and asked him if he had any Rush pictures. He immediately pulled out two or three matted, charcoal drawings (copies, not originals) of familiar Rush pictures, and said, "Twenty dollar."
I smiled and said, "Maybe later."
"Fifteen dollar," he said.
I smiled again and said, "I'll come back after I do some sightseeing. I don't want to carry it around."
"OK, you first customer today. Only ten dollar!"
I had entered a negotiation without even knowing it, and now he'd cut his price in half! Because I wanted to give Ray a special thank-you for his hospitality in Buffalo (and this picture was certainly a unique Rush artifact), I agreed to "ten dollar."
The CN Tower is Closed
While I'd heard about a power outage earlier in the morning, I didn't know it was affecting downtown Toronto until we walked into a tourist shop and the lady could only take cash (the credit card machine was down). I then noticed all the lights were off, too. It was during our transaction, when I was buying Drew a T-shirt, that the lights came back on. I told the lady, "I guess I'm your lucky charm."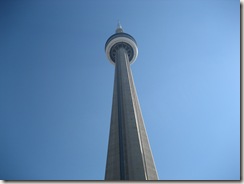 Because the power had been out, I realized the CN tower was probably closed, too. Sure enough, there were security guards standing in front of the ticket office, telling people they "would be open soon." I looked up the tower and saw one of the elevators stuck about two-thirds of the way down. I wondered if people had been stuck in there since the power outage began.
Instead of going up the tower, we walked around Rogers field (formally the Toronto Skydome), where the Blue Jays play ball, and looked at the interesting artwork and view toward the water. I especially liked this artwork called "The Audience: Part I":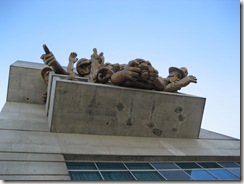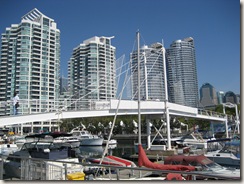 As we started walking toward the waterfront, I noticed how this part of Toronto reminded me more and more of San Diego, with its harbor and buildings built up against the shoreline of Lake Ontario. I guess the 80-degree F. temperature helped that perception, too. I could understand why people would want to live in this city -- at least during the summer.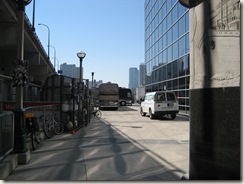 Monica and I found our way to the Air Canada Centre (ACC) to see Rush's buses near the back. We didn't understand that we could walk through the bus area and into the front of the ACC. Instead, we walked back to the subway and rode back to our hotel for a short break.
Parliament building
Our next stop was the Parliament Building, where Rush had shot the cover of their now famous, breakthrough album "Moving Pictures." It's a beautiful building with old-world architecture and details that you don't usually see in cities on the west coast (although Vancouver, B.C. has a few of them).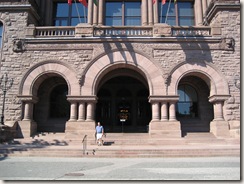 Other Rush fans were also stopping by the building to get their picture of the famed building. Monica took at a picture of two people who had come all the way from Japan to see Rush.
We went in the building and met Janet, a nice woman who worked in the gift shot. We talked for about 15 minutes about the building. She told us about being an extra in the movie Murder at 1600, and getting a speaking role opposite Wesley Snipes. I told her I'd rent the movie to see her at some point.
When I went outside, I found Monica sitting in the shade of a monument. She was talking to her husband on her cell phone. I also sat down with her and tried to call a few people, but had no luck. This was one of the most peaceful moments on the trip for me, sitting there in front of the Moving Pictures building enjoying the warm air.
Walking back from Rosedale
On the way back to our hotel, we decided to ride farther north to the Rosedale stop and then walk back. The mix of new and old architecture along Yonge street was interesting, and something I've only see on the east coast of the U.S.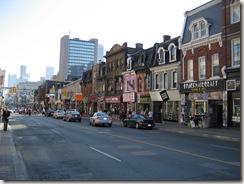 Rush in Toronto
Before the show, Monica and I met Ray and another friend Paul at the Spaghetti Factory. I've been to this restaurant chain in Seattle and Vancouver, B.C., and this was just as good. There's nothing like spaghetti and meatballs before a concert -- especially when you're really hungry (and I'd been walking all day).
We walked to the ACC and through the tour busses to the front of the building. When we walked in the venue, I was surprised how cold it was (although I wasn't complaining; I always get hot at concerts). We were seated about 15 rows up on Alex's side. From that vantage point, we could see Alex's tech working on all the guitars, adjusting things, etc.
Right before the house lights went down, Geddy's daughter Kyla (I'd seen a picture of her so I recognized her) and a pack of friends went up on the stage and added notes to Alex's Barbie Doll collection (I couldn't see what they were adding). We noticed how people were walking all over the arena with Snakes & Arrows laminates -- friends of the band, or a friend of a friend of the band. As Ray said later, "Laminates were everywhere!"
The lights went down, and Rush launched into their set. I saw that they'd abandoned the shtick with Geddy wiping off his face with a napkin and replaced it with Alex just starting Limelight, and then just waiting for Geddy to get onstage. It seemed to work better without the napkin wiping bit. The band played as well as they had when I'd seen them in July.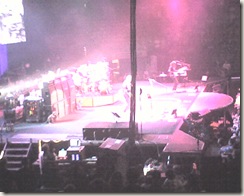 The only problem for us was that we were sitting on an aisle, and every single person sitting in our row and the rows around us was going to get beer every five minutes. There was a guy in front of us with a cane who seemed to keep falling asleep (or passing out), and people in his row would tap him on the shoulder -- sometimes multiple times -- to wake him up so they could go get their beer. A few times he almost fell down the steps as he stood up.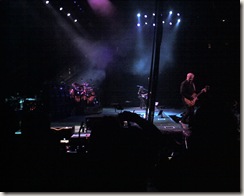 Once intermission came along, Monica and I talked about how bad the distractions were with all the people around us. She noticed that there were rows of seats available right next to the stage, a mere twenty feet from where Alex was standing. We decided to move down. A few people with laminates walked into our row and sat down to watch the show. Nobody told us to move. The only problem was the pyrotechnics during a few songs -- extremely loud and extremely hot that close to the stage!
During one song, a guy behind me yelled into my ear, "What is the guitar player's name?" I told him. Later he asked if he could buy my earplugs (I had brought my expensive ones that weren't for sale).
Alex seemed to have friends or family in the first row next to him, as he kept looking over and smiling. Geddy came over a few times, too.
When Neil played his solo, I took out my earplugs and watched him intently, as usual. I saw him lose his stick on the underside of his ride cymbal during his snare section -- and then he grabbed it before it dropped. Having had this happen to me a few times during a performance, I could only smile with understanding (only I was never playing to 15,000 people). I'm sure hardly anyone noticed.
I've noticed that the better my seats at a concert, the faster the time passes. This was no exception. Soon, the band was playing YYZ, and then the lights came on.
Monica and I took the subway back to the hotel, got some pizza from a place right next door, and talked about the show. I had inadvertently blown out my voice from singing along with the band, but that didn't stop me from talking.
I didn't fall asleep until 2:00 a.m.
Labels: Concerts, Rush, Rush east coast tour 2007, Toronto, Travels, Vacation
posted by AndyO @ 8:37 PM
0 comments
links to this post