Eric's Commemorative Neil Peart Kit
Eric
sent an e-mail with the subject "I like MY Neil replica kit!" When I opened it to see pictures of the S.S. Professor, I had to smile. I'd been waiting to hear from someone who had ordered one of these kits, and Eric was kind enough to share his experience.
I asked Eric what he planned to do with the kit, and this was his response:
...this kit will Never leave my house. I've already been approached by people who want me to bring this out to play at bars/clubs……They're NUTS!!!! And this kit will never be sold. This was a true collector's purchase in my mind, and I plan on passing this down through the generations.


Eric also sent a letter to Neil about why he purchased the kit:
Well, Neil, I did it. I splurged and got your commemorative R30 kit. Yesterday, after getting it home, I was like a little kid at Christmas....Tearing through the boxes…And, Wow....What a lot of boxes!! But after 2 hours of unwrapping everything, I came across an even more daunting task.... How the heck does this thing go together??!! Lucky for you, you have a Lorne to help you out!! But, with persistence, I went the distance.
I must say, I am Seriously impressed with this kit. It far exceeded my expectations, and the promo pictures that are all over the web do the kit no real justice when you see it in person. And, the sound is simply unreal. The tones just seem to ring on endlessly. It's just awesome!
After 25 years of playing, I was in a bit of a lull. This kit just brought the life back into me, and I feel like my passion has been renewed. So, I just wanted to say Thank You. I feel privileged to be able to share in your experience, and I'm glad you were open to working with DW to allow people like myself an opportunity like this.
Click the image for a larger picture:
Finally, Eric has a Starman tatoo that includes a tattooed Geddy Lee autograph! Here's a picture of Geddy signing his arm: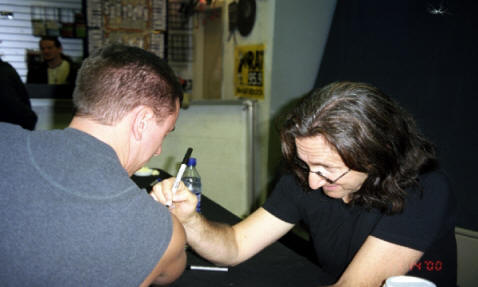 Here's a picture of Eric and the tattoo on his right arm: