Graham's Clarke's replica Yamaha drum kit
Graham is the drummer in the UK Rush tribute band 2112. His Yamaha kit brings to mind Neil's candy-apple red Tama Artstar prototypes with electronic satellite kit.
Here are some pictures of my kit, just got the drum rack in December and turntable being built at present to make it turn round. I play in a Rush tribute band in the UK called 2112. We've been around about 8 years and have headlined the UK Rush Convention 3 times during that time. The kit is actually a Yamaha and sounds great, the Roland gear is a TD20 and SPD20. Bit of a challenge playing the Rush stuff to say the least but been listening to them since 2112 so some of it has sunk in during that time. Anyway enjoy the pictures.
Regards,
Graham
www.2112tribute.com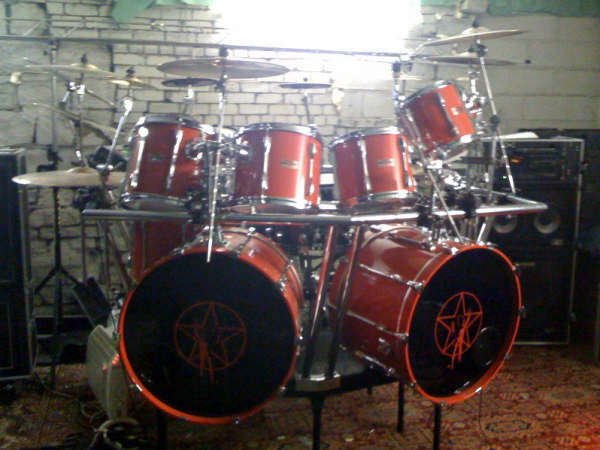 I asked Graham about how the bass drums were suspended over the drum riser.
The bass drums are attached to the rack so although it looks unstable its actually very sturdy. It looks like they are floating in mid air which is pretty cool. The other advantage is floor space and the fact our singer can't knock anything over, which all singers seem to have a habit of doing! The rack design is very similar to the racks that were around in the 80's, the ones used by people like Tommy Aldridge when he was in Whitesnake. The kit is actually the same model as the red Yamaha he used on the 1987/88 tour albeit a bit bigger. The rack was built by a guy in California, check out www.levelrack.com. Tony did a fantastic job, particularly getting the 2 kits to set up and work together. Can't wait to get the turntable done then I'll be able to turn it round which will be great. That will probably be manual until I figure out a way of putting a motor on it. I'm actually in a covers band as well and the rack splits down so I can use either kit on their own. So I use the electronics in the covers band which is great and helps with the bad back!