Jamie's Mapex Voyager Series kit
I think the first time I heard RUSH was Exit Stage Left on cassette tape. Been a fan ever since, been playing drums for 20 years now...
No other band like them, they are THE BEST!
My kit is a 6 piece Mapex Voyager Series in natural wood finish (custom shell covers I did myself). The drum sizes are: 8", 10" & 12" mounted toms, 14" floor tom, 18" bass drum and a 12" snare drum. I play Zildjian cymbals with various types of hardware from Tama, DW, Gibraltar, Mapex & Sonor. I use Remo Coated Ambassador heads, Remo Weatherking Pinstripe heads and Remo Powerstroke 3 heads and I like to use Pro-Mark 747 Neil Peart Signature drumsticks and Regal Tip 5A drumsticks.
Jamie Allison
West Palm Beach, FL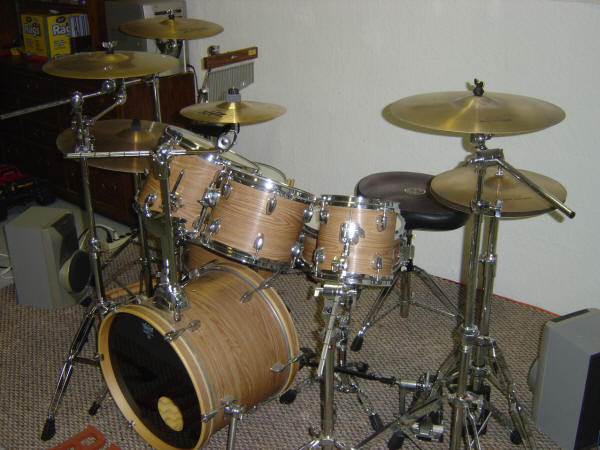 This was my monster Tama kit I had from 1990 - 2002
I miss these drums. Tama Artstar Cordia wood kit. (sizes: 6,8,10,12,13,14,15 rack toms, 16" floor tom, 24" bass x2, 14" deep snare)
<![if !vml]>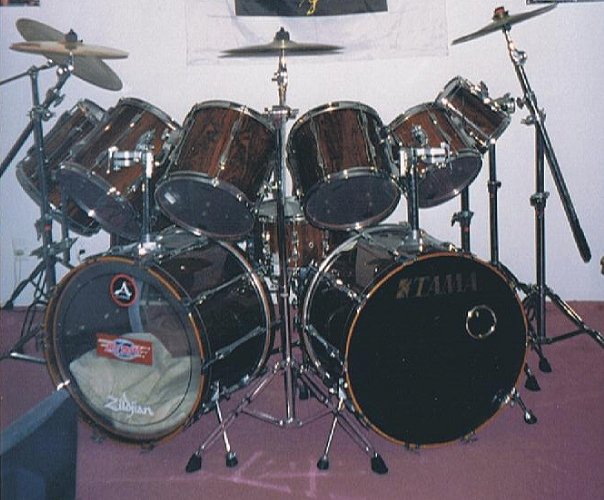 <![endif]>