Sam Kesteven's drum kits

Sam sent me two kits:
one is a custom-built kit
from an English drum company,
Highwood Drums and Percussion
. The second is beautiful replica of Neil's Slingerland kit that was featured in Rhythm magazine.
Slingerland replica
The kit was featured in an issue of Rhythm magazine and I've attached the photo they used.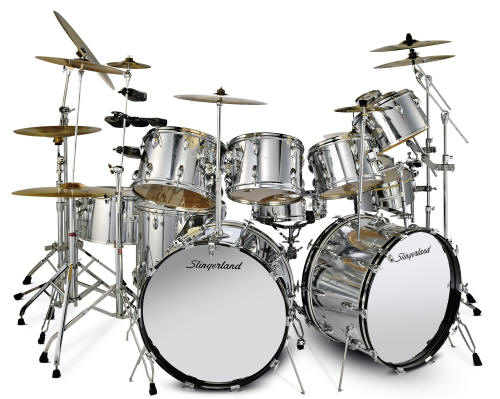 Click for full-size version of photo (5 MB):

I bought three Slingerland Niles badge kits — two kits in chrome wrap, but one in black wrap. My kit is based around two Slingerland set-ups that Neil used. The finish is the same as his chrome 1974-77 kit, but the configuration is of his 1977-79 black-chrome set.
The set-up is as follows: two 24"x14" bass drums, 18"x16" floor tom, 15"x10" (still waiting for 15"x12"), 13"x9" and 12"x8" double headed toms, 12"x8", 10"x7", 8"x5½" and 6"x5½" concert toms (the latter with UK custom-made maple shell), 13" and 14" timbales, 14"x5½" snare. There's also an 18"x12" gong bass drum, Neil didn't use one until the Tama years, but I wanted one and this is the closest I could find. It should really be 22".
The black bass drum has been re-covered in chrome plastic wrap, acquired from the US. For the snare, I took the hardware off an old Slingerland metal snare and fitted it to a maple shell, covered in chrome wrap. I will eventually invest in something more authentic. The stands are a jumble, mainly modern. The trickiest to replicate are the stacker stands. They should be Tama Titans, but I've used Premier Triloks to stack the 18" crashabove the 22" ride and to mount the cowbells under the 8" splash. The easiest bits to find were the Premier bass drum cymbal mounts and arms, one for each bass drum. The cowbells are two old LPs, plus a new Pearl Tri-bell. The original Gon Bop Tri-bells that Neil used are rare, as are the super-long chimes. Cymbals are A Zildjians in Brilliant finish, so not exactly following Neil's set-up but the sizes are all the same, just missing an 18" china to go beneath the Wuhan.....and of course all the percussion ;-)
<![if !supportLineBreakNewLine]>


<![endif]>

The drum kit was custom built for me last year by an English company called Highwood. The shells are all birch with the exception of the steam bent maple snare. When I commissioned the drums I asked specifically for a 1980's Tama styled shell, with bearing edges and thickness the same as the old Superstar drums.

My drum influences are varied but Neil Peart will always be the most obvious in my playing and my kit. However I'm also a huge Stewart Copeland, Phil Gould (Level 42) and Simon Phillips fan — so their influence is also apparent in my set-up.

Crucial to getting the sound right was tom depth, so many Peart replica kits have Power tom depths and not the old standard size, a huge oversight in my opinion. Especially key was the 12x8, both Neil Peart and Phil Gould have a really distinctive timbale type sound from their 12x8 toms....annoyingly I still haven't been able to replicate that sound, even after tightening the heads up as far as was possible!!!!! Any tips?

I'm hoping to get some concert toms and a gong bass drum made in the same finish, when finances allow it, so could be a few years!
<![if !supportLineBreakNewLine]>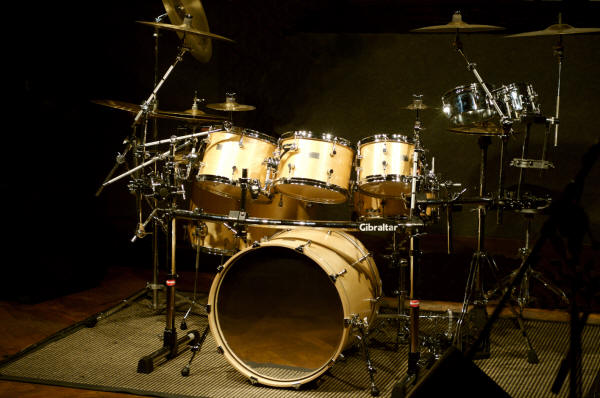 <![endif]>