Neil Peart to produce "Red Barchetta" film (AFD)
Update: As most people guessed, this was indeed an April Fool's Day joke. Thanks for playing along!
------------------------------------
Down in his barn
My uncle preserved for me an old machine —
For fifty-odd years
To keep it as new has been his dearest dream
- Lyrics from "Red Barchetta"
In a development that's sure to please both Rush fans and car aficionados, Neil Peart told Canadian Film News Yearly (CFNY) magazine that he's producing his first feature film, based on "Red Barchetta."

"It all started last year with an old story I read in the San Francisco Chronicle," said Peart over the phone. "Evidently, a man had stashed a 166 MM Barchetta in his backyard in Arizona. When he passed away, his children found this shining car, which they promptly sold to a collector for over $1 million. Something about that car being discovered after 'fifty-odd years' galvanized something inside me. I knew 'Red Barchetta' had to be a film, and I was the one to produce it."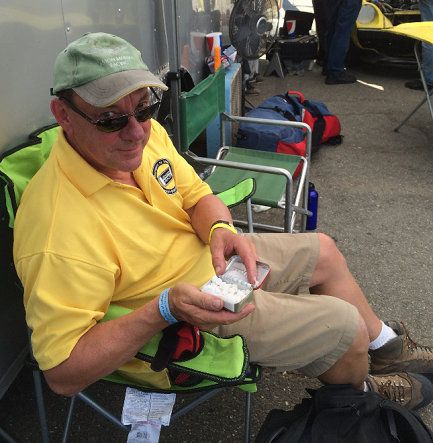 Neil Peart in the director's chair
As most Rush fans know, the 166 MM is the hero of the song "Red Barchetta," Track 2 from Rush's multi-platinum album Moving Pictures.

"The original inspiration for 'Red Barchetta' was the short story 'A Nice Morning Drive', which I read in a 1973 Road & Track magazine — although the car in that story was an MGB roadster. When I started writing the lyrics, naturally, I substituted the Barchetta. To me, it represented the automotive ideal — the lines, the V12 engine, the absolute rarity — only 25 of them were made, and most are still around today."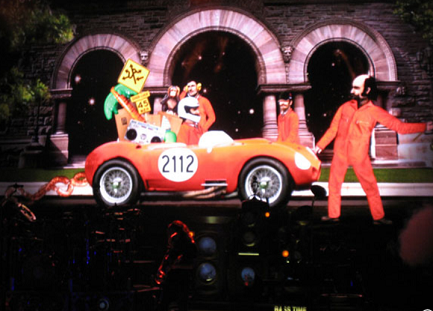 Red Barchetta in concert
Not long after the epic R40 tour ended, Peart retreated to his home in the Laurentian Mountains in Quebec. But instead of going on vacation, he set off on a mission to start pre-production.

"With the popularity of the song, I've heard from just about every 166 MM owner around the world over the years. I've gotten to know a few of them, including an Englishman in New York named Gordon. I called and told him about Red Barchetta: The Movie. Even though he had an upcoming wedding to attend, he agreed to drive up to Quebec to help shoot some test footage."

But, as Peart explained, things didn't go as planned.

"As soon as Gordon got there with the Ferrari, it started snowing. And it didn't stop. I mean, I know the weather is weird these days, but who could have predicted a blizzard in October? So we sat around the fireside and sipped The Macallan. I was really unhappy with how things were going. But Gordon was resolute. He saw it as a penance, proving to the car gods that we were worthy enough to bring the story of 'Red Barchetta' to life."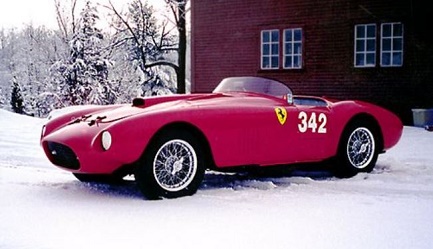 Red Barchetta: Snowbound
Unfortunately, the offering wasn't enough.

"After being snowbound for three days with no end in sight — and Gordon needing to get to that wedding — we had to give up. Because he'd stayed until the last possible moment, he had to fly back to New York. Which also meant he had to leave the Red Barchetta in my garage, which, I have to say, I didn't mind. Not one bit!"

What happened next surprised even Peart.

"Almost as soon as Gordon departed for New York, it stopped snowing. The sun shone, and the mountains came alive in flaming oranges and reds. I knew I had to get that Red Barchetta on film, or I'd have to wait another 6 months. I tried calling Gordon, but he was unreachable — and would be for the entire weekend. So I called my neighbor and a few other people, including a guy named Stewie who owned one of those drones with a camera. And like those garage attendants in Ferris Bueller's Day Off, I took that Barchetta out with my band of independent filmmakers, and tore across the mountainside."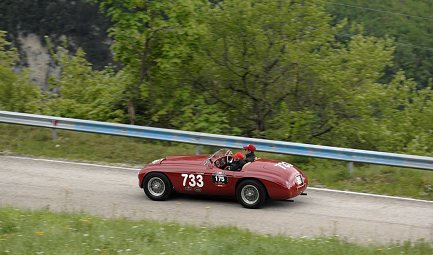 Peart drives a Red Barchetta during pre-production
During the next two days, Peart and his crew got their footage.
"We'd go out and shoot all day, and then return to my home and watch the rushes — which were spectacular. On the last day, when I was straining the limits of machine and man, as it were, I looked up to see flashing red and blue lights of a Canadian Mountie in my rear-view. But instead of pulling over, I accelerated and went screaming through the valley, all the while getting the whole thing on film. Talk about reality imitating art! (I ended up inviting the police back to the house after that to smooth things over.)"
Only hours after they'd wrapped, Peart got a call from Gordon asking if the weather had improved.

"I had to tell him about commandeering his car without permission. To my surprise, Gordon wasn't angry. He said, 'It looks like the car gods want this film made after all.'"
As for next steps, Peart has started trading ideas for the soundtrack with his Rush colleagues, Alex Lifeson and Geddy Lee, who have agreed to help out.
"I'm not sure this is going to be a Rush album in the typical sense. But it will include the same elements of the band, even if they're mixed in a new way."

Asked about screenwriters, Peart is talking to Kevin J. Anderson, author of Clockwork Angels, Clockwork Lives, and the soon-to-be-released 2113.

"There is no better writer for the job. Of course Kevin's busy with about a million other projects, but I'm sure I can convince him to take a weekend to work on this script. That's probably all the time he'll need."

For more information about the Red Barchetta: The Movie, see the official website here.
April Fools! Thanks for playing along. Here's hoping that this AFD story becomes a reality some day.