$am Albidone's DW kit
When I saw photos of Sam's kit, I thought he'd somehow bought Neil Peart's first DW kit. But, as I found out, he'd put this kit together himself. I think you'll agree, this is quite a replica!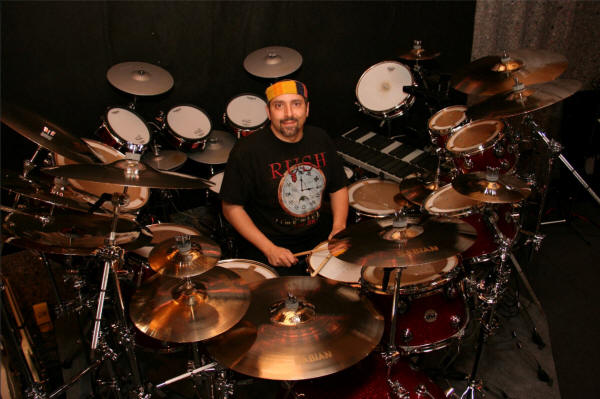 I'm $am Albidone, drummer in a Rush tribute band called Wavelength, A Tribute to Rush. We are out of Burlington, Ontario, Canada. Being a drummer in a Rush tribute band (and being a huge Neil Peart fan), I made it a goal to one day have a Neil Peart style dream drum set. When I ordered my drums during the summer of 2009 I had everything done to it like Neil had done to his, including ESE (Enhanced Sound Edge), VLT (Vertical Low Timbre), X-Shells. It was quite a learning experience. I had custom made pieces like the front cymbal holder mounted to the top of the kick drum, the special remote hi-hit stand off the ride cymbal and special mounts to have a suspended 18" tom. I was able to get two fatKat trigger pedals, a malletKat, and have recently purchased the Roland TD-20X for the rear kit. Next, the rotating riser!
Drums:
DW Collectors Series in Ruby Glass finish:
22" Kick Bass Drum, 8", 10", 12", 13", 15", 15" 16" and 18" Toms
14" DW Edge Model 24 Kt Gold "Neil Peart" Signature Snare
13" Piccolo Snare, DW 9000 Pedals front and back, all DW 9000 Series Hardware front and back Remo Heads
Cymbals:
Sabian "Neil Peart" Signature Series Paragons: 1 x 8" and 2 x 10" Splashes,
2 x 16", 18" and 20" Crashes, 13" Hi-Hats, 14" Remote Hi-Hats, 22" Ride,
19" and 20" China, 20" Diamondback China
Percussion:
MalletKAT, Cowbells, Crotale, KAT Trigger Pedals,
Roland V-Drums, Roland V-Cymbals, Roland TD-20X, Roland SP404 Sampler
Sticks: Promark "Neil Peart" Signature Series 747 (Oak)
Thanks in advance, Andy, for featuring my kit on your site. I've loved and enjoyed your site for many years and am delighted to a part of it again (you used some of my Toronto photos and info from the R30 SS Professor Drum Kit Tour back in 2005: Pictures from the Canadian Tour.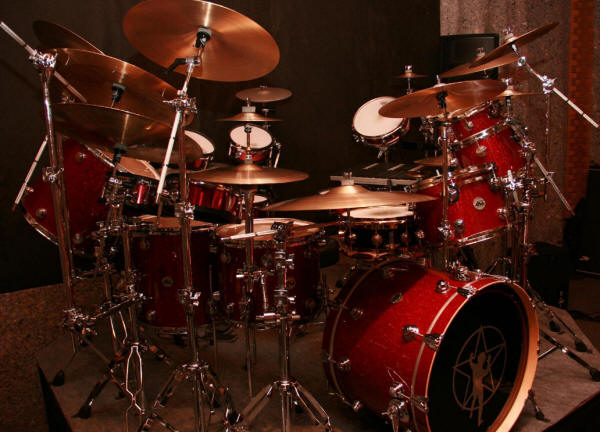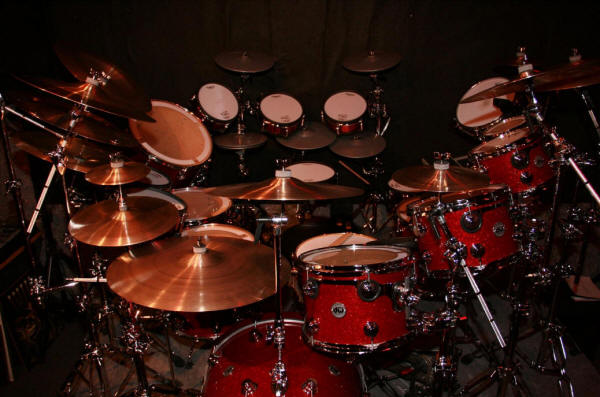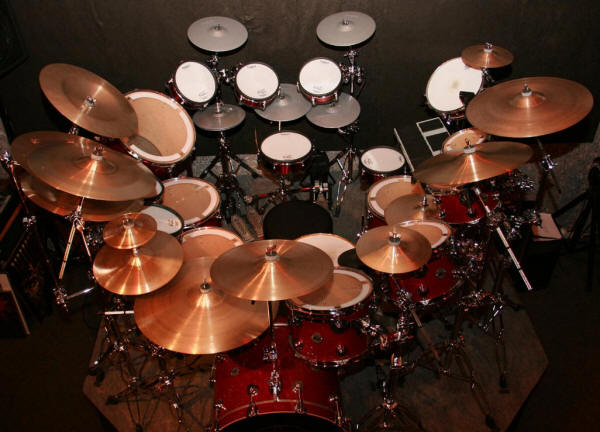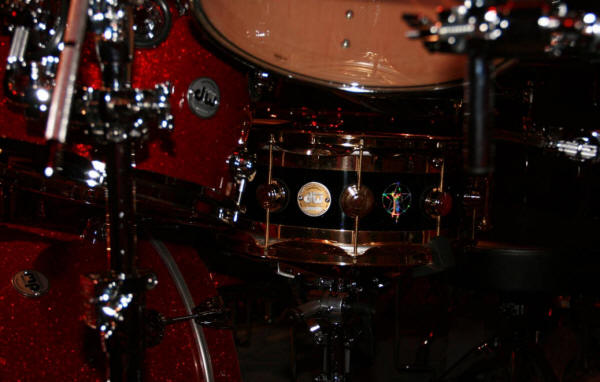 .