Paul Rheinfelder's Pearl kit
Paul sent me pictures and info on his kit through a mutual friend, with whom he works. When I first saw the pictures of Paul's kit, my jaw dropped! Talk about drums and percussion!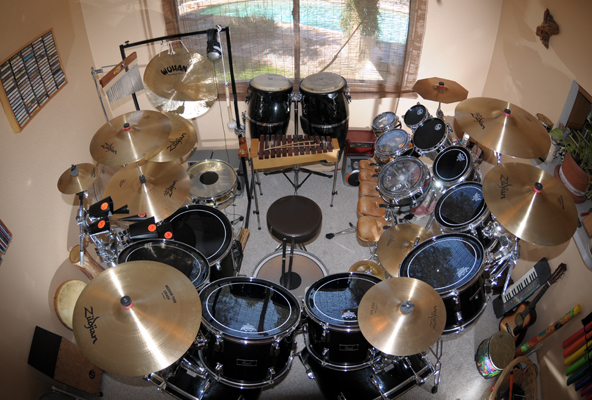 My drumming:
I started playing drums at 12 when I'd seen a friend's band play at lunch in 8th grade…I basically said, "I want to do that!". I was already a low-key Rush fan, but hadn't really paid much attention to the band as individuals prior to my "epiphany". Moving Pictures and 2112 were my first conquests, and I learned how to play the entire songs note for note, including Witch Hunt. I systematically got every album they'd made to date and learned them too -- eventually able to play every song they'd recorded. I'd been branching out into other stuff as well, but honestly, Neil influenced me more than anyone else until my 20's. I'm a big fan of any progressive style, but am particularly fond of busier rhythms when I'm practicing; Martin Lopez (Opeth), Steve Smith (Jean Luc Ponty; Journey), Ian Paice (Deep Purple), Bill Bruford (Yes; King Crimson) are also favorites. Currently I play just for the enjoyment of it, not necessarily gigging, but occasionally getting together with groups for a fun session. Most recently I was playing with the Michael Nitro Group, working on an all originals project, but have also been in the bands Axis, Menagerie, Potty Blossom, The MudPuppies, Lynx, Beyond Reason, and Cheyenne over the last 32 years.
Kit specs:
Main kit:
Pearl maple shell series (12 ply maple shells)…kit was 5-10 years old when I bought it used when I was 18/19 years old…I've had it for 25 years, so it's old, but in mint condition.
Sizes:
2 22" x 18" bass drums
14" x 10" snare (also maple shell)
8", 10", 12", 13", 14", 15" mounted toms
16" floor tom (tuned low)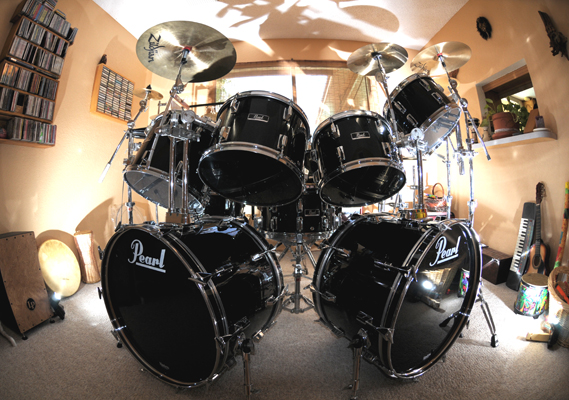 Cymbals:
All cymbals are Avedis Zildjian (non-brilliant finish) except where specified:
13" New Beat hi-hats
8" and 10" splashes
2 16" medium thin crashes
18" thin crash
20" medium crash
22" ping ride
18" swish
Paiste 2002 "Octa-trash" (16" crash that had a crack, so I took tin snips to it to give it an octagonal shape, removing the crack…produces a really nice explosive mini-gong/china effect.
20" Wuhan china
22" Wuhan wind gong
Also (not mounted), 20" ping ride and 16" thin crash
Extras:
13" x 2.5" Pearl brass piccolo snare
LP Mini-timbales (tuned to work with higher range and roto-tom fills)
Remo Roto-toms (tuned to build solid pitched run into 10" tom, and still work with mini-timbales)
Temple Blocks
Xylophone
Congas
Vibra-slap
Wind chimes
LP agogo bells
Mixed LP cowbells
Pearl Tri-bells
6" LP icebell
Numerous djembes (not pictured)
Bougarboo (not pictured)
LP cajon
Steel drum
Free notes (akebono scale)
Talking drum
Bass drum pedals and hi-hat: 2009 Pearl Eliminator (can play anything with these!)
All other hardware: Pearl and Gibraltar
Sticks & heads:
Switch off between Ahead 5a ST aluminum sticks and Promark 747 Japanese Oak nylon tipped.
Remo CS black dot on all snare drums.
Remo ebony pinstripe on the main kit.
Remo pinstripe on bass drums and roto-toms.
LP standard on mini-timbales.