Roman Dino's DW "Broken Glass" kit
I met Roman last October in Manhattan right before the Neil Peart Buddy Rich 2008 performance. Over dinner just blocks away from the Hammerstein Ballroom, I found out Roman and I had a lot in common: We were both fans of Neil Peart and Rush, fans of the Police and Van Halen, both play DW drums, and are also interested in aircraft and photography (check out Roman's Flickr site). Before we realized it, the check was on the table and it was time to head to the show.
Here's Roman's intro about his kit, as well as some other info about his drumming: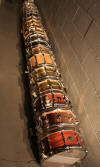 Here are shots of my kit - DW Collectors Series in Broken Glass. I typically use the matching Edge snare for live. The NP snare was strictly a collector's piece, and not meant to be played. Currently, I have 18 snares. My snares are all 14 in diameter - DW - 6.5in copper, 6.5in brass/gold, 5.0in maple, 6.0in edge, 6.0in NP edge, 8in maple. Ludwig - 8in Coliseum, 8in slotted Coliseum, 10in Deep Rock, 6.5in Black Beauty, 6.5in Supraphonic (Bonham), Tama - 6.5in Bell Brass, 5.5in hammered Bronze, 6.5in Rosewood, 6.5in Brass, Pearl - 6.5in aluminum free floater. Yamaha - 8in Brass, 6.5 x 14 Alex Van Halen Ludwig 15-ply Santos Rosewood model.
I play traditional grip, too.... you can just about place a drink on each of my toms without spilling it....
The smaller version of the kit are shots taken from the studio when we cut Finding My Way for a tribute album released here in NJ. The record was called LUSH - A Tribute to John Rutsey era Rush. Released by Main Man records, you can find it and samples here....
http://www.mainmanrecords.com/lush.html
http://www.myspace.com/3leggedrabbit
My choice wood is the Vater Pro Rock wood tip sticks.
My influences - Neil, Stewart Copeland, John Bonham, Carl Palmer, Alex Van Halen, Steve Gadd, Keith Moon, and Simon Phillips.