Sean C's Yamaha kit
When Sean sent me pictures of his kit, I wrote, "Regarding your kit, I have to say I'm extremely impressed with the setup. This looks like an amazing kit to play! I can definitely see Neil's influence, but there's a lot of other uniqueness there as well."
There are full-size pictures at the bottom of this page.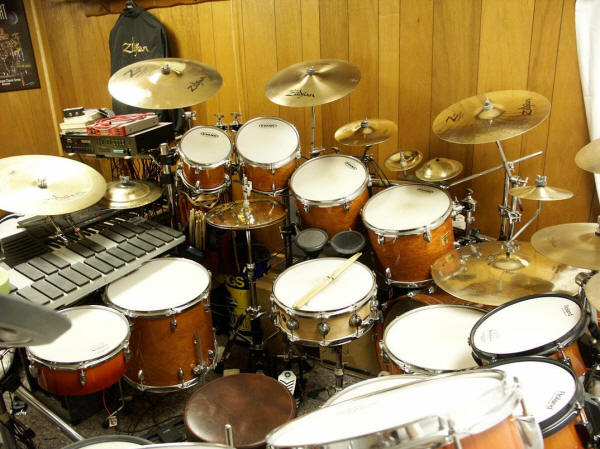 Hello Andrew,

I'd like to start by saying what a fantastic site you have. I've been a fan of it for years. Your knowledge of all things Peart is simply amazing. Excellent job!

I've been playing drums for about thirty years now and like most drummers, Neil Peart has been a huge influence. My kit is not meant to be an exact replica, but the influence is clearly visible.

Acoustic drums: Yamaha Oak Custom in York Honey Amber finish
- 8x7, 10x8, 12x9, 13x10, 14x12 rack toms. 16x16, 15x14 (on left) floor toms. 22x17 bass drum.

Snare drum: DW Craviotto 14x5

Zildjian cymbals:
- 16", 18" medium thin crash, 16", 18" z custom medium crashes, 8", 10" splashes, 13" z custom dyno beat hi hats, 14" x-hats,
20" z custom heavy power ride

Effects:
- 20" zildjian china boy low, 18" wuhan china, 13" paiste mega cup chime, 6 1/2" zildjian zil-bell, 7" sabian ice bell, 4 LP cowbells

Electronic drums:
Pearl export shells, 12" and 13" cut in half, custom painted in orange-to-red-fade over platinum flakes. painted by me :). Electronic guts are home-made by me thanks to instructions found using the internet. The mesh heads and internal foam cones are Roland.
Electronic cymbals are Yamaha (except the red and green home-made ones, again by me). I also made two foot triggers (like Kat pedals), one by each hi hat, and the two small triggers in front of the acoustic snare drum.
There is also an original (15 yrs old?) MalletKat. All the electronics are powered by Yamaha dtXpress II and Yamaha PTX-8 brains.

The acoustic heads are Evans G2, pounded on by Pro Mark 747 Neil Peart sticks. Everything is mounted on a Dixon rack. The hardware is a mix of Yamaha and Gibraltar with a Tama double-pedal on the electronic side. The splash holder over the ride was built and welded by me. it's non-adjustable, unfortunately. If I only had room for the octagon riser:)

I think that's everything. I hope you like it, and please keep up the great work.

Sincerely,

Sean C.