Shawn Freeman's 1974 Slingerland Neil Peart "Chromey" and "Blakrome" replica kits
In July, 2012, Shawn sent pictures of a new "Blakrome" kit, similar to the one Neil used on A Farewell to Kings and Hemispheres. Here's the info:
In 2008 I purchased 2 incomplete Slingerland Blakrome kits off of eBay in order to get the 24" Bass Drums with the 3-ply shells. Then I began finding the toms in the correct sizes in 3-ply shells also. Finally in December of 2011, I found the complete set of concert toms including the stands from the original owner.
Everything is the same as the Chromey replica with the only difference on this kit is it is in Blakrome and there are 2 additional cymbals:the Zildjian China type and the Swish with rivets on Tama cymbal stands
.
Click the following thumbnails for a larger picture (4-5 MB in size):
Here are some pics of the 1974 Slingerland kit. I purchased this kit from the original owner back in 2007 off of eBay. The concert toms, Zildjian cymbals, Pearl Stands, cowbells and bass drum mounted cymbal holders were all found off of eBay in the last 4 years.
I started playing the drums in 1969 by listening to Ron Bushy of Iron Butterfly and Dino Danelli of The Rascals. In 1975, I discovered RUSH and Neil Peart. His drumming style instantly blew me away. I vowed if I ever had the opportunity, I was going to have a Slingerland kit just like on the cover of "All The World's A Stage." It has taken me awhile, but I think the results speak for themselves.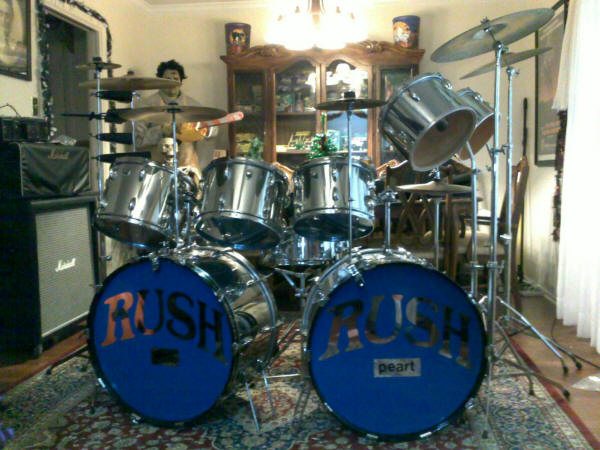 All drums by Slingerland in 3-ply chrome over wood shells.
Drum sizes are as follows;
6", 8", 10", 12" concert toms

8"x12", 9"x13", 10"x14" rack toms

16"x16" floor tom

two 14"x24" Bass Drums

5.5"x14" 12 lug Spitfire snare.

Zildjian 22" Ping Ride, 20" Medium Crash, 18" Medium Crash, 16" Medium Crash, 13" New Beat Hi Hats 10" Splash, 8" Splash
Remo Clear Black Dot heads on concert toms and batter side Bass drums, Remo Clear with Clear dot on snare batter, Evans Looking Glass Hydraulic on top of double headed toms, Evans Blue Hydraulic on bottom. Custom RUSH "Chromey" tour drum heads by AWDRUMS.
Slingerland concert tom stands, Slingerland Dynamo Hi Hat stand, snare stand and early 70¹s Pearl Cymbal stands. Late 60¹s Ludwig bass mounted cymbal holders. Various 70¹s Latin percussion cowbells and Pearl Tri-bells.