Updated: 12/09/2018
At the end of 2009, Neil Peart recorded a new version of "The Hockey Theme" for TSN networks. For the recording and song, Drum Workshop built Neil a new hockey-themed drum kit. According to the DW drums article:
The set is airbrushed in Lacquer Graphics with NHL logos and ultra-custom Ice Blue hardware. DW Custom shop Artist, Louie Garcia comments, Neil told me he wanted to begin a new masterpiece with this kit. He really wanted it to represent the game of hockey, incorporating center ice and the face-off circles. And for the look of ice, we with went with a pearlescent color called Blue Frost. It really is a unique kit"
A new DVD was released in October, 2010, "Fire on Ice: The Making of the Hockey Theme."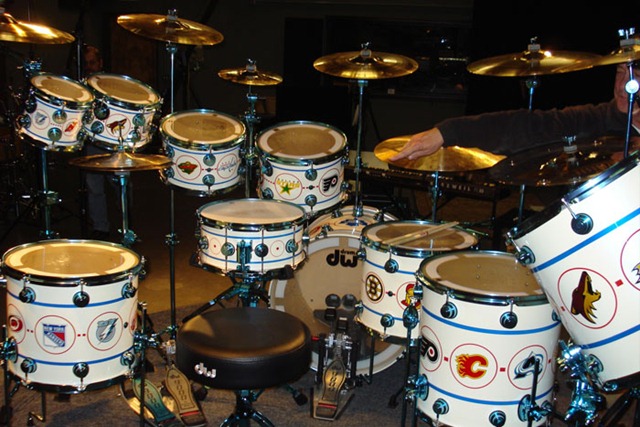 Photos
Where is the Hockey Kit now? (updated July 11, 2016)
After the Neil used the kit, it moved into the Hockey Hall of Fame in Toronto, ON, from approximately October 2010 until 2015.
The kit then went on tour in five Canadian cities during the R40 tour in 2015, where many fans posed behind it.
As of July 2016, the kit is now in Studio Bell the National Music Centre in Calgary, CA.