Tweet
A brief history of rock and roll
By Andy Olson
Updated: 05/29/2017
< Back or Read "Rock and roll machinery"
The progression of rock music, and the way it fractured into multiple styles, is essential to understanding the roots of Rush, as well as Neil Peart's drumming style.
Rock and roll rises (and falls): 1955 - 1958
In 1955, only three years after Peart was born, rock and roll exploded onto the American cultural scene. This style of music, as performed by Elvis, Jerry Lee Lewis, Chuck Berry, Little Richard, and others, was forged with the original fire of rhythm and blues (R&B). It also offered a fresh perspective from the traditional 1950s values, creating a countercultural movement that celebrated leisure, romance, and sex, and "delighting in the separate world of the teenager."1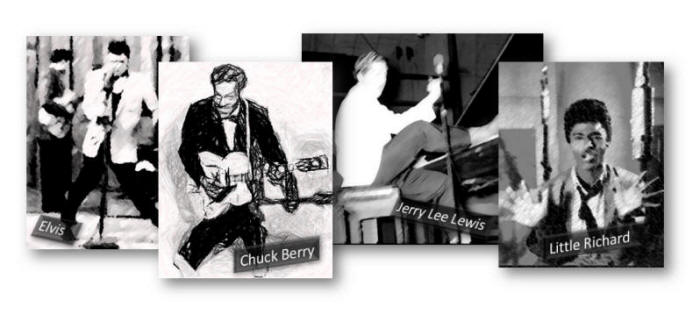 Above: "The First Stars of Rock and Roll" photo illustration by Andy Olson
Then in 1958 the rock and roll fire started to die, precipitated by a few key events: Little Richard left show business, Elvis joined in the army, Buddy Holly died in a plane crash (along with rising stars Jiles Perry "The Big Bopper" Richardson and Ritchie Valens), Chuck Berry was prosecuted and went to jail, and Jerry Lee Lewis was disgraced. These events, as well as a payola scandal that destroyed the career of early rock and roll promoter Alan Freed, helped bring about an era of sugar-coated pop music masquerading as rock and roll (exemplified by Fabian).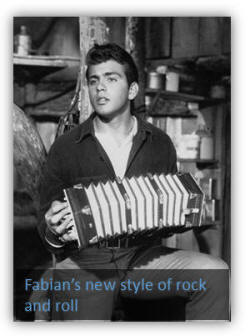 For listeners who were discovering pop music on transistor radios for the first time, including a ten-year old Neil Peart, they didn't know the difference, and didn't have much choice. In many ways this fake rock and roll helped set the stage for the British Invasion in 1964, as well as the late-1960s style of counterculture. Peart and other baby boomers were part of a generation that rejected traditional values and favored more authentic expressions of art. It also provides more context for lyrics like "The Spirit of Radio":
All this machinery making modern music
Can still be open-hearted.
Not so coldly charted, it's really just a question
Of your honesty, yeah, your honesty.
One likes to believe in the freedom of music
But glittering prizes and endless compromises
Shatter the illusion of integrity2
Saved by R&B: 1964 - 1967
Starting in 1958, the Beatles and the Rolling Stones were listening to the original R&B-influenced rock and roll songs, and recording many of them note-for-note.3 This was also the music that Peart was listening to, as many bands around the Niagara Peninsula were playing "blue-eyed soul." Peart wrote of this R&B influence:
R&B was definitely my "roots" music, the first music I responded to that way, and the music I played in many of my first bands. Interesting that my first favorite band, The Who, billed themselves early on as "Maximum R&B," and included a couple of James Brown songs on their first album.4
When the first British bands arrived in North America in 1964, including The Beatles, The Dave Clark Five, The Kinks, and the Rolling Stones, their more authentic style of rock, which tapped into the R&B roots, gave audiences what they'd been missing. It would end the fake rock era of the Fabians. It also created a wave of excitement unlike anything seen before.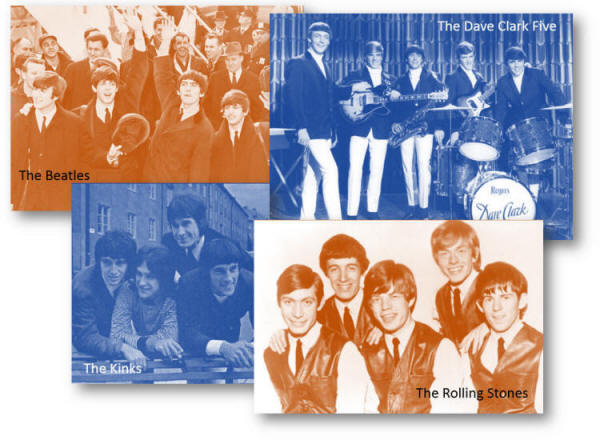 Above: "British Invasion - Wave 1 Bands" photo illustration by Andy Olson
While Peart was still too young to be "enthralled" by the music of the Beatles and the Rolling Stones, a few years later, just as he started playing drums, a second wave of British bands hit North America. Peart's original inspiration to play the drums was jazz drummer Gene Krupa; but it was the music produced by these second wave bands (as well as their drummers) that lit a fire in him.
One such drummer was The Who's Keith Moon. His adventurous, technical style, served as an early model for how to break the rules. Instead of just keeping time in the background, Moon's phrasing and style supported the music and the vocals with wild fills and crashes. His onstage antics and animation behind the kit also connected with audiences.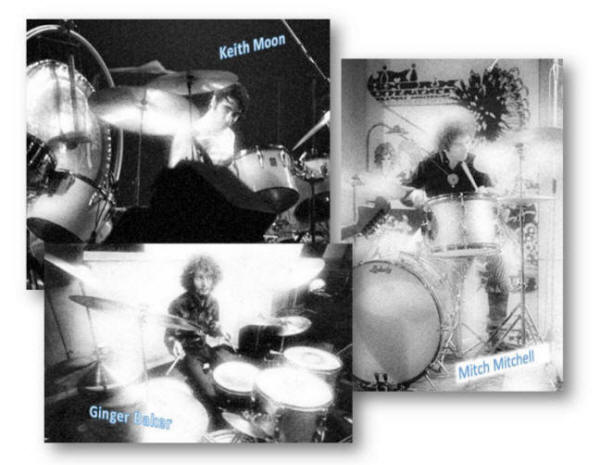 Above: "Keith Moon, Ginger Baker, Mitch Mitchell " photo illustration by Andy Olson
Moon's influence was soon followed by Ginger Baker of Cream and Mitch Mitchell of The Jimi Hendrix Experience. And while he didn't know it at the time, these drummers, as well as others in the late 1960s — with their more improvisational styles and fundamental role in a song's composition — were integrating the jazz drumming style with rock and roll and R&B. But they also brought drumming to the forefront again, much like jazz drummers Gene Krupa and Buddy Rich.
Neil Peart would continue to refine and pioneer this style over the next 40-plus years. He redefined the image of a modern drummer with his intricate drum parts, exciting drum solos, and philosophical lyrics. And like his idols Gene Krupa and Keith Moon, Peart would also shine the spotlight on the drummer in a big way.
Read more about Neil Peart's drum influences.
Footnotes
1 Altschuler, Glenn C. (2003-08-07). All Shook Up: How Rock 'n' Roll Changed America (Pivotal Moments in American History) (p. 8). Oxford University Press. Kindle Edition.
2 Lee, Geddy, Lifeson, Alex, and Peart, Neil. Permanent Waves. Rush. Mercury, 1980. CD. "The Spirit of Radio" lyrics by Peart.
3 Altschuler, Glenn C. p 162.
4 Peart, Neil. Traveling Music: The Soundtrack to My Life and Times (p. 67). ECW Press. Kindle Edition.
For any questions, comments, or feedback, please send email to neilpeartnews@outlook.com.