Postcards from Neil
Updated: 07/31/2018
As many people know, Neil Peart used to answer letters sent to him through Modern Drummer. He wrote individual responses, handwritten at first and then typed and printed from a computer. He continued this practice until the secret got out on the Internet about how to get a personal postcard from Neil.
I've seen a few of these postcards and have always found them interesting. So, I thought including a handful here would be of interest to other Peart fans.
If you have a postcard you'd like to share, please send me an e-mail.
1983: Chris Berry postcard 2 - posted on 7/31/18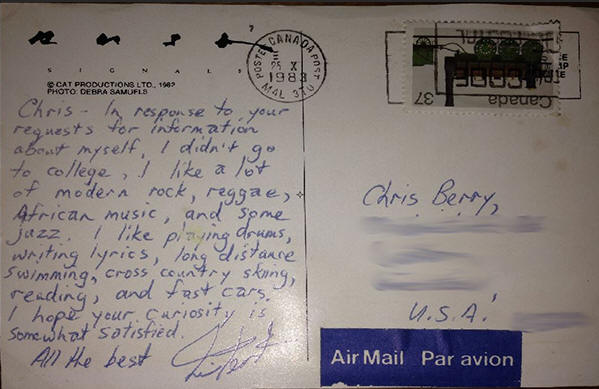 1984: Jim Richardson - posted on 9/7/13
Read Jim's blog about getting Neil's postcard.
1990: Derik Rinehart - posted on 7/21/12




Story:
"Back after the November release of Presto, RUSH took December off for the holidays. In January they rehearsed for the tour, and started the tour in February. I sent my questions via "The RUSH Backstage Club" in December, and got this postcard in mid February. I was curious of how Neil got the snare to turn on and off so quick (particularly in the song "The Big Money"). My kit at the time had a fairly crappy snare strainer flip, so it was a bear to play the song. These days, being older and with more money, I have a way better drum set with better functioning gear! :)
This is the postcard I returned home to one day. Was a real awesome moment in time for a die-hard RUSH fan!"
1983: Ricky George - posted on 5/31/10



1984: Stephen Wells - posted on 5/31/10



Circa 1983: Chris Berry - posted on 4/24/10




2008: Brian Andonian - posted on 10/18/09



1985: Lamb Saag - posted on 8/7/09




1986: William - posted on 9/13/08

This postcard was sold on eBay for $246.50 on August 10.



2008: Pat and Matt - posted 9/13/08




1985: Tom Gutierrez - posted 9/13/08

Read Tom's blog entry Postcards from Neil Peart





Jeff T - posted 1/25/08





1984: Paul Lesinski - posted 1/6/08




1991: Monica Z - posted 11/23/07




1990: Steve Z - posted 11/23/07






Marcus Edell - posted 11/7/07




1994: Craig Jr. - posted 10/11/07




Cygnify - posted 9/30/07

1994: