Updated: 12/09/2017
At a Glance | Infographic | Tourbook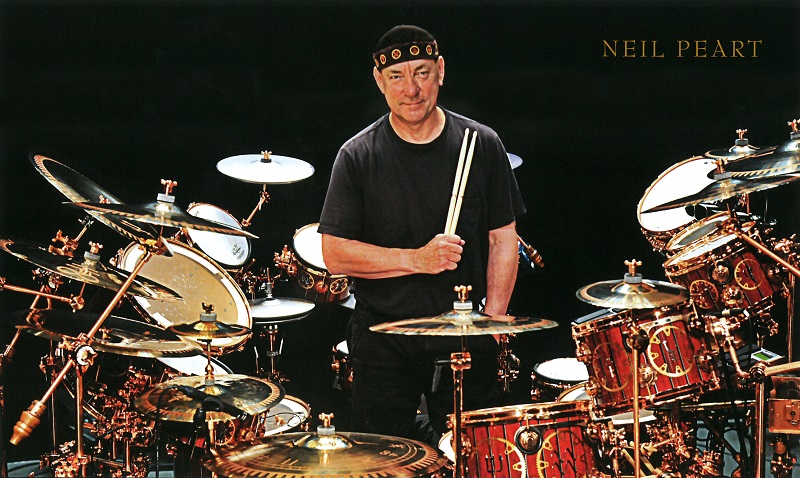 Used during the Time Machine tour (2010, 2011) and Clockwork Angels tour (2012, 2013)

Acoustic drums: Drum Workshop with custom "Time Machine" finish and hardware; 23" bass drum

Electronic drums: Roland V-drums (with DW custom "Time Machine" shells), KAT midi-marimba

Cymbals: Brilliant finish Sabian Paragon with "Time Machine" graphics; 14" Paragon Brilliant hi-hats (main) and 14" Artisan Brilliant hi-hats (x-hat)

Sticks: Pro-Mark 747 wood tip Neil Peart Autograph model (Oak)

DW 14" Solid Shell (VLT), and 13" piccolo snare (VLT)

Hardware: Copper

Drum Tech: Lorne "Gump" Wheaton

Used to record all songs on Clockwork Angels except "Caravan" and "BU2B," which were recorded on the Snakes & Arrows kit.

Also used to record songs for Vertical Horizon's album, Echoes from the Underground (2013).
Time Machine/Clockwork Angels infographic from DRUM! Magazine, October 2012.

Text from Clockwork Angels Tourbook by Neil Peart
Breaking with long tradition, I am using the same drumset as our previous tour, Time Machine. The main reason is because that tour, and these drums, were actually designed around the Clockwork Angels theme from the beginning. And because they still sound and look so great. That considered, I can hardly do better than quote from my previous description of them at the time of their building, in 2010:
Drum Workshop really outdid themselves this time, spearheaded by Don Lombardi, John Good, Shon Smith, Garrison (like Madonna and Cher, he "dares to be known by one name alone"), hardware specialist Rich Sikra, and master painter Louie Garcia.

Barrel-stave redwood, copper leaf and silver alchemy symbols, and the innovation of copper hardware create the main visual statement, but the small, unique details of stand fittings and the little sculpted gears behind the lugs demonstrate DW's imaginative willingness to consider every possibility-and make it real.

Sonically, drum tech Lome "Gump" Wheaton and I agree that these drums surpass all previous kits, in the richness of their tonality, and in the perfect blend of the individual drums with each other.

The custom stand fittings, drum hardware, and riser panels were designed by Greg Russell and Brian Walters of Tandem Digital. Their elaborate CG renderings of the kit and hardware helped to visualize the final outcome.

For their part, the Sabian cymbal company also got onboard with my wild ideas right away. Chris Stankee and Mark Love directed the development of a special steampunk design on the new "Brilliant" Paragons I've been using. (It took some experimenting with inks to find one that didn't affect the sound.)

Among other noisemakers, Gump and I include Pro-Mark sticks, DW and Remo heads, Roland V-Drums (with custom DW shells), MalletKAT, KAT trigger pedals, and a Dauz pad, all running through a Roland XV5080 sampler and Project X Glyph hard drives.