R40 Live Modern Kit
Updated: 07/30/2018
At a Glance | Tourbook | Specs | Photo Gallery | Shoes | YouTube Video text | After Rush | Initial Commentary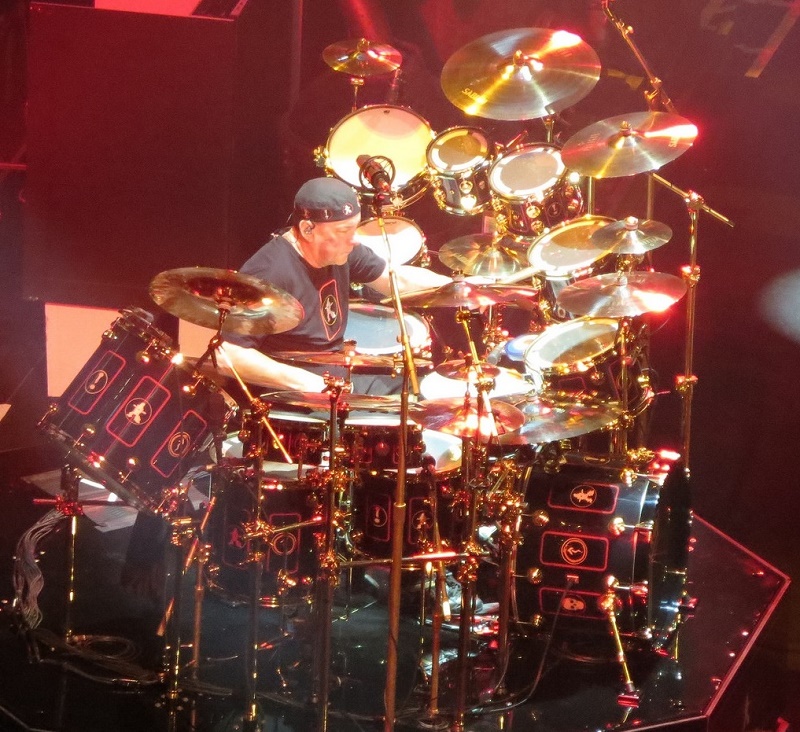 Above: Photo of Neil Peart in Houston, TX, by @mstmompj
One of two kits that Neil Peart played on the R40 Live tour. Click to see the R40 Live Retro kit.

Drums: DW shells made from 1500-year-old Romanian River Oak in Dyed Black Pear finish

Electronic drums: Neil didn't use his trademark satellite electronics kit. This kit did include V-drum, Dauz, and KAT pedals.

Cymbals: Brilliant finish Sabian Paragon; 14" Paragon Brilliant hi-hats (main) and 14" Artisan Brilliant hi-hats (x-hat); two new sizes introduced, 17" and 19".

Sticks: Pro-Mark 747 wood tip Neil Peart Autograph model (Oak)

Unveiled at NAMM Winter 2015 on January 22.

Drum Tech: Lorne "Gump" Wheaton
"Monsters from the Deep"
These R40 drums are a time machine that spans an incredible fifteen hundred years. Around 500 CE was the beginning of the Dark Ages in Central Europe, when the Roman Empire was crumbling and overrun by ... what sounds like a bunch of heavy-metal bands —the Visigoths, the Ostrogoths, the Vandals, the Byzantines, the Saxons, the Bulgars, the Huns.
Meanwhile, along the banks of the Olt River in present-day Romania, a mighty oak tree toppled into the water and was gradually buried in silt. Centuries, generations, and historical epochs passed, while that oak's wood gathered supernatural density from the pressure of its airless tomb.
In 2014 that log was raised, and its wood was acquired by Drum Workshop. I tried a few prototype shells, and knew I wanted my new drums made from that log — the wood offered exceptional tonality and projection.
Through the development of DW's "Icon" snare series, I learned about laser-cut inlay work, and we applied that technology to an update of the R30 drumset design. Each of the logos and even the red oblong frames around them (deliberately evoking Keith Moon's "Pictures of Lily" kit, my teenage dream) are made of inlaid hardwoods. The hardware is gold-plated, as seemed appropriate for an "anniversary" tour.

It will soon be no secret that I am playing two separate sets on this tour — one "modern" arrangement like I have been using for the past twenty-five years, and one like the setup I played for almost twenty years before — double bass drums, open concert toms, ride cymbal hard right. Its look is modeled after the black-chrome Slingerlands I played in the late '70s, but DW's version far surpasses those in tone, resonance, playability, and "shininess!" The hardware is plated in black nickel, for a murdered-out look that will be perfect when I am asked to play for the Ostrogoth Vandals or the Byzantine Huns...
Each drumshell in both sets was made from that single Romanian River Oak (DW uses the slogan "1500 Years in the Making," I prefer "Monsters From the Deep.")
The cymbals are all Sabian Paragons, with a couple of new sizes in the mix — 19-inch and 17-inch crashes. Sticks are by Pro-Mark, the heads an ever-changing variety of DW and Remos (always experimenting in that area). The Roland V-Drums (with custom DW shells), MalletKat, KAT trigger pedal, and Dauz pad go through Ableton Live running on a MacBook Pro.
Lorne "Gump" Wheaton continues to keep all that good stuff working and looking wonderful, as he has for almost fifteen years now. Recently a friend asked the two of us who was the bigger "pain" to work with, and after a pause, I replied, "We don't really have trouble with each other — just other people!"
Gump laughed and agreed...
This graphic and accompanying specs were created and published by Modern Drummer in their December 2015 edition.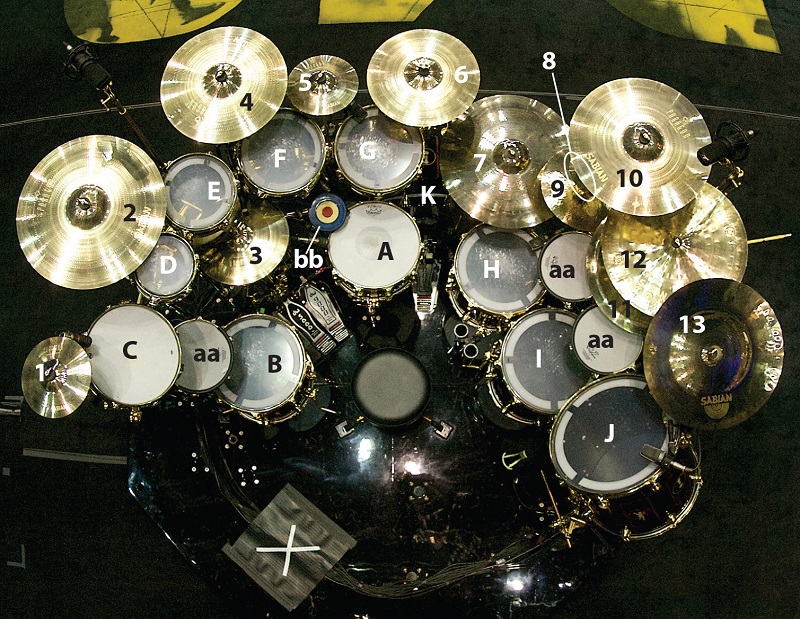 "R40" Kit
Drums: DW shells made from Romanian bog oak in Dyed Black Pear finish
A. 6.5x14 NP Icon snare
B. 13x15 floor tom
C. 3x13 piccolo snare
D. 7x8 rack tom
E. 7x10 rack tom
F. 8x12 rack tom
G. 9x13 rack tom
H. 12x15 floor tom
I. 16x16 floor tom
J. 18x18 suspended floor tom
K. 16x23 bass drum with Kelly Shu miking system
Note: Each of the drums' logos, as well as the red oblong frames around them (which deliberately evoke Keith Moon's "Pictures of Lily" kit), are made of inlaid hardwoods.
Cymbals: Sabian Paragon with brilliant finish
1. 10" splash
2. 20" crash
3. 14" hi-hats
4. 17" crash
5. 10" splash
6. 16" crash
7. 22" ride
8. 8" splash
9. 14" Artisan hi-hats
10. 19" crash
11. 20" China
12. 20" Diamondback
13. 19" China
Electronics:
aa. Roland TD-30 trigger pads mounted in DW shells
bb. custom-built Dauz trigger pad (the "target" head is a Who reference).
All trigger samples processed with Ableton Live.
Hardware: DW 9002 series double bass drum pedal and 5000 series hi-hat; all stands with gold-plated finish
UrbannBoards Neil Peart Signature Drummer Shoes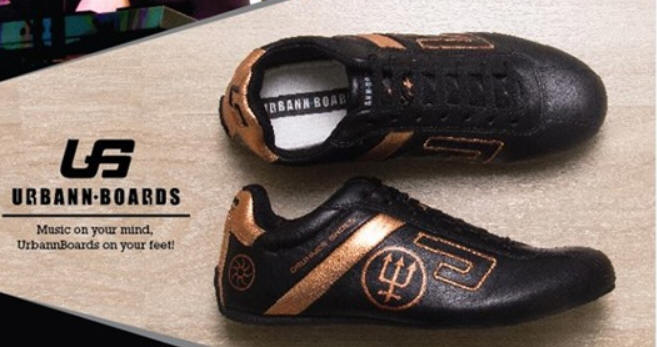 In a DW video (posted Jan 26, 2015), Neil Peart explained the story behind the drums. I've also included an edited version of the text below.
Edited version of Neil Peart's commentary on his new DW kit, along with a few stills.
Setting out to replace, supplant, the Time Machine/Clockwork Angels kit, was daunting to say the least. Because we couldn't really hope to transcend that, and (we) decided, "Well, why bother? Let's sidestep here and go in a different direction."... And I thought back ten years ago (with the) R30 kit. I thought of that design because it had been very personal to me in a number of ways, and I thought... "What if we do an upgrading of that?"

Above: Neil Peart introduces his R40 drums.
And then along about that time came a new technology of wood of inlays from a company in Indiana ... in which all of these designs are made from separate pieces of wood and inlaid into the mother wood, as it were. So some of the aspects of the R30 kit, for instance the red oblongs that go around it, were drawn from Keith Moon's "Pictures of Lily" kit, the paragon of drum sets when I was a teenager so that was kind of a reflection of that....
And then each of the logos was chosen to replicate certain ones from different Rush albums — not by favorites or most popular or anything, but just ones that look nice. We did them with a silver laser effect that time (on the R30 kit)... This time they were all done with laser cutouts. And if you can see the fine nature of it, you can just see the fine grain of the wood in the individual pieces, because the laser cuts out the female on a bevel and then the design has to be counter sunk into that. So that's... what you're seeing here in design: just beautifully lacquered, all-nature wood, different woods chosen for their characteristics.

Above: Detail of laser cutout logo showing the wood grain
Now, what you're not seeing, but what you'll be listening to — hopefully a lot as this entire kit gets played — is this drum and all of its mates, are made from one piece of wood, a log from the Olt River in Romania that is 1500 years old... 500 years ago this log fell into a river in the Carpathian Mountains of Romania, and it was dredged out of there...

Above: Timeless Timber log being dredged out of the Olt River
And of course at DW, John Good, maestro of wood, the wood whisperer, got word of this log. Its legend spread, and he had to have it. So when I started talking about this kit with John and I played some prototype shells ... it was an instant decision. As soon as I the played the toms and the way they sang together and the resonance they had, it was like, "Oh, yes! I want that log, too!"

Above: Timeless Timber being processed at the DW factory
This is actually a 13-ply version of the Icon snare drum, which will be the heart of the entire new R40 drum kit this year. I love the fact the entire kit is made from that one 1500 year old log from the Olt River of Romania. And its sound quality... the wood is remarkably dense and difficult to cut, I'm told by the craftspeople here at DW — which is part of the challenge of it — but the resonance that such density imparts to the finished drum is just remarkable. They sound beautifully, like nothing else I've played, honestly. Just an exponential growth in resonance, which is my favorite quality of drums: their resonance. ... So that's an amazing story that came together... I think the slogan they're using is: "1500 years in the making."
Starting August 5, 2018, the R40 drum kit will be on display at the Rhythm Discovery Center in Indianapolis for the next two years. Here's a tweet from drum tech Lorne Wheaton:
Yesterday I set up R40 to be displayed soon at Percussive Arts Society in Indianapolis, IN. It will be there for the next 2 years. Drop by and check it out. #rhythmdiscoverycenter pic.twitter.com/ohWPNV8PZ4

— Lorne(Gump)Wheaton (@Lornewheaton) July 26, 2018
Note that this was written before Neil's intro video. So while some of my speculation has been confirmed (like the Time Machine/Clockwork Angels kit being the pinnacle of "dream drums"), this should still be considered mostly opinion:
Graphics: This kit is a variation of the S.S. Professor design, which Neil used on the R30 tour. And while it might appear like the same drum kit at first glance, the underlying exotic wood combination of dyed black pear over Romanian river oak (a first for Neil), new album logos, and new logo treatment are a subtle reference to Neil's journey of continuous improvement. It's also a commentary on his 19 year partnership with Drum Workshop. After using a blood red sparkle DW kit (to symbolize "starting over" on the drums), the R30 tour provided an opportunity for DW and Neil to create their first true custom drum kit. The result was the S.S. Professor, a black and gold masterpiece that would eventually go on its own tour and be available to purchase. After this, they would go on to produce some of the most iconic drum kits ever created, including the Snakes & Arrows kit (2007 - 2008), The Hockey Song kit (2009), and The Time Machine/Clockwork Angels kit (2010 - 2013). If this is indeed the last major Rush tour, it's fitting for Neil and DW to return to the inspiration of Keith Moon's "Pictures of Lily" drum kit to remind us of where it started. But it's also understandable why some fans might be disappointed with this design — especially after seeing The Time Machine kit. That also might be part of the message here — that The Time Machine kit, with its amazing steampunk details, is the pinnacle of the "dream drums" that DW and Neil set out to create so many years ago. It's easy to forget that these custom designs are only part of what makes a drum kit unique. I can't wait to hear what this kit sounds like!

Color: The kit appears to be painted with a dark blue color, which almost appears black in most photos.

Logos and symbolism: The Rush album logos represented on the kit (that I could find, anyway): include, Clockwork Angels, Snakes & Arrows, Test for Echo, Counterparts, Grace Under Pressure, Roll the Bones, Presto, and 2112. This means the kit contains all modern Rush albums except Vapor Trails and Power Windows. The two older albums represented have special significance. The blue color of the drum kit is probably meant as a reference to Fly by Night, Neil's first album with Rush (40 years ago). 2112 (Starman logo) was arguably Rush's most important album, as it defined who they were in the face of intense pressure from the record company. If 2112 hadn't succeeded, Rush most likely would not have continued.