R40 Live Retro Kit: "El Darko"
Updated: 12/09/2017
At a glance | Tourbook | Specs | Photo Gallery

Above: Photo of Neil Peart in Bristow, Virginia (DC area) by Joe Sokohl
@mojoguzzi
.
One of two kits that Neil Peart played on the R40 Live tour. Click to see the R40 Live Modern kit.

Designed to be a DW replica of Peart's Slingerland kit, played during A Farewell to Kings and Hemispheres tours.

Drums: DW shells made from 1500-year-old Romanian River Oak with black chrome finish. Includes 4 "open" concert toms, used for the first time since the Power Windows Tama kit, and two brass LP timbales.

Cymbals: Brilliant finish Sabian Paragon; 14" Paragon Brilliant hi-hats; two new sizes introduced: 17" and 19"

Sticks: Pro-Mark 747 wood tip Neil Peart Autograph model (Oak)

Percussion: Includes orchestra chimes for the first time since the Signals tour.

Electronics: MalletKat Express

Nicknamed "El Darko."

Drum Tech: Lorne "Gump" Wheaton
It will soon be no secret that I am playing two separate sets on this tour — one "modern" arrangement like I have been using for the past twenty-five years, and one like the setup I played for almost twenty years before — double bass drums, open concert toms, ride cymbal hard right. Its look is modeled after the black-chrome Slingerlands I played in the late '70s, but DW's version far surpasses those in tone, resonance, playability, and "shininess!" The hardware is plated in black nickel, for a murdered-out look that will be perfect when I am asked to play for the Ostrogoth Vandals or the Byzantine Huns...Each drumshell in both sets was made from that single Romanian River Oak (DW uses the slogan "1500 Years in the Making," I prefer "Monsters From the Deep.")
This graphic and accompanying specs were created and published by Modern Drummer in their December 2015 edition.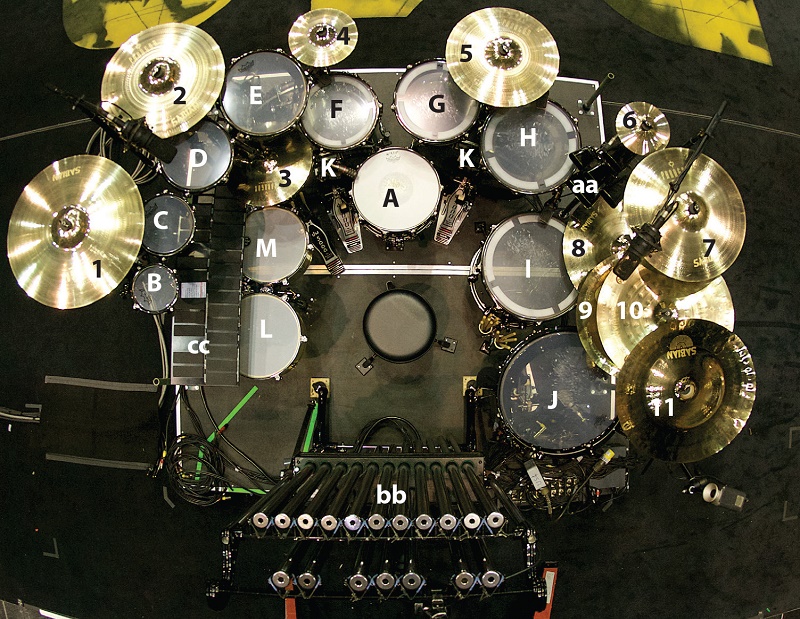 Drums: DW shells made from Romanian bog oak with black chrome finish
A. 6.5x14" VLT snare
B. 6" concert tom
C. 8" concert tom
D. 10" concert tom
E. 12" concert tom
F. 8x12" rack tom
G. 9x13" rack tom
H. 12x15" rack tom
I. 16x18" floor tom
J. 5x20" gong drum
K. 16x23" bass drums with Kelly Shu miking system
L. LP 13" brass timbale
M. LP 14" brass timbale
Cymbals: Sabian Paragon with brilliant finish
1. 20" crash
2. 17" crash
3. 14" hi-hats
4. 10" splash
5. 16" crash
6. 8" splash
7. 18" crash
8. 22" ride
9. 20" Diamondback
10. 20" China
11. 19" China
Percussion
aa. Gon Bops Cowbell Tree
bb. Century Mallet orchestra chimes
cc. malletKAT Express
Hardware: DW 9000 series bass drum pedals and stands and 5000 series hi-hat; all stands with black nickel finish
Sticks, Heads, Extras: Peart plays Promark 747 NP "R40" signature model sticks. His heads are "an ever-changing variety of DW and Remos," while his accessories include UrbannBoard NP Signature Drum Shoes and Whirlwind braided cable. Neil's drum tech is Lorne "Gump" Wheaton.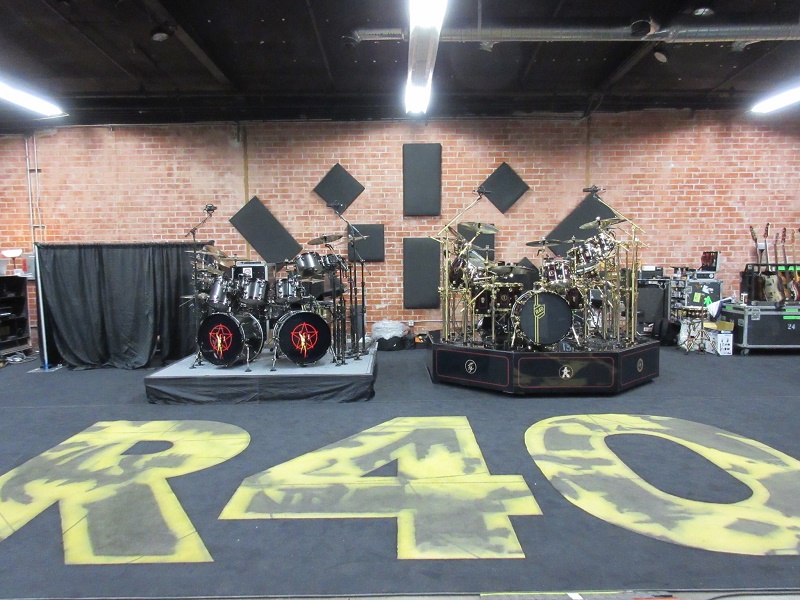 Above: Photo of R40 Retro "El Darko" (Left) and R40 Modern (Right) by Lorne "Gump" Wheaton