Updated: 03/17/2018
At a Glance:
Drums: Slingerland in Chrome Finish

Used from 1974 - 1977

Cymbals: Avedis Zildjian

New percussion: Cowbell tree (over the hi-hat) and windchimes

Sticks: Pro-Mark 747 wood tip (played "backwards")

Hardware: Ludwig, Pearl, Slingerland, Premier

Snare: 5x14 Rogers Dynasonic; chrome over brass with 10 lugs

Drum tech: Ian Grandy
This Slingerland kit was the first drum kit Neil played with Rush. It was used to record:
It was also used for tours supporting all the aforementioned albums, as well as Rush.

Above: Photo of Neil Peart from R30 tourbook.
Photos
Kit Specifications: Early 1975, Fly by Night tour
During the 2009/2010 "
Chromey
restoration," Michael D.F. Lowe of
NeilPeartDrumsticks.com
researched the different versions of the Slingerland Kit. Thanks to Michael for allowing me using this detailed information here.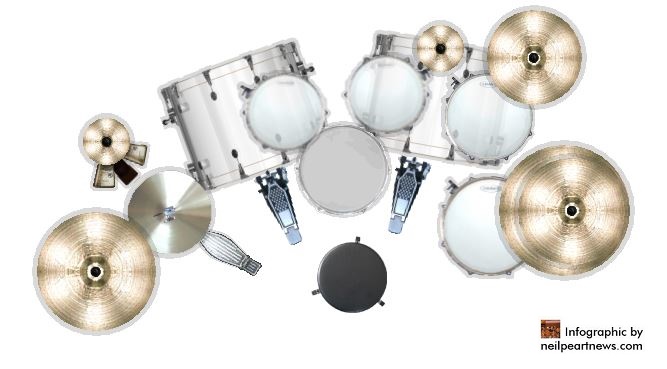 DRUMS
3-ply Shells of Maple, Poplar, and Mahogany with Chrome Wrap
9x13 Tom with W&A Diamond Plate Clip Mount
9x13 Tom with Set-O-Matic Mount
10x14 Tom with Set-O-Matic Mount
16x16 Floor Tom
(2) 14x22 Bass Drum
5x14 Rogers Dynasonic Snare - Chrome Over Brass with 10 lugs
CYMBALS
(2) Avedis Zildjian 8" Splash Cymbal
Avedis Zildjian 13" New Beat Hi-Hat Cymbal Pair
Avedis Zildjian 16" Medium Crash Cymbal
Avedis Zildjian 18" Medium Crash Cymbal
Avedis Zildjian 20" Medium Crash Cymbal
Avedis Zildjian 22" Ping Ride Cymbal
PERCUSSION
Ludwig 4" Gold Tone Cowbell
LP Standard Agogo Bells
Agogo Triple Bells
LP Rock/Bongo Cowbell
Wind Chimes with about 5 bars
HARDWARE
(2) Ludwig Speed King with Square Beater
Ludwig Consolette Tom Holder with 3" rod and tongue on stage left bass
Slingerland Set-O-Matic Double Tom Holder on stage right bass
Slingerland Dynamo Hi-Hat Stand
Slingerland Rocket Snare Drum Stand
(3) Pearl Model #803 Single Braced Heavy Duty Cymbal Stand
Premier Lokfast Flush Base Cymbal Stand with Cowbells and 8" Splash
Ludwig Hoop Mount Cymbal Holder on stage right bass drum
Ludwig Seat Case
Pro-Mark Rock 747 Drumsticks
Rogers Stick Tray Assembly #48-1280
HEADS
Evans All Weather Heavy Duty Rock Chrome Heads - 13"(2), 14", 16", 22"(2 bass front 1974)
Evans All Weather Heavy Duty Rock Blue Resonant Heads - 13"(2), 14", 16"
Remo CS Black Dots - 14", 22" (2 bass rear)
Remo Ambassador Snare-side Head - 14"
After Rush
Peart gave away this kit as part of his 1987 Modern Drummer Drum Giveaway. For detailed information about where the kit is now, go to the "Chromey" restoration page.