Time Machine kit at NAMM 2011 - posted 1/15/2011

At a Glance:
Used during the Time Machine tour (2010, 2011) and Clockwork Angels tour (2012, 2013)

Acoustic drums: Drum Workshop with custom "Time Machine" finish and hardware; 23" bass drum

Electronic drums: Roland V-drums (with DW custom "Time Machine" shells), KAT midi-marimba

Cymbals: Brilliant finish Sabian Paragon with "Time Machine" graphics; 14" Paragon Brilliant hi-hats (main) and 14" Artisan Brilliant hi-hats (x-hat)

Sticks: Pro-Mark 747 wood tip

DW 14" Solid Shell (VLT), and 13" piccolo snare (VLT)

Hardware: Copper

Drum Tech: Lorne "Gump" Wheaton
Contents:

Obviously the real time machine around here is the drumset.

And what a set of drums. Captain Nemo would have loved them, probably better than that dreary old pipe organ.

Drum Workshop really outdid themselves this time, spearheaded by Don Lombardi, John Good, Shon Smith, Garrison (like Madonna and Cher, he "dares to be known by one name alone"), hardware specialist Rich Sikra, and master painter Louis Garcia.

Barrel-stave redwood, copper leaf and silver alchemy symbols, and the innovation of copper hardware create the main visual statement, but the small, unique details of stand fittings and the little sculpted gears behind the lugs demonstrate DW's imaginative willingness to consider every possibility--and make it real.

Sonically, drum tech Lorne "Gump" Wheaton and I agree that these drums surpass all previous kits, in the richness of their tonality, and in the perfect blend of the individual drums with each other.

The custom stand fittings, drum hardware, and riser panels were designed by Greg Russell and Brian Walters of Tandem Digital. Their elaborate CG renderings of the kit and hardware helped to visualize the final outcome.

For their part, the Sabian cymbal company also got onboard with my wild ideas right away. Chris Stankee and Mark Love directed the development of a special steampunk design on the new "Brilliant" Paragons I've been using. (It took some experimenting with inks to find one that didn't affect the sound.)

Among other noisemakers, Gump and I include Pro-Mark sticks, DW and Remo heads, Roland V-Drums (thanks Darren Shoepp) (with custom DW shells), MalletKAT, KAT trigger pedals, and a Dauz pad, all running through a Roland XV5080 sampler and Project X Glyph hard drives.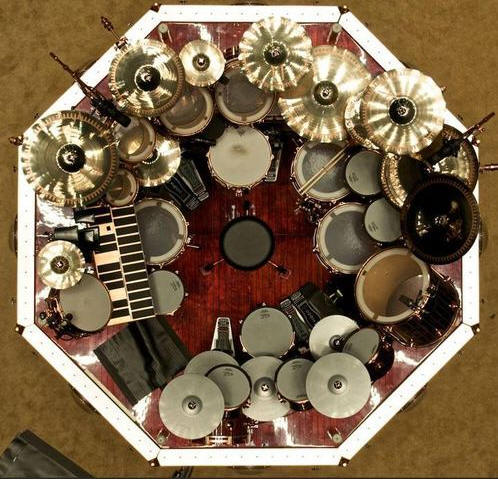 Go to the Sabian site to read a fascinating article by Chris Stankee about how Steampunk cymbals were created. One interesting note:
"Incidentally, for this tour Neil had decided to use the 14-inch Paragon Brilliant hats instead of the 13-inch ones he had always favored. For the X-hats he is using a pair of 14-inch Artisan Brilliant hi -hats that he fell in love with while working up his performance at the last Buddy Rich Memorial concert."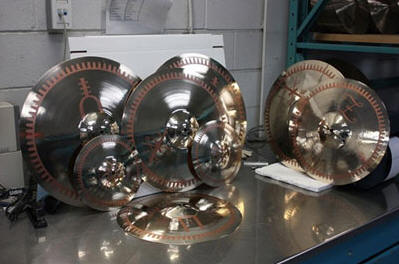 Before the "Time Machine" drum kit was built, Tandem Digital created a CG prototype to help everyone understand the vision of this unique drum set and riser. Thanks to Tandem Digital for making this story available.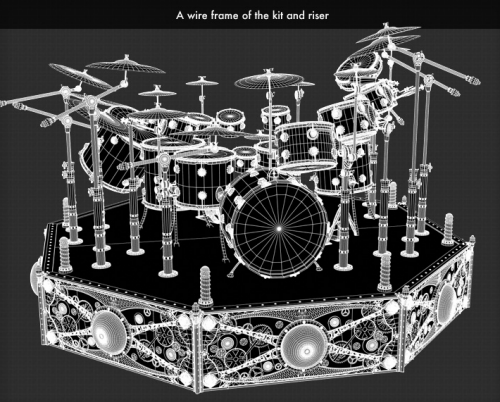 See the "Time Machine" drum kit go from wire frame to prototype to the real kit on this page.
Pro-Mark has posted a new article about the Special Edition "Time Machine" sticks.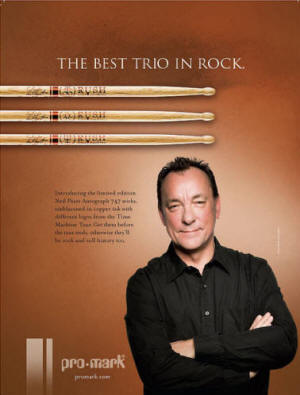 For the Time Machine tour, I've been posting one or more photos from each show that highlights Neil Peart playing the drums or the drum kit. Thanks to John Arrowsmith (photos available for purchase) and Paul Secord (Red Rocks show #1) for the photos!
Go to the Photo of the Night blog posts.