Updated: 02/11/2018
At a Glance:
Drums: Slingerland in "Blakrome" finish with "Vibra-Fibing"; last Slingerland drum kit

Used from 1977-1979

Cymbals: Avedis Zildjian. Added 20" China and 18" Wuhan Chinese cymbals.

New percussion: Gong, temple blocks, triangles, and 4 windchime bars mounted on a rack system above the kit. This rack system would remain until the Signals tour. A set of crotales was also mounted above the tubular bells.

New drum: 28″ tympanum

Sticks: Pro-Mark 747 wood tip (played "backwards")

5.5 x 14 "Old Faithful" Slingerland Artist Model snare with original Copper Wrap finish: 3-ply shell with 8 lugs

Drum tech: Larry Allen
This Slingerland kit was the second drum kit Neil played with Rush. It was used to record and tour:

From the Hemispheres tour book, by Neil Peart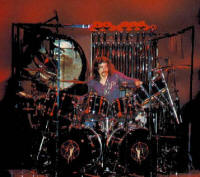 My drums are all by Slingerland, with the inner surface of the wooden shells treated with a process called Vibra-Fibing. This consists of a thin layer of glass fiber and resin. (The drums include) two 24" bass drums, 6",8",10", and 12" concert toms, 12", 13", 15", and 18" tom-toms, and a 5"x14" wood shell snare drum. All cymbals are by Avedis Zildjian, with the exception of an 18" Chinese cymbal. The Zildjians are 6" and 8" splash, two 16", one 18" and one 20" crash cymbals, and 22" ride, a pair of 13" hi-hats, and 18" pang and a 20" China type.

In the percussion department are orchestra bells, tubular bells, wind chimes, crotales, timbales, tympani, gong, temple blocks, bell tree, triangle, and melodic cowbells.
For heads I use Remo black dots on the snare and bass drums, Ludwig silver dots on the concert toms and timbales, and Evans Looking Glass (top), and Speed King pedals, and Tama and Pearl stands. I use Pro-Mark 747 drumsticks with the varnish sanded off the gripping area.
Photos
After Rush:
In a letter that Neil published in Modern Drummer on Sept 15, 1982, Neil wrote, "I still have my black Slingerland kit at home for practice..."
Fan replicas
Click an image to go to its replica page.