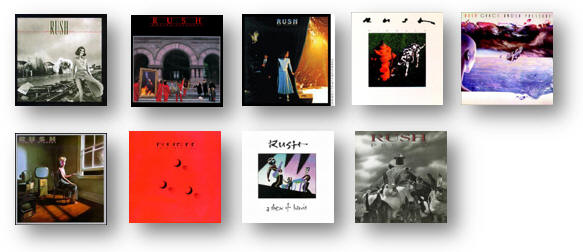 Starting in 1979, after the Hemispheres tour, Rush began charting a new musical course. Brought about by a desire to move beyond conceptual side-long epics, as well as respond to the prevailing musical winds, Rush wrote and recorded Permanent Waves. This album, led by the hit "The Spirit of Radio," sparked their exponential rise in popularity. They followed up with Moving Pictures, which would become their most popular album to date.
Behind the drums, more subtle changes were also taking place taking place. After years of touring, Peart's time and overall feel had become more confident, his playing more precise. You can hear this during the medley of this Permanent Waves tour show in St. Louis. Peart, Lee, and Lifeson are leaving more space between the notes, letting the music breathe. This control is what made songs like "The Spirit of Radio" possible.
After Moving Pictures and the live follow-up album Exit..Stage Left, Rush changed directions again with Signals. With that album's focus on keyboards and sequencers, Rush probably lost many of the fans they'd gained over the past three years—fans who wanted to hear more songs like "Tom Sawyer" or "Limelight." But the band wasn't interested in repeating themselves. They wanted to continue learning and growing, and, as it would turn out, many of their fans were just fine with this approach.
It's also worth noting that just as Peart's drum star was rising, many other drummers were being marginalized or replaced. As he explained in an interview in 1994:
A few years back drummers were being shoved down further and further in the creative process. I was really wondering what was happening to all of the young drummers. At that point most everything you heard on the radio had drum machines. The drummers you heard were just keeping a beat. It was considered very uncool to play drum fills—and God help you if you did a drum solo! In the '80s there was no place for a drummer to play. I was very concerned about the future of drumming. (Modern Drummer, 1994)
In a 1986 interview with Modern Drummer, when Peart was asked about the drummers who inspired and influenced him, he listed 12 drummers off the top of his head (bold added for emphasis):
There certainly have been many, but they're always so hard to pull off the top of my head. Simon Phillips, Andy Newmark, and Stewart Copeland come to mind, as well as Jerry Marotta. I particularly like the work that Jerry and Phil Collins have done with Peter Gabriel. I like ethnic ideas. I listen to a lot of reggae, and the percussion on modern African music—like King Sunny Ade—has been very influential to me. I like Rod Morgenstein a lot; he's a good player and a lovely guy. Warren Cann from Ultravox, Steve Jansen from Japan, and Chris Sharrock from The Icicle Works do some interesting things. I'd also like to add Omar Hakim, Peter Erskine, and Alex Acuña to the list.
In the 1980s, new wave bands began to dominate the airwaves. Of the new wave drummers, Stewart Copeland, playing with The Police, would be one of the most influential to Peart and other drummers. Copeland's unique energetic style combined elements of Reggae, Ska, Rock, and Punk. Peart absorbed this influence into his own playing and developed it throughout the 1980s—reaching a peak on Grace Under Pressure and Power Windows.
"There's a band called The Police and their drummer plays with simplicity, but with such gusto. It's great. He just has a new approach." (Modern Drummer, April/May 1980)
Interestingly, Copeland didn't share the same appreciation of Peart's playing—or Rush's music. In a 2012 interview with MusicRadar, Copeland was asked about what he thought of the Police's influence on Rush.
By the way, just curious: What did you think when Rush added some Police-type elements to their music in the early '80s?
I had only heard of it. I didn't actually listen to Rush albums, and I couldn't tell you one from the other—although Neil is a good buddy. [laughs] We agreed to disagree on certain things, and it is a measure of his greatness as a human being that he is completely over whatever my feelings might be about Rush.
This truly is the case: He's never heard me say a wonderful thing about his band. He's read a few comments that I wish he hadn't read. In unguarded moments, things tend to slip out. Musicians tend to be snippy about one another, and I'm generally not. I generally love all music and all players.
There was a time when bands like Rush were the epitome of what The Police were theoretically against, which was an overemphasis on musicality. Our ethos in the early days was about the primal scream and that musical technique was a distraction from that mission. There may have been a few comments that I might have made regarding Rush's position on that debate, and it is really, really to Neil's credit that he's over that debate. And we get along great.
Cesar Zuiderwijk - Golden Earring
When Golden Earring opened for us in the early '80s, I saw Cesar Zuiderwijk (throwing his sticks in the air), and thought it was cool. So immediately (and shamelessly), I started copying him. It was simply fun to try to do, and always risky. At best, after 30 years, I manage to catch nine out of 10, but still, some of them just 'get away'. When the stick is in the air, the audience seems to share the tension with me: "Will he catch it?" If I do, they are as relieved as I am. ("Neil Peart on Drum Solos: Part 3," Rhythm, 2014)

Bozzio's most profound influence on Peart is a four-note "ruff" played in quick succession. Peart explained how he came up with this fill in a Modern Drummer Ask a Pro column:
A wild interpretation of these ideas that I learned watching Terry Bozzio when he was with Frank Zappa shifts the accents in a triplet feel, but not the sticking (since what would be the double beat is omitted. It's tough to explain, but an example of where I have used this is in the first drum break in "YYZ."
Peart would use this technique in countless Rush songs, including the opening of "The Digital Man," the opening of "The Spirit of Radio," and "Limbo" (just to name a few).
Simon Phillips - The Who, Pete Townshend, and more
Peart wrote of Phillips in the Burning for Buddy press release:
One of Britain's most in-demand rock drummers and studio players, now resident in the U.S. Simon's many credits include The Who, Pete Townshend, Mick Jagger, Tears For Fears, Roxy Music, Jeff Beck, and Big Country, as well as his own solo projects.
Simon Phillips, as shown in the below video, is also a master of drum solos.
Andy Newmark - Roxy Music, Avalon and others

Jerry Marotta - Peter Gabriel

King Sunny Ade (Nigerian bandleader)
Peart has mentioned King Sunny Ade as an influence in several interviews. In a 1994 interview with Modern Drummer, he talked about Ade's influence on the Rush song "Leave That Thing Alone."
The instrumental track on this record, "Leave That Thing Alone," is built around R&B bass/drum interplay. But to make it original I had to change up parts. In the second verse I go into a Nigerian beat, like something you'd hear on a King Sunny Ade record.

Rod Morgenstein - Dixie Dregs, Steve Morse Band
In Modern Drummer, Neil said the following about Morgenstein's participation in Burning for Buddy:
I've known Rod for years, and he's a favorite of mine as a player and as a person. He was nervous about doing it, like the rest of us were, but he came in and did a good job very quickly. He was really well-prepared. (Modern Drummer, December 1995)

Warren Cann - Ultravox
In an article for Modern Drummer in 1982, "Notes on the Making of Moving Pictures, Part III," Peart wrote about how many drummers, including Warren Cann of Ultravox, influenced his approach on "Vital Signs":
Conceptually, this song ("Vital Signs") was an attempt to bridge the gap between the primal appeal of the rhythmic reggae "bounce" and the electronic energy of high-technology music. As a drummer, this gave me the opportunity to begin as a simple "groove" player, and then grow through various developments into the "overplaying show-off type" toward the end! I drew on many influences throughout this progression: notably the works of Creme and Godley, Ultravox, The Police, the great things that Michael Giles did with early King Crimson, a healthy dose of good old hard rock, and a little Caribbean influence.

Steve Jansen - Japan

Chris Sharrock - The Icicle Works

Omar Hakim - Weather Report, Sting
Omar and I first met at the Buddy Rich scholarship concert in '91. He is one of those people who I felt an immediate affinity for. I love his playing—the fluidity of it. It's smooth and yet it has a snappy excitement to it, and he plays with such a good feel. (Modern Drummer, December 1995)

Peter Erskine - Weather Report, various

Alex Acuña - Weather Report (most likely - Heavy Weather)

Terry Bozzio and Bill Bruford: Electronic drum pioneers
Terry Bozzio is a true pioneer. He was one person who was supposed to be on this Buddy Rich tribute, but he found himself in Europe at the time. Bill Bruford is another guy I consider a pioneer and I find myself often following those guys. For example, when Simmons drums first came out, there was no way I was going to dive into putting up with all that unreliability and the limitedness of their use and all that, but guys like them did. They dove headfirst into the new thing and broke ground for guys like me who come along after and say, 'well, I could use that now' after guys like them have sorted it all out. Bozzio's done a lot of really interesting things. That Jeff Beck album he did a couple of years ago was really interesting. His thinking is so unique and he's a powerhouse, a true pioneer and with so much technique to back it up; he brings an acoustic drum style and language to exploring electronic drums. What he did with King Crimson and the Earthworks stuff was groundbreaking and really important. So guys like that deserve a lot of credit. They seldom settle down long enough to produce a body of work, or their music tends to be too marginal, like with Bruford's stuff in the band Bruford - it was great, I just loved it, but he could never get arrested! (Canadian Musician, December 1994)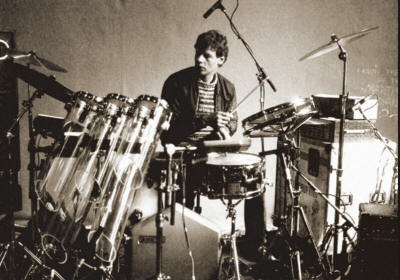 For more about Bozzio's inventions and prototypes, see this page on his website.
Manu Katché - Various
There was a drummer featured in MD a while back, Manu Katche, and most of his drumming is very simple, but it is so elegant. His work on the Robbie Robertson album or his work with Joni Mitchell or Peter Gabriel is a joy to listen to. The Robbie Robertson album is my favorite of Manu's playing, and I think there may be three fills on the songs he played on the album. His rhythms are such a hybrid between West African music and Western music. (Modern Drummer, December 1989)
In Peart's instructional video Taking Center Stage, he talked specifically about Manu Katche's influence on the song "Presto."
... The chorus sections (of "Presto") are just kind of four-on-the-floor ride cymbal pattern with interspersed rhythms that are very influenced by Manu Katché—I liked his drumming a lot in the day, Robbie Robertson and Peter Gabriel especially that he worked with. And his influence is West African pop music, because he's half French-African and half French. So his roots too is West African Pop music. And that's where I first heard that kind of music, there, and it translated. Actually there's a Caribbean style, Soca, that uses those same kind of syncopations, too, in a snare drum offbeat.
In his Modern Drummer 1988 article "Creating the Drum Part," Peart wrote about Katché's ability to "insinuate" a beat:
There's also something I hear Manu Katché doing with Peter Gabriel and Robbie Robertson: insinuating the rhythm — playing all around the beat without actually playing it, but it's absolutely there. This gets more complicated, but also more fun, and is very satisfying when you pull it off (not only for yourself, but for the song, the other musicians, and, hopefully, the audience).

Phil Gould - Level 42
A good drummer that I like who plays simply is Phil Gould, who used to be with Level 42. He plays very simple, R&B-influenced drumming, but when he pulls a fill out it'll be a beautiful fill. And his feel is great. If you try to tap along with their downbeat-on-the-3 type of songs, you'll just about break your hand trying to come down behind the beat as much as he does. He has that feel down so well. It's very satisfying for me to listen to from a drummer's point of view or from a music fan's point of view. It feels great, has tremendous authority, and has the spice of a great little fill leaping out of it. (Modern Drummer, December 1989)

Kevin Wilkinson - China Crisis
There's an English pop band called China Crisis, and the drummer plays very simple patterns with very few fills, but again, what he plays is so elegant, and right for the music, and you can tell he has confidence. When he plays difficult patterns he plays them with such authority that they just flow by you smoothly. Many drummers try to pull off a more difficult pattern or fill, and it comes off slightly less than smooth. I've been guilty of that myself certainly! The really good drummers make what they're playing sound effortless-not labored. When you have drummers who have spent a lot of time learning, ad a lot of time practicing and playing different styles of music, when they do set themselves to play simply, they have a certain authority and a uniqueness to what they are doing that sets them apart. They're not just playing the only beat they know. And that's what a lot of so-called simple drummers are guilty of. They're playing simply because that's all they know. That's sad in one sense because it's so limiting. They are victims to the "less is more" approach because they don't understand exactly what it means. You have to know what you want to play and what you want to leave out-not just play the only beat you know. A lot of times, less is less. (Modern Drummer, December 1989)
Johnny Fay - The Tragically Hip
Peart would include fellow Canadian band the Tragically Hip in his pre-show tapes for Counterparts and Vapor Trails tours. The band's album Fully Completely also ended up in Peart's CD-changer during the journey that would yield Traveling Music. He wrote about the band:
Rush had just released Presto, and someone from the office told me CHOM-FM in Montreal was playing one of the songs, "Show Don't Tell," on a "Top Ten at Ten" feature, where listeners called in to vote for their current favorites. I turned on the radio one night to listen to the countdown, and I think we were number three that night, but it was number four that struck me: a Canadian band I'd never heard of, the Tragically Hip, and a live recording of a song called "New Orleans Is Sinking." As the band played a slow groove, the singer, Gord Downie, told a long, rambling tale that was thoroughly weird and bizarre — about throwing bodies out of his girlfriend's apartment window or something — and yet riveting. (Traveling Music, pp. 108-109)

Peart would even lobby to have the Tragically Hip open for Rush on the Roll the Bones tour, but the band turned them down in order to tour in Europe instead.
Bands that opened for Rush.
Permanent Waves
FM (Martin Deller), Wild Horses (Clive Edwards), Pat Travers (Tommy Aldridge), Max Webster (Gary McCracken), .38 Special (Steve Brookins and Jack Grondin), Saxon (Pete Gill), Quartz (Malcolm Cope), Roadmaster, Saga (Steve Negus)
Moving Pictures
Saxon (Pete Gill), FM (Martin Deller), Max Webster (Gary McCracken), Ian Hunter, Joe Perry Project (Ronnie Stewart)
Exit... Stage Left
Opening Bands: Girlschool (Denise Dufort), Riot (Sandy Slavin)
Signals:
Riggs (possibly Steve Carlisle), Krokus (either Steven Pace or Jeff Klaven), Jon Butcher Axis (Derek Blevins), Golden Earring (Cesar Zuiderwijk), The Payolas (Chris Taylor), Wrabbit (unknown), Rory Gallagher (Brendan O'Neill), Nazareth (Darrell Sweet)
Grace Under Pressure
Marillion (Ian Mosely), Fastway (Jerry Shirley), Gary Moore (unknown), Helix (Greg "Fritz" Hinz), Red Rider (Rob Baker), Y&T (Leonard Haze), Strict-Neine (unknown)
Power Windows:
Steve Morse (Rod Morgenstein), Marillion (Ian Mosely), FM (Martin Deller), The Fabulous Thunderbirds (Fran Christina), Blue Oyster Cult (Albert Bouchard)
Hold Your Fire
Michael Schenker Group (Cozy Powell), Tommy Shaw (Steve Holley), Chalk Circle (Karl David Fielding), The Rainmakers (Pat Tomek), Wishbone Ash (Joe Crabtree)