Tweet
II: Early teenage years (1965 - 1968): Becoming a drummer

Indicates important musical events related to Neil Peart or Rush.
---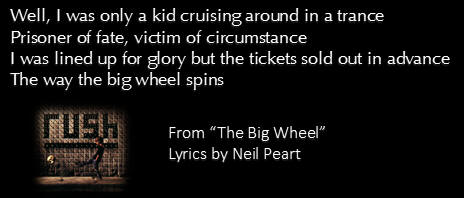 1965
Peart begins drum lessons with teacher Don George.
Every Saturday morning I took the bus uptown to the Peninsula Conservatory of Music (a rather grandiose name for a few paneled rooms above St. Paul Street). Taught by Don George, I practiced my rudiments and my sight reading, and at home, I arranged magazines across my bed to make fantasy arrays of drums and cymbals, then beat the covers off them. [Traveling Music, p. 68]
Peart enters Lakeport Secondary School (high school) one week before turning 13. Being two years younger than the other students instills an outsider's perspective in Peart that eventually found its way into Rush lyrics — most prominently in the 1982 song "Subdivisions."
I was definitely two years too young to be starting high school, a week short of my thirteenth birthday, and immature even for my true age. Not to mention self-conscious, uncoordinated at sports, and not equipped with the proper wardrobe. [Traveling Music, p.65].
Above: Photo of Lakeport Secondary School in 2007 by Andy Olson.

The Who release their debut album, My Generation. They soon become Neil Peart's first favorite band, Keith Moon his favorite drummer.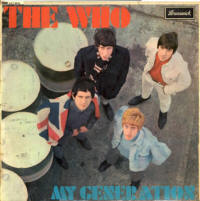 ---
1966
May 16: The Beach Boys release their eleventh studio album Pet Sounds. Unlike the singles (45-rpm records) that are the dominant releases from most artists during this time, Pet Sounds is an LP (long play) record meant to be listened to as a collection of songs. Although it wasn't an immediate critical and commercial success, Pet Sounds became one of the most influential albums of all time and eventually inspired the Beatles to write their equally ambitious Sgt. Pepper in 1967. Both of these albums helped define the emerging psychedelic rock sound and eventually led to the development of progressive rock.



Peart later rediscovered Pet Sounds and The Beach Boys in 2003 after reading biographies about Dennis Wilson and the entire band:
I still hadn't gone back to (The Beach Boys') music, but the more I read about it, the more curious I became. Apparently there had been much more than "Fun, Fun, Fun" going on there. ... I started buying the CDs, and appreciating them in a way I never had before: with my own deepened experience, maturity, and understanding. The beautifully crafted early material, and the ultimate expression of a naked spirit confronting life and love, Pet Sounds, all of it was a joyous revelation to me, pure listening pleasure. [Traveling Music, p. 371].
June: Frank Zappa & The Mothers of Invention release Freak Out!, an early concept album. It is also considered to be an early progressive rock album. Peart later becomes a fan of Zappa, playing covers in various bands. [Traveling Music, p. 224].

Summer: Peart gets job at Lakeside Park at the "midway." Hears Bob Dylan on radio.
... Some of the kids brought transistor radios to work, and the music of that summer of 1966 played up and down the midway. Bob Dylan's "Like a Rolling Stone" stands out as emblematic of that summer to me, and that song still comes up on my mental transistor radio sometimes. [Traveling Music, p.74]

Above: Photo of Lakeside Park Lighthouse in 2007 by Andy Olson



Above: Photo of Neil Peart first published in Peart's "A Port Boy's Story" in the St. Catharines Standard on June 24 and 25, 1994. Thanks to Power Windows for posting the photos and the story online.
September: After a year of study with Don George, Peart receives his first drum kit.
I rattled the house for a few days (and made my parents reconsider the wisdom of their supportiveness, I'm sure), then moved the drums up to my room, setting them up beside the pink-spackle plastic AM radio on top of the steam radiator. From then on I came home from school every afternoon and played along with whatever song came on (probably a good enough course of study, really, to build versatility, and to understand song construction), playing until Mom and Dad couldn't stand it anymore. (Though when any neighbors commented, they took my part, which felt good.) [Traveling Music, p.69]

Above: Photo of Neil Peart and his first drum kit
December 9: Cream release their debut album, Fresh Cream. The album peaks at #6 on the UK album chart and #39 on the US album chart. Cream was a major influence on all members of Rush, and at Geddy Lee's debut with Rush in 1968 they played (and re-played) a half-dozen Cream songs. Drummer Ginger Baker becomes one of Peart's first three rock drumming influences.

---
1967
January 14: 30,000 people attend the "Human Be-In" at Golden Gate Park. The event is a prelude to "The Summer of Love," where 100,000 people would migrate to Haight-Ashbury during the summer for concerts and other events.


Peart has his drumming debut at a school Christmas pageant at St. John's Anglican Church. He "mimes" the Rolling Stones' "Get Off My Cloud" with three other musicians. [From "A Port Boy's Story" in the St. Catharines Standard on June 24 and 25, 1994]
Above: Photo of St. John's Anglican Church in 2007 by Andy Olson.
Peart plays his first public performance on drums at a Lakeport Secondary School variety show with his band "the Eternal Triangle," and plays his first drum solo.
By far the most important experience I had at Lakeport Secondary School was my first public performance on drums, playing in a variety-show trio called the Eternal Triangle, with Don Brunt on piano and Don Tees on saxophone. I was fifteen, with my red-sparkle Stewart drums (though I had a hi-hat and floor tom by then), two Ajax cymbals perched way up high, and a "racing stripe" down one side of the front of the bass drum, made with electrical tape.

When the Eternal Triangle took the stage, one of our songs was an original number entitled "LSD Forever" (as if we had any idea), and I performed my first public drum solo. This changed everything. As a miserable failure at sports and "coolness," I had felt inferior, like a complete outsider, but for the first time I did something that actually impressed people, especially my parents and some of the other kids, and that experience illuminated something inside me for the first time. [Traveling Music, pp.70-71].

Peart joins his second band, Mumblin' Sumpthin'. At his first Friday night gig at the Lincoln Curling Center, the owner of the venue lectures Peart and his bandmates about needing to play music people want to hear. This lecture has the opposite effect on Peart, who later writes that this and other incidents sent him "on a lifelong course as a 'contrarian,' determined to find a way to play music I loved, even if I had to make my living by other means." [Traveling Music, pp. 75, 218]

Peart begins prioritizing drums and music over school. In an interview with Ari Gold in 2011, Peart discussed how his obsession with drums became a near monomania:
After I did a drum solo at the variety show and all the kids were buzzing about it, suddenly I had, like, an inch of cool in my life and what a difference that made. And then I started playing in bands and it was the end of my scholastic career, unfortunately, 'cause we just ended up (in) band practice after school, or you'd skip school and go to the music store and talk about drums and talk about bands and all that stuff. It became a completely consuming culture through my teenage years.
March: The Grateful Dead release their eponymous debut album. Peart plays Dead songs in his first band, Mumblin' Sumpthin', although the band's influence was short-lived:
My familiarity with the Grateful Dead's music really began and ended with their first album, back in '67, when my first band, Mumblin' Sumpthin' (I'm not sure, but I think the name came from a "Li'l Abner" comic), used to play several of their songs, "Morning Dew," "New New Minglewood Blues," and "Good Morning, Little Schoolgirl. [Traveling Music, p. 41]

June: The Beatles release their eighth studio album Sgt. Pepper's Lonely Hearts Club Band. Like the Beach Boys' Pet Sounds before it, Sgt. Pepper expanded the boundaries of rock music and further developed the concept album aesthetic. Of the many innovations, perhaps the most notable was the way the Beatles and their producer George Martin used the music studio as a compositional tool — instead of just being used to record a performance. Many music scholars have also noted that Sgt. Pepper helped in the development of progressive rock.

June: The Monterey International Pop Festival is held in Monterey, California, over three days. Attendance estimates are between 25,000 - 90,000 people, and many regard the concert as the beginning of the "Summer of Love" (although the two-day Fantasy Fair and Magic Mountain Music Festival preceded Monterey Pop by one week in Marin County). There are performances by Jimi Hendrix, The Who, and Otis Redding. The event is filmed by D.A. Pennebaker and becomes one of the defining musical records of the 60s. Peart watches the film when it comes out in 1968, and it has a profound effect on him.



August: Pink Floyd release their debut album, The Piper at the Gates of Dawn. Performing on the album is Nick Mason (credited as Nicky Mason), one of Peart's future drum influences.
After he agrees to a payment plan, Peart's parents buy him his second drum kit, a Rogers in a gray ripple finish, for $750. Peart honors his contract and pays back his parents.
After the variety show triumph, when I had joined a "real band," I was able to convince my parents that I needed a new set of drums. I used the usual family strategy in such matters — I talked to Mom, and she talked to Dad. One Saturday, Dad met me at the Peninsula Conservatory of Music to look at a small set of Rogers drums, in a gray ripple finish. They were so beautiful, but they cost a fortune: $750. Dad agreed to sign for the loan if I would make the payments, $35 a month, and of course I agreed immediately. I still had the paper route, mowed neighbors' lawns, worked for Dad at the farm equipment dealership on Saturdays and holidays, and played with Mumblin' Sumpthin' every week or two at YMCA dances or Legion halls (our equipment often transported in Dad's pickup), so I managed to make most of those payments. [Traveling Music, p. 71].



Above: Photo of Neil Peart and his Rogers drum kit
Peart joins his third band "Wayne and the Younger Generation," later renamed "The Majority", with whom he plays for two years. The Majority was the band where Peart discovered the music that spoke directly to him, including "The Who, the Hollies, the Small Faces, the Yardbirds, and others of that mid-'60s era, the 'second wave' of the British Invasion that reached me in a way the Beatles and Stones hadn't." The Majority would go through several lineup changes and would include: Bob Keep (keyboards/bandleader), Felix Elia (guitar), Joe Szilagy (guitar), Wayne Latimer (vocals), Wayne King, and Terry Walsh. [Traveling Music, pp. 75-76].
Above: Photo of the Majority (circa 1968): Top (left-right) Wayne King, Bob Keep. Bottom: Joe Szilagy, Neil Peart. Courtesy of Joe Szilagy.
Photo of Joe Szilagy and Neil Peart playing in The Majority. Courtesy of Joe Szilagy.
[Exact date unknown] John Rutsey and Alex Živojinović (Alex Lifeson) play in their first band together "The Lost Cause" with Alan Grandy (brother of Rush's first roadie Ian Grandy) and Gary "Doc" Cooper. Prior to this, Rutsey played in two other bands, "The Guilde" and "Summer Wind" without Živojinović. [Rush Rediscovered liner notes]
November: The first issue of Rolling Stone magazine is published. Rush's history with Rolling Stone would be acrimonious, as they (and most progressive rock bands) found themselves outside Rolling Stone's circle of acceptable bands. But as Rush attained greater success and influence, the magazine could no longer afford to ignore them. Even though the band has never appeared on the cover, they have appeared in two feature articles, "Power from the People" (1981) and "Rush Never Sleeps" (2008). Then after years of eligibility, pressure from fans, musicians, and the music industry, the wall that Rolling Stone and its publisher Jan Wenner had built was knocked down, and Rush was finally inducted in 2013. It was a happy day for Rush fans.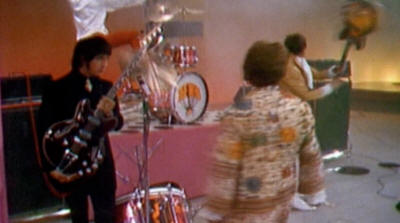 ---
1968
April 7: Neil Peart sees the Who in concert in Toronto for the first time. Keith Moon plays his "Pictures of Lily" drum kit "like a demon, making lunatic faces and throwing sticks around..." [Traveling Music, p. 78]. The "Lily" kit would also serve as the inspiration for Peart's own 30th Anniversary and 40th Anniversary drum kits.
Above: (L) Photo of Keith Moon and his "Pictures of Lily" drum kit. (R) Photo of Neil Peart's S.S. Professor drum kit (taken in Los Angeles in 2005 by Andy Olson).
[Exact date unknown] Alex Živojinović (Alex Lifeson) and John Rutsey play in "The Projection" with Alan Grandy (brother of Rush's first roadie Ian Grandy), Gary "Doc" Cooper, and Bill Fitzgerald. [Rush Rediscovered liner notes]

Peart watches Monterey Pop at an "art-house" cinema in Toronto. Seeing the film has a profound effect on him:
In June of 1967, the first true rock festival took place in northern California, a three-day event called "The Monterey International Pop Festival," and I saw the subsequent movie at an "art-house" cinema in Toronto when I was fifteen. That, for me, was the movie that put it all together. This was something I wanted to be part of — indeed, felt part of. [Traveling Music, pp. 140-141].


Peart hangs out at Garnet's Head Shop with other "Baby Boomer" teens.
Going back even farther in the Wayback Machine — early 1968 is my best guess — this shot is a kind of miracle. Amazing that it was taken at all, and that it survived, got passed around, and made its way to my mailbox (thanks Joe) more than forty years later. "Garnet's Head Shop" is the scene, in a former barber shop near the intersection of St. Paul and Geneva Streets in St. Catharines (and right near Ostanek's Music Centre, my other favored hangout in those days). [From NeilPeart.net: News, Weather and Sports - "Time Machines" - May, 2010]

Above: Photo of Neil Peart (center) and others was originally published on NeilPeart.net: News, Weather and Sports - "Time Machines" - May, 2010. Photographer unknown. Although the photo is credited to Don Campbell, he was the person who sent it to Joe Szilagy, who then sent it on to Peart.
As Peart approaches his sixteenth birthday, his record collection includes the following albums [Traveling Music, p. 79]:
Top row: My Generation, Happy Jack, The Who Sell Out, Are You Experienced, Axis: Bold as Love

Bottom row: Disraeli Gears, Vincebus Erruptum, Reaping, the Grateful Dead, Moby Grape

August: Živojinović (Lifeson), John Rutsey, and bassist/singer Jeff Jones form an unnamed band. Prior to this, Lifeson and Rutsey played in several bands together including "The Lost Cause" and "The Projection." They begin learning songs for future gigs. [Rush Rediscovered liner notes and Rush Visions: The Official Biography, p.4]

September 18: Živojinović (Lifeson), Rutsey, and Jones's yet-to-be-named band scores a paying gig at the Coff-In, a church drop-in center for teens in the basement of St. Theodore of Canterbury church. Days before the show, Rutsey's older brother Bill suggests the name "Rush." At the show, Rush play to about 30 people and is paid $25. [Rush Visions: The Official Biography, p. 4]. The setlist contains Hendrix's "Foxy Lady," Cream's "Spoonful" and "Crossroads," the Yardbirds' "Shapes of Things," and a few others. [Alex Lifeson interview with Sound and Vision Online, 2006].



Above: Photo of St. Theodore of Canterbury Anglican Church By SimonP (Own work) [CC-BY-SA-3.0 or GFDL], via Wikimedia Commons. Site of Rush's first gig in 1968.
September 25: Rush has another gig at the Coff-In at St. Theodore church. At 5:00 p.m. Jeff Jones calls Živojinović (Lifeson) and says he's going to a party instead of playing the show. Živojinović calls Gary Weinrib (Geddy Lee) to replace Jones on bass and vocals. Until now, Živojinović has only called to borrow Weinrib's equipment. With Weinrib in the lineup (and no time for rehearsal), Rush play and replay "a half-dozen Cream songs" that most musicians know. They're paid $25. At the post-show meal, Živojinović and Rutsey decide that Weinrib is officially in the band, and Jones is out. [Rush Visions: The Official Biography, p. 5]
October 25: Jethro Tull release their debut album This Was. Geddy Lee becomes a fan early on, later saying in an interview: "I was a massive Tull fan from very young and they are one of the bands that I saw live in Toronto…yes, we were lucky to see so many incredible concerts when we were very young and, I hope, that too reflects in Rush." [From an interview with The Quietus, "In The Mood: The Favourite Albums Of Rush's Geddy Lee"] In addition, Neil Peart later became friends with Jethro Tull drummer Doane Perry, who joined the band in 1983. Doane and Peart have also done several Drum Channel events together.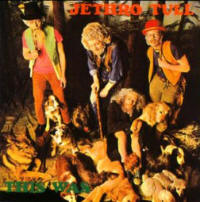 Updates
February 24, 2016

Corrected information about Peart's drum debut and and first public performance on drums. Peart refers to his Lakeport performance as his first.

February 8, 2015

Added link to R40 drum kit

September 26, 2014

Added photo of Jimi Hendrix backstage at Monterey

September 23, 2014:

Changed blockquote style
Various updates

September 19, 2014:

Various formatting updates.
Removed Elvis '68 Comeback Special
Added photo of St. Theodore
Added Jethro Tull's debut album

September 14, 2014:

Added Cream's debut album to 1966.
Added more information about The Doors album in 1967.
Added "Human Be-In" poster in 1967

September 13, 14, 2014: Updated the August - September 1968 section with more specific information based mostly on Rush Visions.