Neil Peart Biography
Updated: 04/26/2020
Neil Ellwood Peart was born September 12, 1952, near Hagersville, Ontario, and died January 7, 2020, in Santa Monica, California. The cause was brain cancer (Glioblastoma), which he battled quietly for 3-1/2 years. News of Peart's death was announced on Friday, January 10, in a statement on Rush.com, and tributes from friends, family, musicians, and fans poured in throughout the weekend. Peart is survived by his wife Carrie and daughter Olivia. Other survivors include his family, Glen and Betty Peart, two sisters, and a brother.
Peart was the drummer and lyricist for the Canadian rock band Rush. Rush is the most successful band from Canada, playing together for 41 years and selling 25 million records in the U.S. and 40 million records worldwide (Celine Dion is the top-selling Canadian solo artist with 50 million albums in the U.S.).
Essential Rush recordings include: Fly by Night (1974), 2112 (1976), Permanent Waves (1980), Moving Pictures (1981), Exit...Stage Left (1982), Grace Under Pressure (1984), Power Windows (1985), Roll the Bones (1991), Counterparts (1993), Vapor Trails (2002), and Clockwork Angels (2012).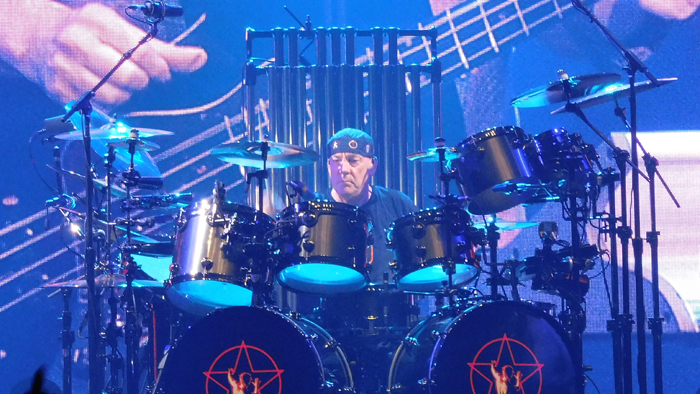 Neil Peart plays his "El Darko" DW drum kit during the R40 tour, Seattle, WA, 2015. Photo by Andy Olson.
Early life and joining Rush
Peart grew up in St. Catharines, Ontario, during the rise of rock and roll and the decline of jazz, and both would influence his drumming style. While his initial inspiration to play drums came from watching The Gene Krupa Story on TV, it was the "second wave" British rock bands and their drummers, including Keith Moon (The Who), Mitch Mitchell (Jimi Hendrix), and Ginger Baker (Cream), who ignited a fire in him. His single-minded journey to become a professional musician would take him through the Niagara Peninsula's vibrant music scene and later London, England.
It was during his time abroad that Peart became disillusioned with the music industry, and after 18 months of enduring "poverty and anonymity" he returned to St. Catharines in December 1972. After a stint at Sam the Record Man in Toronto (where he met his first wife Jackie Taylor), Peart began working full-time at his father's farm equipment store as parts manager. In July 1974, he landed an audition with Rush, who needed a drummer for their upcoming North American tour. Read more about Peart's early years.
Professional drumming career with Rush
Over their four-decade career, Rush developed their own style of progressive rock, weaving together heavy metal, art rock, reggae, new wave, pop, grunge, and classical styles with thoughtful lyrics. Their catalog includes 20 diverse studio albums, 9 live albums, 10 video albums, sold-out tours, and a fiercely loyal fan base. Rush's last studio album, Clockwork Angels (2012) was considered one of their best by both fans and critics. During that tour (2012-2013), Rush played 10 of 12 tracks from the album and were joined by a string ensemble.
As a drummer, Peart was known for his large drum kits, creative and intricate parts, and extensive drum solos that delighted both drummers and non-drummers alike. He won 34 reader's poll awards from Modern Drummer, including 12 consecutive "best recorded performance" awards (15 in all). In 2013, he won the MVP award and Best Prog Drummer for Modern Drummer.
One reason for Peart's enduring success was his endless curiosity, experimentation, and quest for continuous improvement. After adding an ever-expanding wall of acoustic percussion to his setup throughout the late 1970s and early 1980s, Peart added a Simmons electronic satellite kit during the Grace Under Pressure tour in 1984. By the Test for Echo tour in 1997, Peart would abandon all acoustic percussion in favor of his satellite kit, triggers, and his melodic malletKat keyboard trigger.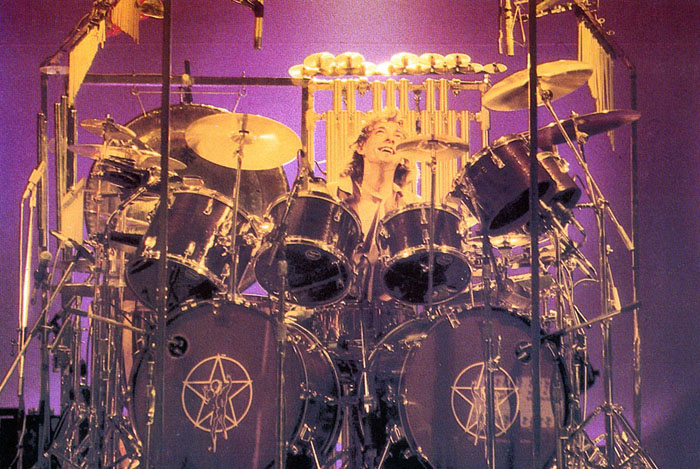 Neil Peart during the Permanent Waves tour in 1980, surrounded by a wall of percussion.
After two decades of playing with Rush, Peart set out to reinvent himself in the mid-1990s, studying with jazz drummer Freddie Gruber. He used these new techniques on the Test for Echo album, documenting his process in his first instructional video A Work in Progress. Later, Peart studied with Peter Erskine to focus on what he called "chops and groove" and a more improvisational approach. In the article 2015 article "Neil Peart Reflects on 50 Years of Hitting Things with Sticks," Peart wrote:
It was Peter who helped me conquer—or at least attack—what was for me the Final Frontier: improvisation. Having developed a certain amount of compositional tools and habits over forty years of playing, I was determined to become freer and more spontaneous. Peter helped me toward that goal with guidance in developing deeper time-sense and greater musicality. (With credit to Nick "Booujzhe" Raskulinecz, too, who encouraged and enabled my improvising in the studio.)
During breaks from touring with Rush, Peart recorded or performed with Vertical Horizon, the Buddy Rich Band, Jeff Berlin, and the Rheostatics. In 2008, Peart returned to New York City for his second Buddy Rich Memorial concert. In 2009, he recorded a new version of "The Hockey Song." Starting in the 1990s, Peart chronicled his development as a drummer in multiple instructional and documentary videos.
Drum and cymbal endorsements
In addition to improving his technique, Peart also searched for new sounds with his drums and cymbals. Throughout his career, he endorsed four different drum companies, including Slingerland, Tama, Ludwig, and Drum Workshop. Even with all these changes, from 1977-1996 Peart continued to use his Slingerland Artist Model snare—a drum he'd bought secondhand for $60.
Peart played Zildjian cymbals (and Wuhan China-types starting in 1978) until 2004, when he switched to Sabian and developed his own signature cymbal line, Paragon. Interestingly, until he developed his own cymbals Peart used the same Zildjian 22-inch Ping Ride cymbal on every Rush tour and studio recording through Vapor Trails.
Starting in 1984, Peart began using Simmons electronic drums and switched to d-drum in 1989. He began playing Roland V-drums and cymbals when he returned to Rush in 2002 for the Vapor Trails tour. Starting on the Hold Your Fire tour, Peart began using an electronic KAT keyboard, which allowed him to incorporate melodic percussion samples in songs and his drum solo.
The only equipment Peart would use throughout his entire career were Pro-Mark 747 drum sticks, which he'd used for over 17 years before officially endorsing them in 1991. After that, Peart began using an autograph model, starting with his first Buddy Rich Memorial Scholarship concert in 1991. Peart played the sticks "backwards" (hitting with the butt ends) until he reinvented his drumming style in 1996.
R40 Live tour, retirement, and death
In 2015, Rush toured 34 North American cities on the R40 Live tour, described as the "last tour of this magnitude." Rush played to mostly sold-out audiences, bringing their fans on a journey from the present to the past, with instruments and the stage devolving around them. They ended the show in a virtual high school gym, complete with rotating disco ball—back to where it started. For the first time, Peart used two DW drum kits on stage—one modern kit for the first set and a retro kit for the second set. Rush released a video and CD of the show in November 2015.
In December 2015, Neil Peart wrote an article for Drumhead magazine, "Neil Peart Reflects on 50 Years of Hitting Things with Sticks," where he essentially confirmed his retirement:
Now after fifty years of devotion to hitting things with sticks, I feel proud, grateful and satisfied. The reality is that my style of drumming is largely an athletic undertaking, and it does not pain me to realize that, like all athletes, there comes a time to ... take yourself out of the game. I would much rather set it aside than face the predicament described in our song "Losing It." (From 1982 it was performed live for the first time on our fortieth anniversary tour, R40, in 2015). In the song's two verses, an aging dancer and a writer face their diminishing, twilight talents with pain and despair, ("Sadder still to watch it die, that never to have known it.")
Aside from publishing his seventh non-fiction book in 2016, Far and Wide: Bring that Horizon to Me!, Rush fans received few updates from Peart until his death, which occurred on January 7 and was announced on Friday, January 10, on Rush.com. Friends, Rush crew members, musicians, and fans paid tribute to Peart throughout the weekend. Many of these tributes have been preserved in the Neil Peart News Twitter feed.
Professional writing career
In addition to his day job as a musician, Peart was a prolific writer. He wrote six non-fiction books, including The Masked Rider (1999), Ghost Rider (2002), Traveling Music: The Soundtrack to My Life and Times (2004), Roadshow: Landscape With Drums: A Concert Tour by Motorcycle (2006), Far & Away: A Prize Every Time (2011), and Far & Near: On Days Like These (2014). In September 2016, Peart published his seventh non-fiction book, Far and Wide: Bring that Horizon to Me!
Peart also wrote many articles for Modern Drummer and other magazines, and posted updates to NeilPeart.net through 2016. For the Clockwork Angels album, Neil Peart collaborated with writer and friend Kevin J. Anderson on a Clockwork Angels novel, which became a New York Times bestseller, and was later adapted into a comic series.
In September 2015, Peart and Anderson published a follow-up novel, Clockwork Lives, which further explored the Clockwork world and its characters. A graphic novel of Clockwork Lives was released in 2018. In an update that Anderson posted to Facebook, he wrote of his last lunch with Peart in California, where they discussed a third book, Clockwork Destiny.
Personal life
Peart lived in the Los Angels area with his wife Carrie Nuttall (married in 2000) and daughter Olivia (born in 2010). Before this, Peart was married to Jackie Taylor for 22 years, and they had one daughter Selena. In August 1997, Selena died in a car accident, and Jackie died a year later of cancer. Peart chronicled his story of loss and recovery in his book, Ghost Rider.
Trivia and facts about Neil Peart
He officially joined Rush on July 29, 1974, Geddy Lee's birthday.
Peart enjoyed riding BMW motorcycles and driving fast cars, which he detailed in many of his blog updates and books.
His favorite drink after a concert or a long day on the road was The Macallan.
Peart's nicknames were "Pratt," "Bubba," and "The Professor." On Rush tours, in order to protect his privacy he used aliases to check in to hotels, including Joe Rockhead (from the Flintstones), Hank Kimball (Greenacres), Larry Tate (Bewitched), Johnny Gilbert (announcer from Jeopardy), Waylon Smithers (The Simpsons), and Paul Drake (Perry Mason).
His drumming style was inspired by countless drummers, but he mentioned Keith Moon of the Who as one of his most important early influences.
In 1993, Peart interviewed Jean Chrétien as part of Much Music's political series.
He appeared in several films as himself, including I Love Your Man and Adventures of Power. He even appeared in animated form in Aqua Teen Force Colon Movie for Theaters (2007).
Early in his touring days, Peart figured out that he had a lot of free time between shows. He decided to use this time to read. In addition, he took up other hobbies, including building model kits. One of them as an extremely detailed replica of Alex Lifeson's 1977 Jaguar XJS, "white with red interior, with full engine plumbing, working suspension and steering, and even articulated seats that folded forward and slid on little rails."
During the Roll the Bones tour in 1992, Peart formed a backstage lounge act "The Murphtones" with crew member Skip Daley. He would also jam in the tuning room with the members of Primus before the show.
In 1996, he became an Officer of The Order of Canada, the highest civilian decoration in Canada.
In 2012, he received the Governor General's Award for Performing Arts: Lifetime Artistic Achievement (Popular Music) along with his bandmates.
In 2013, after years of eligibility, Peart and Rush were inducted into the Rock and Roll Hall of Fame. At the mere mention of Rush's name by Jann Wenner, Rush received a 2-minute standing ovation.
As far as his politics, though he was often associated with Ayn Rand based on the inspiration for 2112, Peart described himself as a "bleeding heart libertarian."
His website includes a section on cooking called "Bubbas Bar 'n' Grill" and includes recipes, cooking techniques, and even a forum.
In 2017, Peart and a three friends joined the elite "All Eight Club," a list of people who have spent time on all eight California Channel Islands.