Neil Peart Biography
Updated: 07/23/2017
Neil Ellwood Peart (pronounced "Peert" not "Pert"), born September 12, 1952, near Hagersville, Ontario, is the drummer and lyricist for the Canadian rock band Rush. Rush is the most successful band from Canada, having played together for over 40 years, and selling 25 million records in the U.S. and 40 million records worldwide (Celine Dion is the top-selling Canadian solo artist with 50 million albums).
Following their successful R40 Live tour in 2015, Rush and Peart have been retired from "large-scale tours"—although there's still speculation about whether the band will produce new music, or even play a string of shows in one location (as they did at Radio City Music Hall in the 1980s).
Early life and joining Rush
Peart grew up during the rise of rock and roll and the decline of jazz, and both would influence his drumming style. While his initial inspiration to play drums came from watching The Gene Krupa Story on TV, it was the "second wave" British rock bands and their drummers, including Keith Moon (The Who), Mitch Mitchell (Jimi Hendrix), and Ginger Baker (Cream), who ignited a fire in him. His single-minded journey to become a professional musician would take him through the Niagara Peninsula's vibrant music scene and later London, England. It was after 18 months of living abroad where he found "poverty and anononymity" that he returned to St. Catharines, where he eventually landed the audition with Rush. Read more about Peart's early years.
Professional drumming career with Rush
Over the years, Rush has developed their own style of progressive rock, weaving together heavy metal, art rock, reggae, new wave, pop, grunge, and classical styles with thoughtful lyrics. The result has been 20 diverse studio albums, 9 live albums, 10 video albums, successful tours, and a fiercely loyal fan base. Rush's last studio album, Clockwork Angels (2012) is considered one of their best by both fans and critics. And then, staying true to their artistic roots (instead of focusing on their back catalog of hits), Rush played almost every song from Clockwork—joined by a string ensemble during the second set.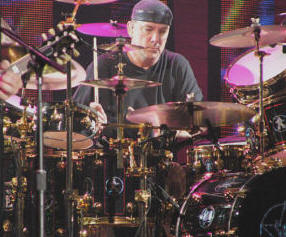 As a drummer, Peart is known for his large drum kits, creative and intricate parts and extensive drum solos that delight both drummers and non-drummers alike. He's won 34 reader's poll awards from Modern Drummer, including 12 consecutive "best recorded performance" awards (15 in all). In 2013, he won the MVP award and Best Prog Drummer for Modern Drummer.
One reason for Peart's continued success is his endless curiosity and quest for new knowledge. He's continued to learn new techniques and approaches to the drums, studying with jazz drummers Freddie Gruber and Peter Erskine, with the goal of becoming a more improvisational drummer. In later tours, he left entire sections of his solo open for improvisation.
When not busy with Rush, Peart has recorded or performed with Vertical Horizon, the Buddy Rich Band, and others. In 2008, Peart returned to New York City for a Buddy Rich Memorial concert. In 2009, he also recorded a new version of "The Hockey Song." Since the 1990s, Peart has chronicled his development as a drummer in multiple instructional and documentary videos.
Essential Rush recordings include: Fly by Night (1974), 2112 (1976), Permanent Waves (1980), Moving Pictures (1981), Exit...Stage Left (1982), Grace Under Pressure (1984), Power Windows (1985), Roll the Bones (1991), Counterparts (1993), Vapor Trails (2002), and Clockwork Angels (2012).
In 2015, Peart and Rush toured 34 North Amercian cities on the R40 Live tour, described as the "last tour of this magnitude." Rush played to mostly sold-out audiences, bringing their fans on journey from the present to the past, with instruments and the stage devolving around them. Rush ended the show in a virtual high school gym, complete with rotating disco ball, back to where it started. For the first time, Peart used two DW drum kits—one modern kit for the first set, and a retro kit for the second set. Rush released a video and CD of the show in November 2015.
In December 2015, two magazine stories fueled speculation that Neil Peart was retiring from music. However, in looking more closely at the articles, it became clear that Peart was only confirming that he probably wasn't embarking on any more major tours with Rush. In subsequent interviews, Geddy Lee and Alex Lifeson have confirmed that Peart has suffered from chronic tendonitis and doesn't want to be away from his young daughter, Olivia. Rush fans will need to wait and see what happens next.
Professional writing career
In addition to his dy job as a musician, Peart is a prolific writer. He's written six non-fiction books, including The Masked Rider (1999), Ghost Rider (2002), Traveling Music: The Soundtrack to My Life and Times (2004), Roadshow: Landscape With Drums: A Concert Tour by Motorcycle (2006), Far & Away: A Prize Every Time (2011), and Far & Near: On Days Like These (2014). In September 2016, Peart published his seventh non-fiction book, Far and Wide: Bring that Horizon to Me!
In addition to his books, Peart has also written many articles for Modern Drummer and other magazines, and regularly posts updates to NeilPeart.net. For the Clockwork Angels album, Neil Peart collaborated with writer and friend Kevin J. Anderson on a Clockwork Angels novel, which became a New York Times bestseller, and was later adapted into a comic series.
In September 2015, Peart and Anderson published a follow-up novel, Clockwork Lives, which further explored the Clockwork world and its characters. As of 2017, they're working on a Clockwork Lives graphic novel.
Personal life
Peart lives in the Los Angels area with his wife Carrie Nuttall (married in 2000) and daughter Olivia (born in 2010). Before this, Peart was married to Jackie Taylor for 22 years, and they had one daughter Selena. In August 1997, Selena died in a car accident, and Jackie died a year later of cancer. Peart chronicled his story of loss and his recovery in his heart wrenching book, Ghost Rider.
Trivia and facts about Neil Peart
He officially joined Rush on July 29, 1974, Geddy Lee's birthday.
In his spare time, Peart reads, rides BMW motorcycles, drives fast cars, snowshoes, birdwatches, and hikes.
His favorite drink after a concert or a long day on the road is The Macallan.
Peart's nicknames are "Pratt," "Bubba," and "The Professor."
His drum style is inspired by countless drummers, but he's mentioned Keith Moon of the Who as one of his most important early influences.
In 1993, Peart interviewed Jean Chrétien as part of Much Music's political series.
He's appeared in several films as himself, including I Love Your Man and Adventures of Power. He's even appeared in animated form in Aqua Teen Force Colon Movie for Theaters (2007).
In 1996, he became an Officer of The Order of Canada, the highest civilian decoration in Canada.
In 2012, he received the Governor General's Award for Performing Arts: Lifetime Artistic Achievement (Popular Music) along with his bandmates.
In 2013, after years of eligibility, Peart and Rush were inducted into the Rock and Roll Hall of Fame. At the mere mention of Rush's name by Jann Wenner, Rush received a 2-minute standing ovation.
As far as his politics, Peart has said that he's a "bleeding heart libertarian."
His website includes a section on cooking called "Bubbas Bar 'n' Grill," and includes recipes, cooking techniques, and even a forum.
During the Clockwork Angels tours, Peart fired t-shirts out of an air cannon at the beginning of the encore.